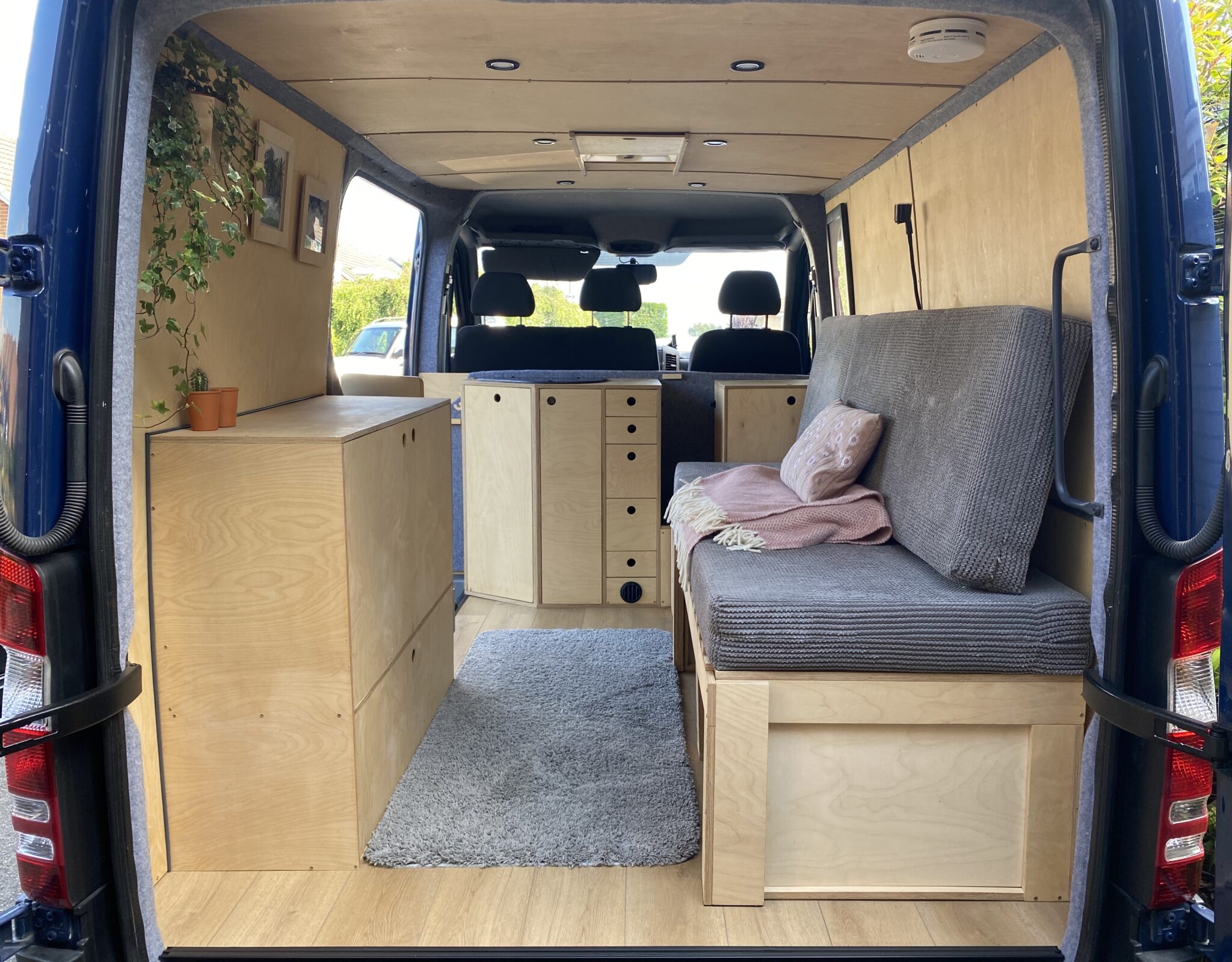 Vehicle Description
– 2015 Mercedes-Benz Sprinter 313
– SWB Low Roof (probably the largest van you can fit in a regular parking space)
– 6 speed gearbox, and cruise control making long journeys a breeze
– Powerful 2.1L diesel engine
*Note for any Londoners this is a Euro5 diesel and therefore not ULEZ compliant (expanding Oct 2021)
– 11 month MOT until June 2022
– Last Major Service June 2021
– New clutch assembly and mass fly wheel in July 2021 (with 2 yr/20k mile guarantee)
– 105k mileage (very low for a Sprinter)
– Around 30MPG diesel consumption
– Reversing camera
– Original Mercedes Steel Blue paintwork in good condition, some minor bumps and scratches as expected
– Cab in great condition, and very comfortable to drive
Conversion Description
Well thought through layout, with bespoke furniture built from birch plywood and matching furnishings.
Conversion completed March-21, including:
– pull out double bed with storage spaces underneath
– memory foam mattress cushions with grey 'elephant cord' covers
– tinted window on sliding door
– compact kitchen unit containing gas locker (for Campingaz 907 bottle), 25l freshwater tank with submersible pump, 12l grey water tank, and integrated bin
– Dometic 8821 combined single burner and sink unit
– Planar 2D diesel heater (not the cheap type) connected to diesel tank – toasty in minutes
– Fiamma Vent 28 Turbo (roof vent with fan and extractor) and bespoke sliding cover
– 150W rooftop solar panel with MPPT controller
– Split charge relay
– 130AH Expedition Plus deep cycle leisure battery
– built in overhead LED lighting
– USB and 12V sockets
– vertically sliding bulkhead to allow climbing between cab and rear when down
– small swing out table
– 2 large storage units
– Dodo Fleece and bubble foil insulated (with air gap)
– Noico sound deadening
– Rhino roofrack with treated decking (enough room for 2 to chill up there)
– Rhino aluminium roof ladder
Please note: Quirky Campers do not inspect the listings for accuracy or check campervans in person. We have asked sellers to provide evidence of certificates and paperwork however you MUST check yourself that the information provided is present and correct. You will need to exercise the normal due diligence when buying any vehicle.
Make and Model
Mercedes Sprinter 313CDI SWB (L1H1)
Current Mileage
105,000miles
Registered Vehicle Type
Panel Van (does not meet DOT standards)
– Configurable 6ft bench seating can be used as either a single bed, 2x single beds on different levels, or pulls out to a small double
– Cushions made from a memory foam matress, so very comfortable to sleep on
Maximum Weight (MAM or MTPLM)
3,500kg
Unladen Weight Verified?
YES - the vehicle has been weighed since completion
Gas sign-off supplied
Gas Safe Certificate