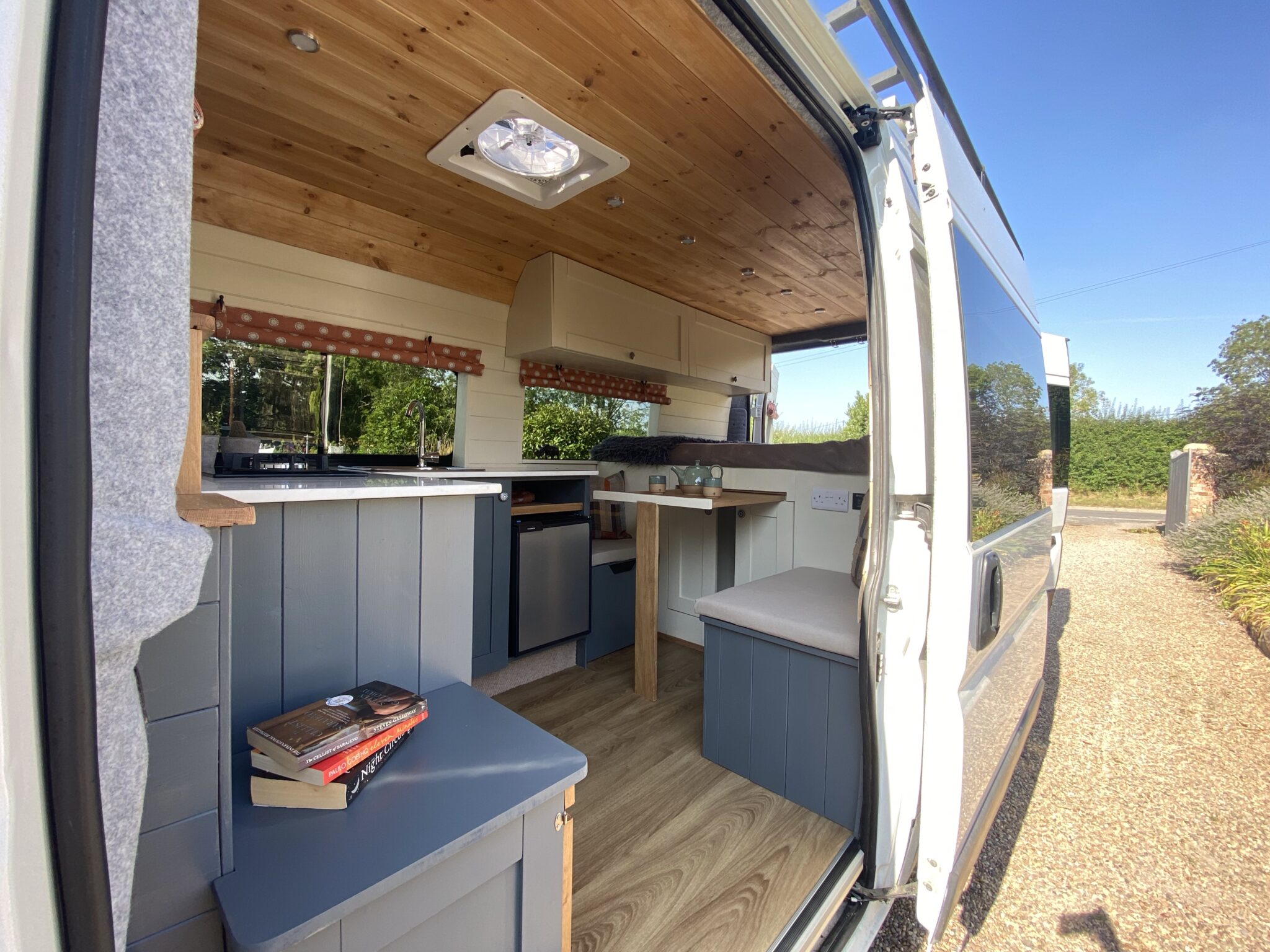 Vehicle Description
Fuel type: Diesel
Engine size: 2 Litre
38mpg
Euro 6 engine
Bluetooth connection​
AUX port
USB
Gears: 6
Engine Conduction: Excellent
Body work conduction Good with minor wear and tear
MOT Due: June 2022
Sat Nav
Reversing camera and back sensors
Cruise control
Air con
Climate control
Beds Description
Rhino has one fixed double bed slightly smaller in length, with one side of the bed measuring 1.8m and the other being a standard double (1.9m) due to the extra space created by the window. It also has a small removable single bed created between the two seats measuring 1.8m by 0.5m.
Conversion Description
Conversion Description
Rhino is a newly converted Citroen Relay ready to be driven away in to the sun set. Perfect for off grid living or campsite touring, at any time of the year. This van has been lovingly handcrafted down to the last detail all the way from bespoke curtains to handmade kitchen cabinets. This is our 6th van conversion so you can expect the highest of standards in an efficient, tried and tested interior layout. One of our previously sold campers is now being rented out on Quirky at £124 a night! This van has been converted with an emphasis on sustainable building and the environment, using sustainable and upcycled materials to create this one of a kind camper van.
Construction
A mixture of hard and soft insulation (to reduce heat loss but still make components accessible if needed)
Thermal bubble foil insulation (to reduce solar gain and heat loss)
Foil vapour barrier (to reduce moisture)
Carpet (to reduce thermal bridging and increase sound insulation)
The walls and ceiling are pine tongue and groove (oak stain roof which is hard-wearing and sun resistant. Walls are painted with Farrow and Ball Lime White and Kitchen area is in Pipe down)
The floor is hard wood ply, covered with luxury laminate flooring (easy to clean and sound deadening)
Oak shelving
External
200w solar panel (can keep the camper running for completely off grid)
Maxx air fan (with climate control and remote)
240 v Electric hook up mounted on the outside wall. Whilst hooked up, this powers 2 x 240 v sockets, 1 single socket (in the boot area) and 1 double socket (in the living area)
5 windows (1 opening nearest cooker) 80% tint
Rhino full roof rack and ladder
Kitchen
Large L shaped kitchen (with massive amount of storage space)
Large bespoke units and doors
Quartz worktop and splash back (hardest wearing worktop on the market)
SIA 2 ring gas hob, gas certified
3.9kg gas bottle (in air tight locker, doubling as a seat)
400mm x 400mm stainless steel sink
Chrome tap
25L removable fresh water tank with room to add another tank under the sink if you wish. (Large opening makes it easy to get your hand inside and clean)
External waste pipe (to reduce weight and fuel consumption)
45L waeco dometic fridge with removable freezer area inside. (Best on the market and very energy efficient. Perfect for off grid living.)
Pull out oak veneer table with large storage cupboards beneath
Thetford toilet (which pulls out from under seat)
Quirky, individual door knobs
Internal electrics
2x 130ah leisure batteries
1x 12v socket
2x USB sockets (next to table and bed)
MPPT solar controller (controls the 200w solar panel on the roof which easily creates enough electric to run all appliances without needing to charge the batteries, making this van the perfect off grid camper)
3x 240v sockets (for use when hooked up)
5kw diesel heater with independent fuel tank in the boot area (remote controlled, only uses 0.1 L per hour of fuel and warms the van in under 10 minutes)
Maxx air fan (with climate control and remote)
6 LED warm coloured lights with dimmer switch
45L fridge
Whale water pump (easy to clean and use)
12v fuse box (all appliances clearly labelled)
240v fuse box
240v smart battery charger (will protect your batteries and give them longer life)
Split charge relay (charges the leisure batteries whilst the engine is running)
Krieger 2000w pure sine wave inverter, running two extension leads in the living area, for a total of 4 x 240v sockets. (These are available to use fully off the grid. There's an extra control panel making it easy to turn off and on to save energy, making it perfect for using normal kitchen appliances or laptop chargers.)
Soft furnishings and bed area
Handmade curtains covering all windows (including a matching magnetic one for the sliding door)
Custom seat cushions
Mattress cut to size
2 x large wall units (perfect for storing clothes away from food items)
There's also even more storage above the cab area (we use this to store extra bedding, big coats etc in our camper)
Boot area
Portable pump pressure shower, with a run time of 3 minutes before having to pump again. (Great for rinsing down feet or dogs or a quick off grid shower)
Pop up shower tent (for privacy with pockets for shampoo, shower gel etc.)
The boot area has been designed to be able to fit multiple bikes in and has masses of room for all your needs. It is easily cleaned due to the luxury laminate flooring, making muddy bikes or boots no problem. It also has a divider to keep your bikes from touching the electrics and batteries but there's still easy access to both fuse boxes, leisure batteries, diesel tank and heater.
We hope you love the van as much as we have loved converting it, if you have any questions or want to book a viewing, please get in touch.
Thank you
Rory & Leila
0777262010
Registered Vehicle Type
Panel Van (meets DOT standards), Other - see description for explanation
Base Vehicle Condition
Used
Converter Type
Professional - Handcrafted
Maximum Weight (MAM or MTPLM)
3,500kg
Unladen Weight Verified?
NO - the vehicle has not been weighed since completion
Gas sign-off supplied
Gas Safe Certificate
Please note: Quirky Campers do not inspect the listings for accuracy or check campervans in person. We have asked sellers to provide evidence of certificates and paperwork however you MUST check yourself that the information provided is present and correct. You will need to exercise the normal due diligence when buying any vehicle.