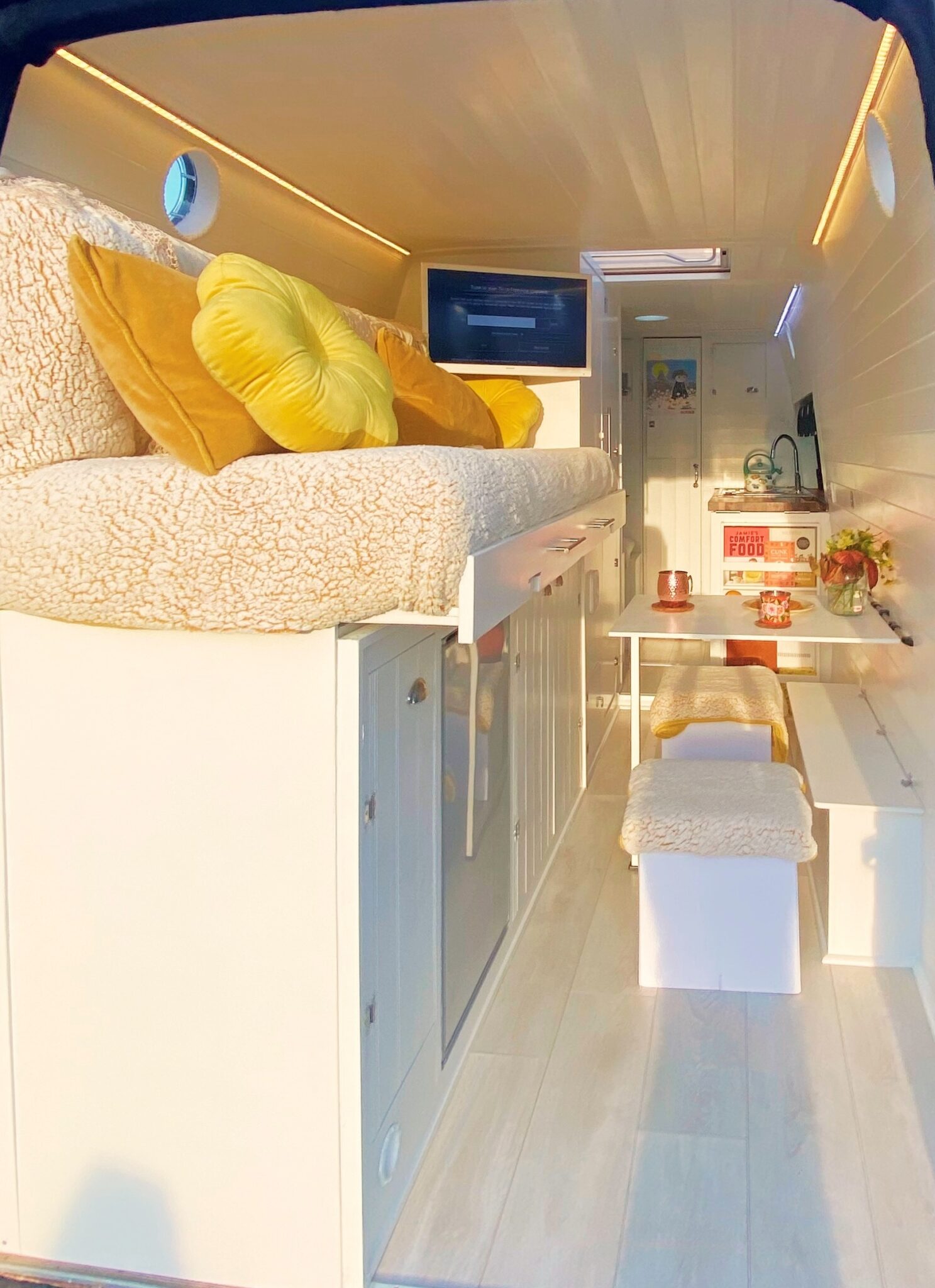 Sold
£34,998
Mercedes Sprinter 313 LWB
96,875 miles
Vehicle Description
Perfect for cosy evenings and wild adventures, 'Kuw' is fully insulated and equipped with hot air/ water heating as well as a full kitchen with English Walnut countertops, an adjustable double sofa bed and a WC with shower. Kuw offers an extraordinary amount of natural light AND privacy at the same time due to the use and placement of porthole windows and the living area design.
As well as an internal refurbishment Kuw has also had a mechanical check and overhaul including a rebuild of the turbo system to give the van extra vroom.
MOT was passed 20 January 2021 with no advisories and there hasn't been much mileage covered since.
This campervan was made to be lived in by a remote worker travelling through Europe and lots of thought was put into the best layout for an off-grid comfortable, practical living space.
In the kitchen space there is an extra big sink and oven so cooking and washing up is as easy as it would be in a house. There are cupboards with multiple entrypoints for optimal storage space and flexible use. The worktop over the hob flips over to provide extra food prep space when needed. There's also space under the oven for roasting tins, cupcake trays and cooling racks.
There's a slide out desk next to the window so you can enjoy the fresh air and great views while working on your laptop. Mifi and Wifi options are available, with off grid options or an external hook up option. There are 4 double plug sockets and 10 USB sockets, including a 12v option so you don't need to turn the inverter on to have a direct source to power. The van is lit with LED lights with warm, cool and dim or bright settings on, controlled by remote controls. (There is also a pulse option if you're feeling like a disco.)
The bed is another flexible design, and can be kept as a single bunk or slid out to make a deep sofa bed or even a double bed. The wheel arch acts as a step up (you can also use the storage seats). The bed's legs detach and tuck away neatly into the wheel arch when not in use. Underneath the bed there is a halfsize wardrobe, deep shelving, a large undercounter fridge/ freezer, a utilities cupboard with the water system (including a water softener) and another storage cupbard. Adjacent to the bed is a smart 24 inch TV on an adjustable bracket, you can stream onto this when you have wifi, and for those desperate times you have no wifi and have read your last book, there is also an inbuilt DVD player. (Make sure you remember to pack emergency DVDs for this occasion). The van comes with two bespoke memory foam mattresses.
There is a detachable, foldable table with two storage seats, and a bookcase. The table perfectly slots into the halfsize wardrobe and also the space between the wheel arch and the bookcase, so you can choose where to keep it when not in use.
Kuw also boasts a private, enclosed loo and shower, decorated with Mexican folk tiles. The WC is serviced by a hot air heater with an intergrated hot water tank, it gives more than enough hot water for a satisfying shower and there is a hot air vent inside the bathroom so you won't get cold once you've finished your shower. There is a skylight right above the shower to release the steam.
On the back exterior there is a Thule double bike rack and a spare tyre mounting bracket. On the roof there are two flexi Renogy solar panels and 3 rigid Renogy solar panels as well as the wifi and mifi antennae, reversing camera and skylight.
Here's a handy list of all the items Kuw is equipped with:
• Truma combi 4e heater and hot water tank
• Thetford 4 Spinflo hob grill and oven
• Vitrifrigo C85i 90 litre fridge freezer
• Thetford swivel loo and power shower
• Dometic Seitz Heki 2 Skylight
• 5 x 100 watt Renogy Solar Panels
• Renogy MPPT solar charger
• Spectra Pure Sine 700 Inverter
• 220 AH Xplorer AGM battery
• 4G Smart antennae and Router (MIFI)
• WIFI extender antennae
• Gaslow R67 gas tank
• Gas plumbing completed by professional gas engineers
• Landlord's Gas Safety Certificate
• Shurflo Trail King Water pump
• Fiamma 70 litre tank
• Eddy electronic water softener
• Sharp 24 inch LED Smart TV with inbuilt DVD player
• 4 X LED touch lights
• Remote controlled adjustable LED Strip lights, one section in kitchen and one in bedroom (adjustable brightness, warmth)
• Thule External Double bike rack
• External hookup socket
• External Spare tyre mounting bracket
• Blackout blinds
• Insulated blackout Porthole covers
• 2 x memory foam mattresses
• Half size Wardrobe with additional shelves
• Detachable table
• Storage seats
• 4 Double plug sockets
• 10 USB sockets
Beds Description
The main bed is a sliding sofa bed (slides into a double) there is room for a single child's bed underneath.
Conversion Description
As well as an internal refurbishment the Sprinter has also had a mechanical check and overhaul.
MOT was passed 20 January 2021 with no advisories. Van has not covered much mileage since.
Mechanicals:
• Reconditioned Turbo with 1 year guarantee
• Exhaust Diesel Particulate Filter – Genuine Mercedes replacement 96,500 miles
• Exhaust Diesel Particulate Filter – Genuine Mercedes replacement 96,500 miles
• Exhaust Mid-section and back box – Genuine Mercedes replacement 96,500 miles
• Genuine Mercedes Seat belt buckle (Driver side) 96,500 miles
• Genuine Mercedes SRS Airbag module (Faulty) replaced and coded to vehicle 96,500 miles
• Fuel Injectors (4) Refurbished Delphi, Re-coded to ECU 96,500 miles
• Engine Air filter 96,500 miles
• Oil change and Oil filter (10 L Genuine Mercedes) 96,500 miles
• Cabin Air filter 96,500 miles
• Fuel filter 96,500 miles
• Front Lower control arms (Both sides) 96,500 miles
• Front brake disks and pads 96,500 miles
• Rear Tyres – 96,500 miles
• Cabin Fan / blower motor 96,500 miles
• Cabin Fan / blower fuse (Genuine Mercedes) 96,500 miles
• Rear shock absorbers 96,500 miles
• Windscreen wipers 96,500 miles
Internal:
• Single seat conversion for Passenger
• Carpeted floor liner
• Sound deadening Carpet headliner
• Apple CarPlay / Android play touch screen stereo with BT and Radio
• Reversing camera installed
• Security camera installed
Like what you see? Text Izzy on 07368420725 now and book a viewing.
Registered Vehicle Type
Motor Caravan - refused (on external appearance only)
Base Vehicle Condition
Used
Converter Type
Self Build - Handcrafted Start-up
Conversion Condition
Used - Excellent
Maximum Weight (MAM or MTPLM)
3,500kg
Unladen Weight Verified?
YES - the vehicle has been weighed since completion
Gas sign-off supplied
Landlords Gas Safe Certificate
Please note: Quirky Campers do not inspect the listings for accuracy or check campervans in person. We have asked sellers to provide evidence of certificates and paperwork however you MUST check yourself that the information provided is present and correct. You will need to exercise the normal due diligence when buying any vehicle.