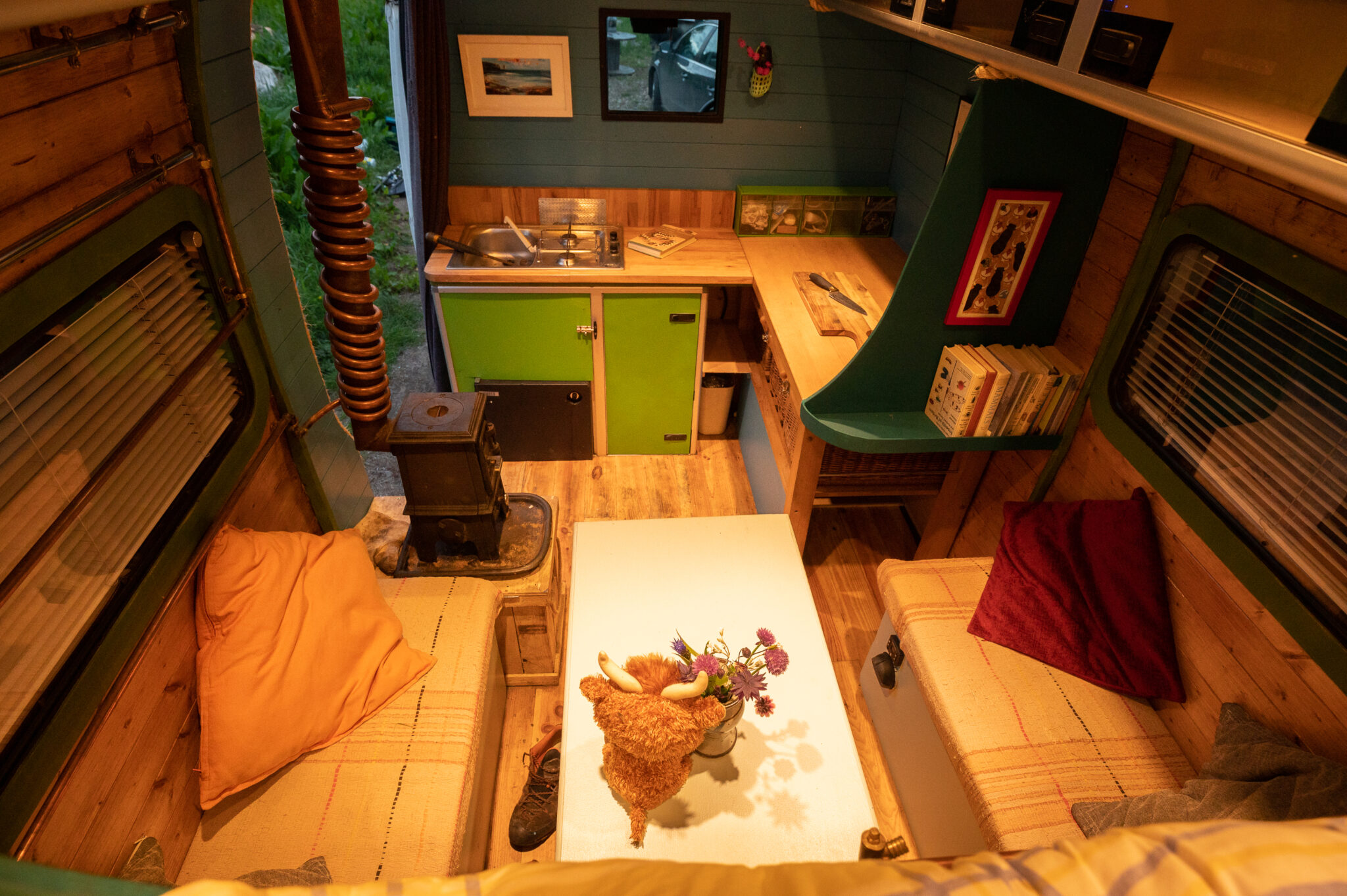 Vehicle Description
The van has a 3.0L engine making it very comfortable to drive. Also larger engines last longer so with 170,000 miles its early days for this van yet!
I bought the van direct from the Scottish Ambulance Service so it will have a perfect service record. I serviced the van at the time of purchase (163,000) to be sure and have just serviced again.
The van just passed an MOT with no advisory's (12 months MOT). Check its MOT history online at https://www.gov.uk/check-mot-history
The body work is a good for its age but does have age related marks from its time in the ambulance service. Nothing that effects the performance, purely cosmetic. Over all the van runs and drives perfectly and for its age is in really good condition. Underneath the van is solid and well covered with its original underseal.
Reversing camera
6 Speed Diesel
Conversion Description
I lived in this van for the last year. The past 6 months over the winter in Scotland after quitting my job and trying to make a go as a full time adventure photographer. I spent most of my days Ice climbing on Ben Nevis and this van made life very comfortable even during Covid when there were no cafes or facilities available.
A robust and couthie conversion, with log burner and heat syphoned radiator system to spread heat and creating effective drying space. The van has the original ambulance insulation and fiberglass vapour barrier in place.
The van Features:
Electrics:
-240V mains hook up, long cable included
-240V Intelligent 50A mains charger to keep batteries to top health
-240V Victron Energy inverter
-340W Mono crystal solar panel
-Victron Energy solar changer
-2 x 100AH AGM batteries
-Eberspaecher diesel heater
-6 Warm spotlights
-2 USB sockets
-Reading light next to bed
-External flood lights
-Boot light
-Water Pump
-Split charging system
-Bluetooth speakers
-Extractor fan
-Fairy lights included but not put back up since painting – I think that's a personal touch!
-Peugeot Specific dealership level diagnostics and laptop (For those who like to save on the garage fees like me!)
Living Space:
-Double Bed
-Lots of overhead snap shut storage
-Wood burner
-Heat syphoned radiator
-Book Shelf
-Under seat storage
-Massive boot with snap shut cupboards
-Table with 2 height settings that can fold away
-2 Tinted side windows with built in blinds
-2 Roof lights one of which opens
-Tinted sliding door window
-Loads of natural light
-Solid Bordeaux Pine floor
Kitchen Area:
-2 x Gas hob and sink
-25L Grey water tank or straight out option
-WAECO CoolMatic RHD-50 (Top of the line 12v fridge)
-80L Water Tank
-3 x wicker storage baskets
-2 x Cutlery Drawers
-Gas Storage cupboard (Empty Bottle Included-will save deposit on a new bottle)
-Solid Beach worktop
I made the the rack on the back to carry the small motor bike pictured. I am selling the bike separately – but if you interested let me know and I will do a favourable deal! The rack could be used for pushbikes or anything else.
If your looking for a van with a toilet and or shower I am more than happy to install these at cost if that would be of interest.
Van is classed as a – Van with Windows
Tax Class – PLGV (Private light goods Vehicle)
Please get in touch for any questions or would like to have a video tour of the van, I am always happy to chat things over on the phone or via email or Instagram. Delivery can arranged anywhere in the country.
Please note: Quirky Campers do not inspect the listings for accuracy or check campervans in person. We have asked sellers to provide evidence of certificates and paperwork however you MUST check yourself that the information provided is present and correct. You will need to exercise the normal due diligence when buying any vehicle.
Current Mileage
170,000miles
Registered Vehicle Type
Other - see description for explanation
Fixed Double bed with reading light and tea shelf, back doors open creates a lovely view from the bed of where ever you might be.
Bed Dimensions 123cm x 175cm.
Maximum Weight (MAM or MTPLM)
4,005kg
Unladen Weight Verified?
NO - the vehicle has not been weighed since completion
Gas sign-off supplied
None