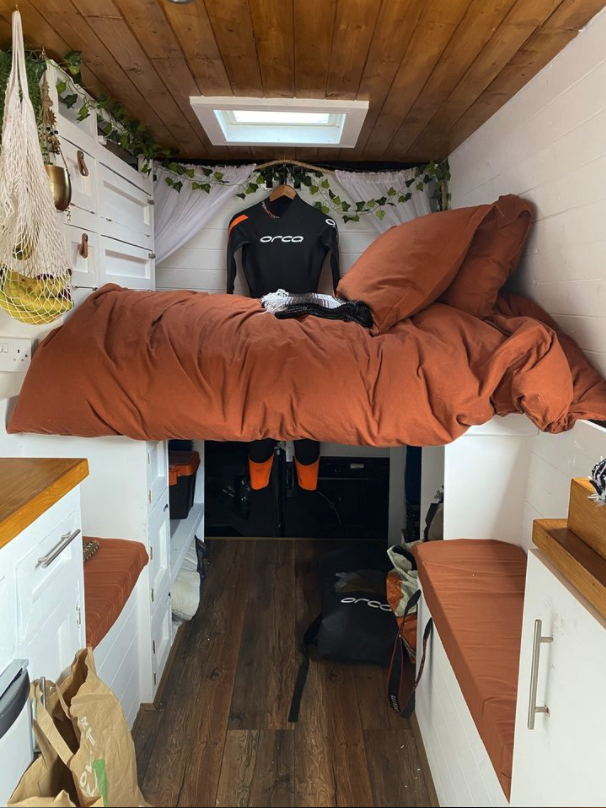 Sold
Vehicle Description
Ford Transit 115 T350L RWD (MWB) Panel Van – Light Goods Vehicle
2402cc (2.4L)
Diesel
Manual Transmission (6 Gears)
11 months MOT + Service
5 months tax remaining
MPG = 32 to 36
Has recently had 2.5k worth of mechanical repairs and replacements, including:
– New Servo
– New Master Cylinder
– Fuse Box Back Plate Replaced
– New Brake Pads & Discs (front and rear)
– New Rear Caliper
– All Pipe Work Renewed with New Flexi Hoses & Rubber Boots and Bolts
– 2x New Ball Joints
– New Handle and Cable on Side Door
– Various Other Bolts, Hoses and Brackets Replaced
The body work requires some attention and we are open to negotiation on this. The lower panelling of the vehicle has been fitted with an anti-chip surface guard. Ask for more information.
Conversion Description
This is a Unique Self-Build Ford Transit Conversion. Lovingly converted to live in full time or travel – perfect for living the van life, suitable for fully off-grid or on site and storage space is extensive. This conversion has a really cosy homely feel to it when you're living/ travelling in it and is ideal for adventures.
The Van Includes:
– Low voltage, hyper energy efficient fridge
– 110V roof-mounted solar panel which feeds leisure battery
– Double Leisure Battery
– Sliding bed which pulls out to create large double sized bed. Folds/ Slides away during the day but still remains large enough for 2 people to relax on it.
– 2x seated area
– Inverter which converts 12V to 240V to allow for high power devices to be used and charged (i.e. laptops, cameras, drones, slow cookers etc)
– Trickle/drip feed converter which charges the leisure battery from the main vehicle battery whilst the van is running
– 240V Mains hookup for plugging in at camp sites etc
– 2x USB ports for device charging
– 3x plug sockets + additional 2 sockets when hooked up to external 240V mains
– 2x brand new gas hobs installed into kitchen counter top (with cover for when not in use to provide extra surface space)
– Sky roof air vent
– Fitted taps and water container in rear storage ready for foot pressure pump hookup.
– Brand new (unused) custom built mini-log burner – PLEASE NOTE: this is uninstalled. We have installed a fully heat proofed section (see final 2 pictures) and depending on your preference would require tiles and the burner fixed with flue. *Happy to answer any and all questions on this.
Please note: Quirky Campers do not inspect the listings for accuracy or check campervans in person. We have asked sellers to provide evidence of certificates and paperwork however you MUST check yourself that the information provided is present and correct. You will need to exercise the normal due diligence when buying any vehicle.
Make and Model
Ford Transit MWB 115 T350L RWD
Current Mileage
165,000miles
Registered Vehicle Type
Panel Van (does not meet DOT standards)
Bed is a timber frame sliding double. When fully extended is 6 foot long and sleeps 2 people (see images).
Maximum Weight (MAM or MTPLM)
3,500kg
Unladen Weight Verified?
NO - the vehicle has not been weighed since completion
Gas sign-off supplied
None