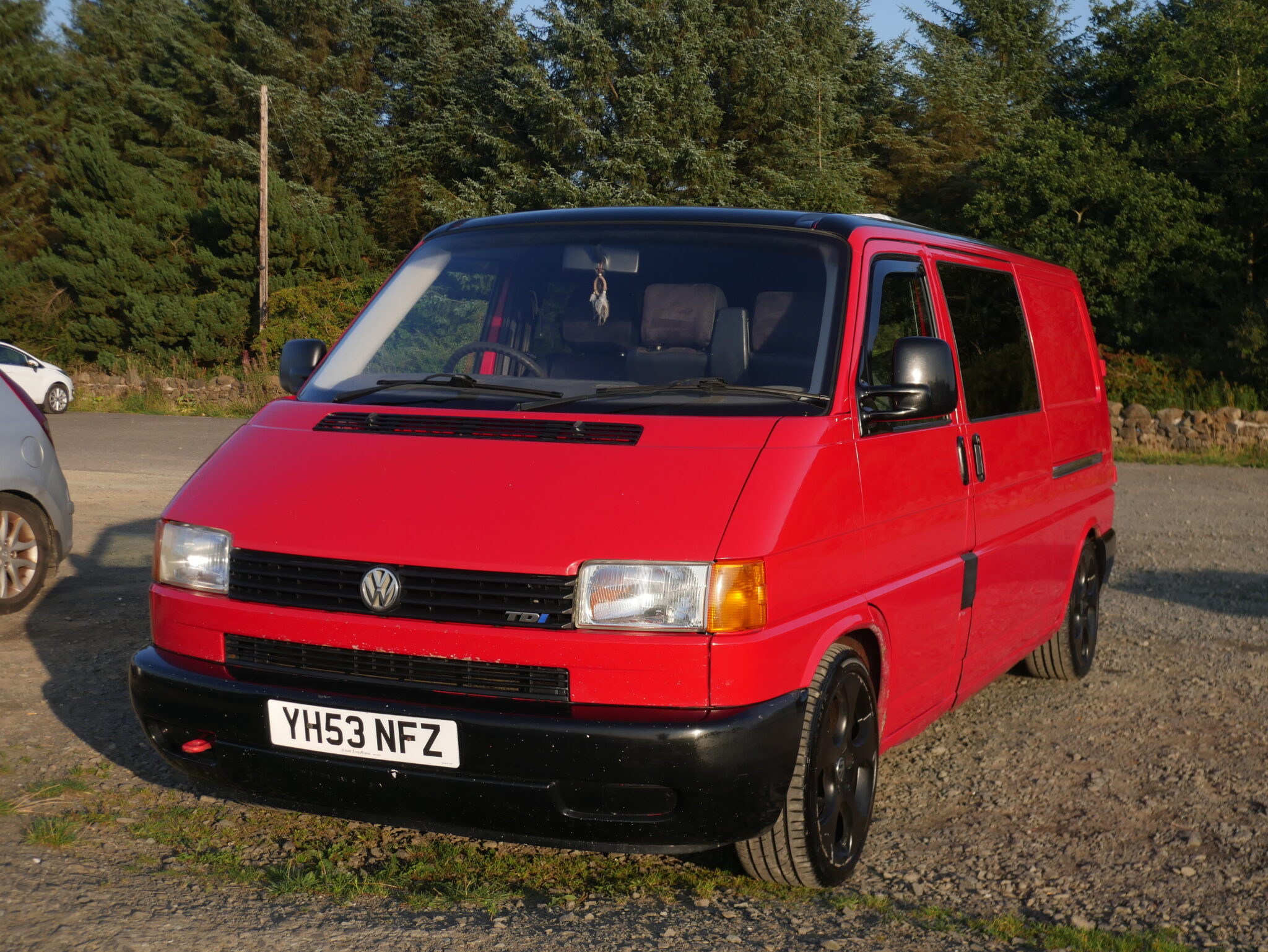 £14,000
Volkswagen Transporter T4 LWB 2.5
151,338 miles
Vehicle Description
– Very well looked after from initial conversion, with a few minor superficial scratches to the outer paint.
– Being the 2.5L model, this holds the more reliable engine for the T4 range, with a 5 speed gear box
– Engine underwent a full rebuild after 70,000 miles and runs a charm. Clutch replaced ~15,000 miles ago.
– Initially a wheel transporter, this was bought by an individual who paid a professional to convert. After little use this was bought by a nice couple in the Lakes who ran it for a number of years before I bought the vehicle and have used for two years in Scotland.
– Full service history included – this van has been VERY well looked after
– 12 month MOT
Beds Description
A rock and roll bed providing legal seat belted space for two in the rear. With a flick of a handle the seats fold down to create a bed, this is then easily lifted up again to create the seats again.
3/4 width rock and roll bed:
– Height clearance for wheel arch 39cm
– Width 107cm
– Length seat position 110cm
– Length bed position 181cm
– Height seat position 96cm
– Base center box width 80cm
Conversion Description
This was was professionally converted by T4campers (https://t4campers.co.uk/) and is very well finished. Since being converted I have removed some panels to open up additional room in the van and have fitted a 120W solar panel with a charge controller. Highlights of the conversion are:
– Two ring hob
– 12V Tap and sink
– Rock and roll bed
– Large amplifier, subwoofer and speakers for an amazing sound system
– 20L water tank
– Swivel double passenger seats
– Ample and bright lighting
– 120W solar panel
– Shore power plug in
– Split charge relay
This is really a great campervan, happy to provide as much info as required and more photos if needed.
Registered Vehicle Type
Motor Caravan - approved
Base Vehicle Condition
Used
Converter Type
Professional - Factory Fit
Converter Condition
Used - Good
Maximum Weight (MAM or MTPLM)
2,800kg
Unladen Weight Verified?
NO - the vehicle has not been weighed since completion
Gas sign-off supplied
None
Please note: Quirky Campers do not inspect the listings for accuracy or check campervans in person. We have asked sellers to provide evidence of certificates and paperwork however you MUST check yourself that the information provided is present and correct. You will need to exercise the normal due diligence when buying any vehicle.