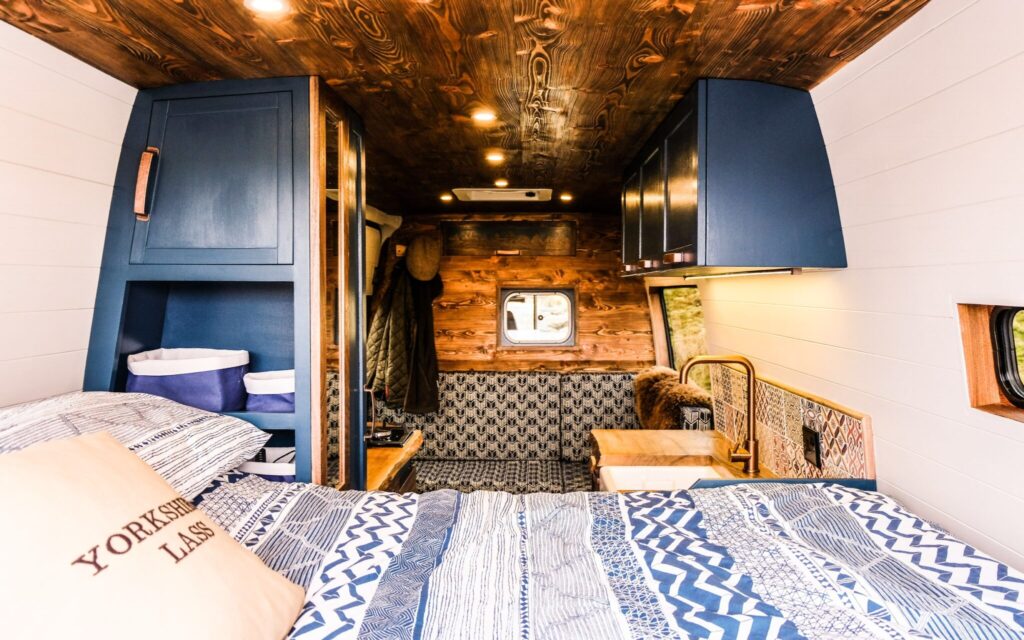 Waiting List
Next build slot availability April 2023
Bowland Camper Conversions started with our own van; a long wheel base VW Crafter. As lifelong outdoor enthusiasts, we wanted a place to call home on our adventures; whether that was hiking, mountain biking, paddling, snowboarding or just exploring new wild places.
We hated almost every aspect of caravans and traditional camper vans, the fake wood, the stretch carpet and the endless beige! We wanted our van to be somewhere that we would genuinely enjoy spending time; a tiny home on wheels that reflected us. Matts background in aerospace engineering and passion for woodwork perfectly equipped him for van building and our dream van quickly became a reality.
We now build beautiful vans for weekend adventurers and full time van lifers alike. Our vans are a blend of craftsmanship and high quality components, giving you a functional space that feels warm and inviting. Every build is completely bespoke, from the layout to the colour scheme, giving you the freedom to express yourself through colours, textures and finishing touches. Want a wine rack? A hidden drawer for dog bowls? Custom storage for your bike? A neon sign? We've done it all!
In addition to our full conversions, we also offer our services to van owners and self builders for upgrades, part conversions and smaller jobs. We can fit solar panels, install electrical systems, fit underslung water and LPG tanks, put in windows and roof vents… the list goes on.
Get in touch today to see how we can help you end up with the perfect van.
✔ Quirky Campers can verify the work of this Converter meets our standards.
✔ Conversions are Ready for Hire.
Landlords Gas Safe Certificate
Landlords Gas Safe Certificate
Guaranteed Appropriate Payload
DVLA Motor Caravan Registration
Electric Conversion Experience
Has experience with converting new electric vehicles.
Has experience with retrofitting classic vehicles.
No experience, but happy to take on an electric conversion.