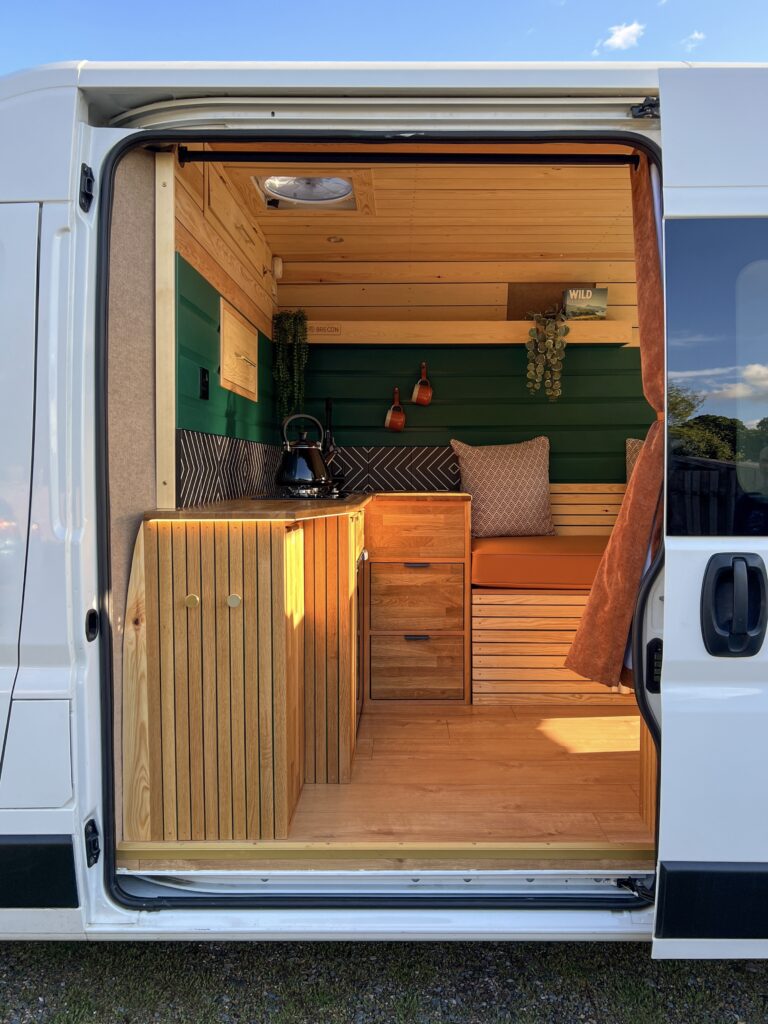 Waiting List
Build slots available:
– May 2023
– July 2023
We are Izzy & Laurie and we've been passionately living and breathing campervans for decades. From car camping in Australia to RV adventures in the USA, from fully off grid travelling in Scotland to road tripping across Europe, we've accumulated years of adventure experience on the road and we channel all that knowledge into our campervan layouts and designs.
Combined with our years of experience converting and crafting campervans and our passion for creating beautiful and unique spaces, we feel we have a winning formula to create truly special campervans. Behind the beauty of our builds, practicality is at the root, with all elements working in harmony to make travelling on the road, whether part time or full time, as simple and easy as possible.
Our passion and pride of delivering quality craftsmanship goes into every element of our conversions from our base tried and tested insulation system all the way through to the signature Camper Dreamin' finishing touches.
Our Commission Packages
We have put together three packages for our clients to choose from which are tried and tested layouts and designs that we know work well. These are complete conversions and all come with the same signature Camper Dreamin' style and craftsmanship and are kitted out the with best quality products on the market. 
These packages are just a baseline to get started with. Layouts can be changed and there are opportunities to downgrade and upgrade when it comes to specs. 
And let's not forget you are here to put your own stamp on our style by choosing your tiles, cabinetry fixings, cushion fabrics and the all important core wall colour. Or if you'd rather, you are more than welcome to leave the whole process in our capable hands. 
Are we the right converters for you?
We hope that you've contacted us because you love the vans we create and style in which we do them. We pride ourselves on our Camper Dreamin' signature style and know that others do too. We love combining natural timber with bold colours and modern features, so if this isn't the style for you then we may not be the right converters for you. 
Which vans do we work with?
Here's a list of the models we are happy to work with. We love working these vans as they make great base vehicles for conversions. They are wider, maximising space, and light, giving a better payload. And we are getting to know them rather well now.
Citroen Relay L2H2, L3H2 or L4H2
Fiat Ducato L2H2, L3H2 or L4H2
Peugeot Boxer L2H2, L3H2 or L4H2
Vauxhall Movano (2022 onwards) L2H2, L3H2 or L4H2 
You may notice that all of these vans are owned by the same group and are essentially the same vehicle. We see no difference in quality between the makes and models.
We want our vans to be adventure ready from the base up which is why we endeavour to work with vans which have had an easy start in life, travelled few miles and been taken care of throughout to ensure our vehicles are ready for whatever their new owners throw at them. We are happy to help our clients source the right base vehicle as we know it can be an overwhelming process.
If you would like to receive our brochure and price list or ask us any questions then please don't hesitate to drop me an email at: izzy@camperdreamin.com. 
Verdict:
✔ Quirky Campers can verify the work of this Converter meets our standards
Landlords Gas Safe Certificate
Landlords Gas Safe Certificate
Guaranteed Appropriate Payload
DVLA Motor Caravan Registration