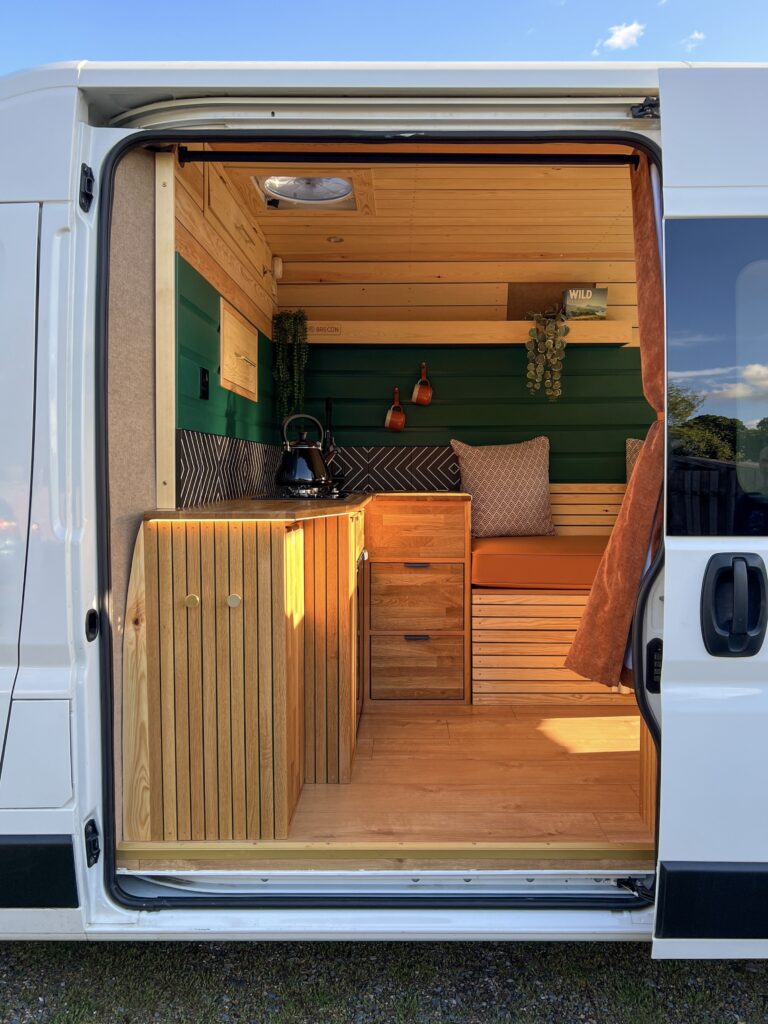 Waiting List
Next build slot available: June 2024
We are Izzy & Laurie and we've been passionately living and breathing campervans for decades. From car camping in Australia to RV adventures in the USA, from fully off grid travelling in Scotland to road tripping across Europe, we've accumulated years of adventure experience on the road and we channel all that knowledge into our campervan layouts and designs.
Combined with our years of experience converting and crafting campervans and our passion for creating beautiful and unique spaces, we feel we have a winning formula to create truly special campervans. Behind the beauty of our builds, practicality is at the root, with all elements working in harmony to make travelling on the road, whether part time or full time, as simple and easy as possible.
Our passion and pride of delivering quality craftsmanship goes into every element of our conversions from our base tried and tested insulation system all the way through to the signature Camper Dreamin' finishing touches.
The beauty of a commissioning a fully bespoke conversion means we build a campervan completely around your unique needs. The possibilities are endless with this style of campervan.
Our Commission Packages
Commissioning a campervan may seem like a daunting process but we're here to make it as simple and fun as it can possibly be which is why we've put together a selection of packages which are tried and tested layouts and designs that we know work well. These are complete conversions and all come with the same signature Camper Dreamin' style and craftsmanship and are kitted out the with best quality products on the market.
These packages are just a baseline to get started with. Layouts can be be changed and there are opportunities to downgrade and upgrade when it comes to specs.
And let's not forget you are here to put your own stamp on our style by choosing your tiles, cabinetry fixings, cushion fabrics and the all important core wall colour. Or if you'd rather, you are more than welcome to leave the whole process in our capable hands.
Love our style but not our layouts? Then get in touch with your ideas and we can build around those.
Pricing
Pricing can be found on our website along with details of our commission packages. Each of our builds have their own gallery, details of the conversion specs and price of the conversion.
If you'd like to discuss commissioning a conversion with us then please don't hesitate to drop Izzy an email at: izzy@camperdreamin.com. 
Landlords Gas Safe Certificate
Landlords Gas Safe Certificate
Guaranteed Appropriate Payload
DVLA Motor Caravan Registration
Electric Conversion Experience
Has experience with converting new electric vehicles.
Has experience with retrofitting classic vehicles.
No experience, but happy to take on an electric conversion.