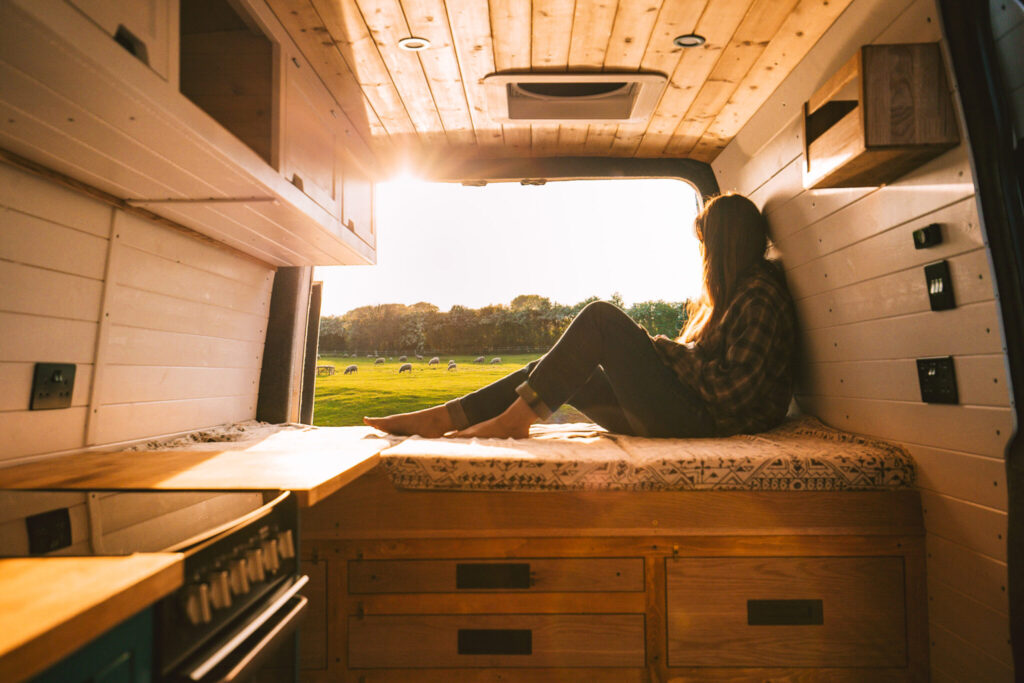 Waiting List
Slots available from September 2023
Custom Campervan Conversions located in Warwickshire
Each bespoke camper that we complete is one of a kind, with no limitations on design, colour schemes or base vehicles. Everything is made in house, by hand, by us. This means that we can create a camper van that is perfect for you without needing to stick to a cabinet shape already programmed into a machine.
Any Base Vehicle, Any Layout, Any Requirements
We can alter counter heights, numbers of drawers and cupboards, bed lengths and table sizes. While we use the same tried and tested materials to build all of our vans, they can be finished to fit whatever aesthetic you require. Some people prefer a more wooden cabin-esque interior, while others prefer a smooth calm painted vibe. Whichever it is that suits you, we can incorporate it.
How did we get into converting camper vans?
We got into building campers completely by accident; in 2016 we moved to Australia and had the need to build ourselves a home. We had been completely and utterly inspired by the Vanlife community, and their beautiful homes, and so we begun our first conversion journey just weeks after moving half way across the world. At the time we had absolutely no experience, yet we managed to create a mobile house for ourselves and continued to travel in it for as long as our savings would allow. Our van meant complete freedom for us, and even if its for just a weekend away here and there we think that everyone should feel the escape that we felt when we lived in our van.
We eventually found ourselves craving the opportunity to build out another camper, and that's what led us to start up CarpenterIngram. We have a passion for Vanlife, and the freedom of travel which it brings. There is nothing we love more than building a beautiful and functional means for travelling for other people, and its likely that we may even be more excited about your conversion than you are!
Why should you choose us?
We Live It
We live in a campervan that we built, full time, in the UK. We believe this gives us a unique perspective on the plethora of decisions required to build an ergonomic and enjoyable space inside a vehicle. It also means that we know, trust and rely on the exact same systems that we will be installing in your van.
Handmade by a Team of Two
Dan and I complete every step of our conversions. We don't use pre-made units or cupboard doors. This means that no corners are cut and we are constantly able to improve the quality of our builds. From placement of switches through to construction and finishing of units we consider the pros and cons of every step we complete to ensure maximum usability. This requires constant assessment and revaluation during the build process but we believe it is key to a successful build.
Detailed Updates
Half way through your build we send you a mid-way update. This update contains captioned photos showing everything from wire routing to window installation, and explains the precautions we take at each step to ensure a long lasting and safe campervan. This update proves that from day 1 we have taken care and consideration to complete every task in a neat, tidy and safe manner.
Impeccable Finishing
Every piece of wood in our campervans is fully finished and protected. We build our units, dissemble them, paint/oil them and then reassemble them. This means that the backs, the sides and the edges of every piece of wood is resistant to water ingress and warping. Campervans are highly susceptible to constant and dramatic changes in temperature and humidity, which is why we take such painstaking measures to reduce their effects.
Fully Certified
Each one of our campervans undergoes thorough testing prior to pick up by the customer. We complete a multistage pre-delivery check, as well as getting our campervans the following certifications:
Landlords Gas Safe Certificate
240v Electrical Sign Off
Weigh-bridge Certificate
What do our Customers say?
"CarpenterIngram designed the van in such a way that every inch was not only functional, but also beautiful. They took the time to understand exactly what we needed in our campervan, and the final result was beyond our expectations. After spending months on the road in our cozy van, it is still as beautiful as the day we picked it up. The quality of their workmanship is impossible to miss. CarpenterIngram are not only highly talented at converting vans, they are wonderful people – giving advice on living the campervan lifestyle. The van they designed for us allowed us to have the most incredible experiences, and, in the end, we wouldn't change anything."
– Kristen and Tom
"Working with CI has been an absolute pleasure. Their attention to detail is fantastic and I could not be happier with what they have created for me. I had no concerns throughout the process, as they had an answer for everything! People are amazed when they look inside the van!
I look forward to working with them in the future."
– Edward, Campervan Rental Business Owner
✔ Quirky Approved:
Guarantees a top-quality conversion and exceptional customer service from a trusted business.
Membership Number:
QC221234
Harriet Carpenter/Dan Ingram
Landlords Gas Safe Certificate
Landlords Gas Safe Certificate
Guaranteed Appropriate Payload
DVLA Motor Caravan Registration
Electric Conversion Experience
Has experience with converting new electric vehicles.
Has experience with retrofitting classic vehicles.
No experience, but happy to take on an electric conversion.