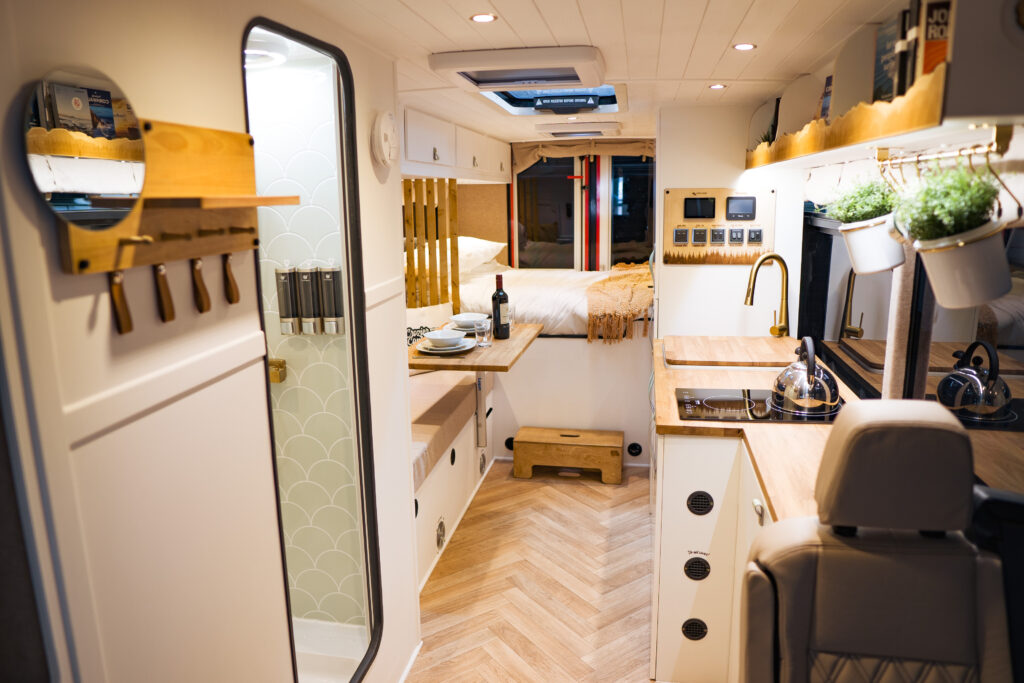 Waiting List
Next Full Build Slot: January 2024
A Victron authorised company based in Lancashire. We're a team of 5 people ranging from qualified engineers, carpenters and designers. We specialise in fully off-grid electrical systems. We build conversions for individuals, couples, families, professionals, adventurers and everything in-between. We pride ourselves tailoring each build to your needs and the quality of our builds and our confirmations to regulations and standards within the industry.
Our conversion process
Design Meeting 
This is a discussion about ideas and visions and how we can make them a reality. We will discuss vans, materials, colours, layouts, requirements, vinyl graphics etc…
Quotation
From the initial design meeting, we will be able to draw you up a quote and tailor to your budget.
CAD Model 
We will then design an accurate CAD model of your conversion. This will give you a greater insight of how your final van will look including materials, colours and fabrics etc. This also includes one revision of the CAD model.
Start Building
We will then get straight to it! Depending on the complexity of your build, we give an estimate of 8-10 weeks to complete. During your build you have access to a live folder which includes a transparent breakdown of every cost of your build. It also includes regular updates of photos and videos and digital copies of any certifications like gas and electrical.
After the build
Once you have the keys to your van, we have what we call a 2 week 'snag period'. This gives you time to experience the van and see how van life is. If there's anything you wish you had changed or doesn't work for you, let us know within the 2 weeks and we'll get it booked it and get to work on it. All our conversions come with a 6 month warranty.
Every conversion meets the industry standards for the production of new motorhomes and will come complete with electrical & gas certification.
Services
⚡️ Complete bespoke conversions
⚡️ Partial conversions
⚡️ Commercial conversions
⚡️ Electrical systems designed and installed with certification
⚡️ All aspects of Campervan work undertaken
Crozier Campers are great. Conner has an amazing team with a really good mix of skills covering: design, functionality and workmanship. We particularly love their focus on sustainability and are in admiration of their zero landfill achievement.
✔ Quirky Approved:
Guarantees a top-quality conversion and exceptional customer service from a trusted business.
Landlords Gas Safe Certificate
Landlords Gas Safe Certificate
Guaranteed Appropriate Payload
DVLA Motor Caravan Registration
Electric Conversion Experience
Has experience with converting new electric vehicles.
Has experience with retrofitting classic vehicles.
No experience, but happy to take on an electric conversion.