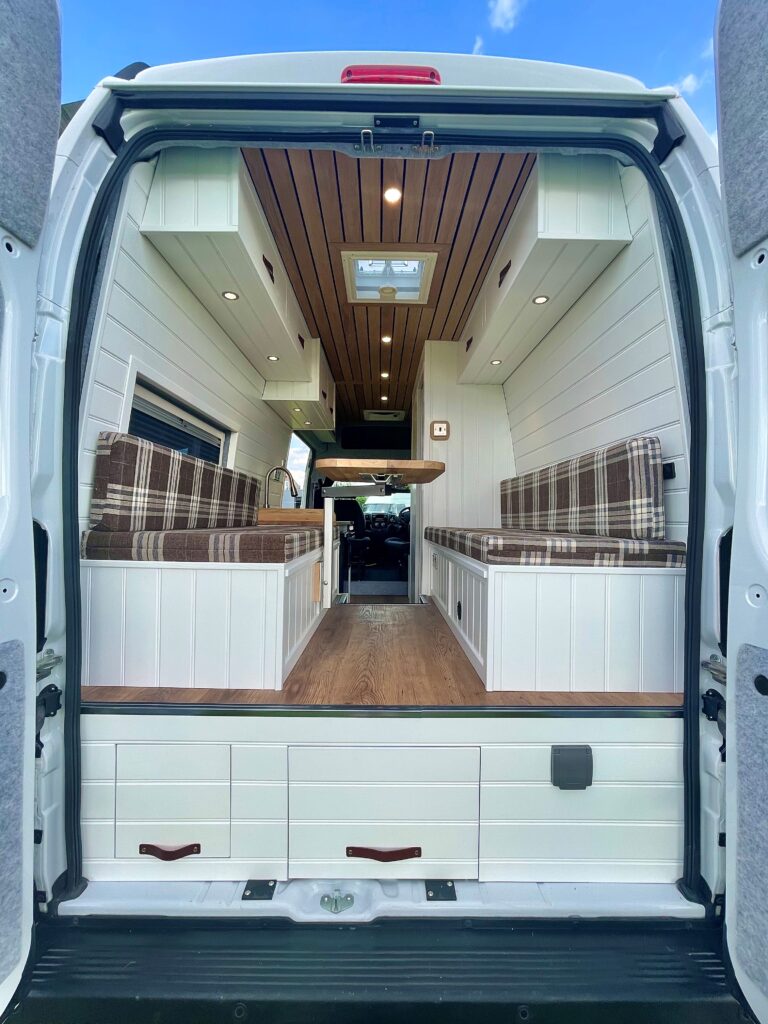 Waiting List
Next available slot April 2024.
DB Campers, based in Yorkshire, is the vehicle to turn your Vanlife dream into a reality. Both Dale and Jack have over 15 years of experience as fully qualified carpenters and everything in our conversions is bespoke and handmade.  Following completion of our own off-grid campervan conversions and, having completed a variety of custom conversions for others, we have the passion, experience and skill to create your bespoke campervan conversion. Not only do we have experience in building campervans, we have travelled and lived in our own van for 5 months with our dog Newt and therefore understand what is needed to make a liveable home on wheels for your vanlife adventure.
We create conversions based on customer's needs, whether small or large, within any agreed budget, we can create a personalised camper for all seasons. We also offer a hands on approach with regular updates on your dream home on wheels. We can create any idea but we specialise in handmade personalised conversions. All our conversions are handmade to customer specifications making the most of the available space and giving it a personalised professional look.
Our qualified electrician undertakes all the electrics work on our conversions as safety is of utmost importance to us.
We pride ourselves on excellent joinery skills and our flexibility is endless. We can work to meet most requirements and specifications. The key aspect of our conversions is that they are handmade with no pre-brought units.
We look forward to beginning the journey with you to make your dream campervan adventure a reality.
Perhaps unsurprisingly Dale, India and Jack are very busy, with beautiful craftsmanship, speedy turnaround and great designs they are usually booked many many months in advance. I haven't had a chance to see there work in the flesh but reports from their happy customers have been glowing:)
✔ Quirky Approved:
Guarantees a top-quality conversion and exceptional customer service from a trusted business.
Landlords Gas Safe Certificate
Landlords Gas Safe Certificate
Guaranteed Appropriate Payload
DVLA Motor Caravan Registration
Electric Conversion Experience
Has experience with converting new electric vehicles.
Has experience with retrofitting classic vehicles.
No experience, but happy to take on an electric conversion.