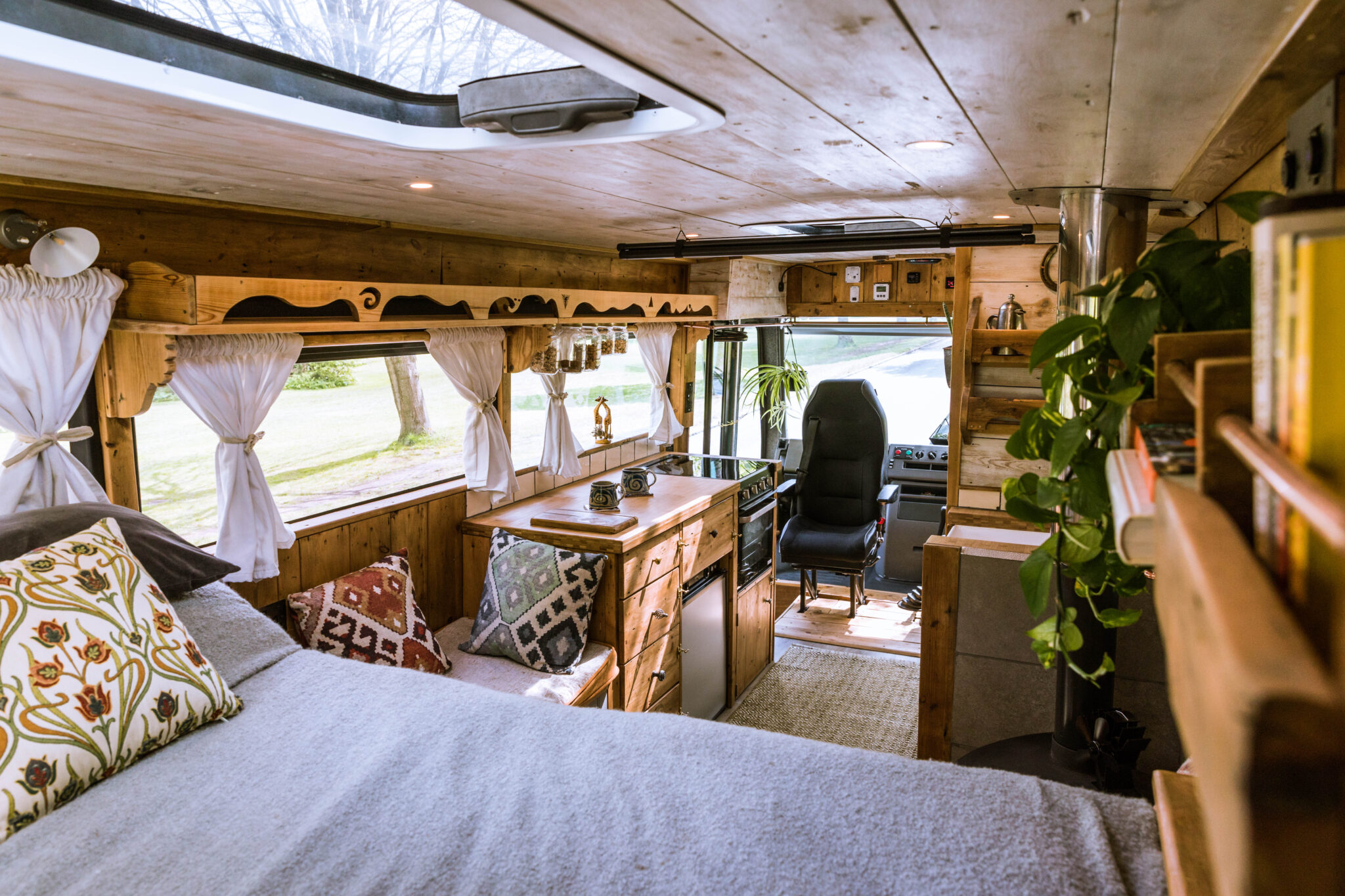 Handkrafted Campers is run by Shelly &  Issey, we are a bespoke Campervan conversion business.
We do whole conversions from van to camper. Our passion is to reclaim materials where possible. Most of the wood we use in our conversions is 'old' and hence light – we spend a fair bit of time giving life back to beautiful salvaged planks of wood. Its quite an amazing process to see the wood come back to life again.
Our builds tend to be rustic in nature but also cosy and practical. Having been full time van dwellers we have come to know what works and what doesn't.
If we are doing a conversion from scratch then all the appliances are brand new and gas safe. We can outsource the installation of various heating sources.
Do you love food? We can make you a kitchen like you would find in a house.
It's all about your dream and what you want in your campervan.
We believe that if the design process is done properly then the build tends to be fairly straightforward, therefore designs are hand drawn using a scale ruler and different layouts are be offered until you are happy.
It all began a few years back when we built our own wooden, cosy home on wheels, on the street in London (mostly out of victorian pine floorboards salvaged form a neighbour). She's a big Mercedes Bus that we called Joy. We were full time bus dwellers for 3 years, mainly based in Portugal.
We decided to come back to Bristol to build more campervans late 2018 and it's thanks to our  Portuguese dog, Kika that we started Handkrafted Campers (that's a story for another time).
We are very pleased to have Issey and Shelly's wonderful work on Quirky Campers. Between they have a wealth of experience both in build but even more importantly in living and traveling in campervans. They have a beautiful rustic style and we love that they use reclaimed materials whenever possible. We very much look forward to having one of their commissions available for hire in the near future.
Verdict:
Quirky Campers can verify the work of this Converter meets our standards
Location
Bristol, England, United Kingdom
Waiting List
Currently taking bookings from Jan 2023
Landlords Gas Safe Certificate
Landlords Gas Safe Certificate
Guaranteed Appropriate Payload
DVLA Motor Caravan Registration