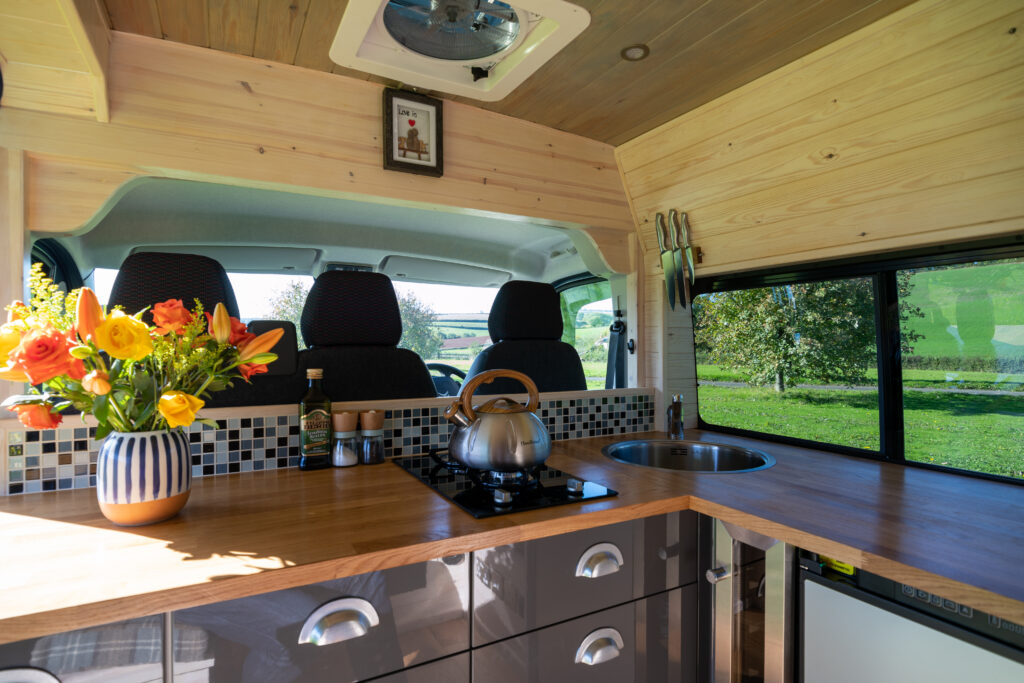 Waiting List
Next available December 2023
Clive was a building contractor/joiner for over forty years and has huge amounts of experience required to convert these 'high end' campers.  Our pictures show the attention to detail on the joinery work, not very often seen. Quality and finish is exceptional
We provide quality hand crafted conversions from new vans.  All campers are converted to a unique and high end finish.  We prioritise warmth and comfort.
We do not use pre-made pods, but create a solid 'home from home' camper
The camper style is 'clean scandi chic', this does allow you to put your own 'stamp' on the camper with your decoration in your own taste, or leave it as it is!
Our camper conversions are FULLY off grid with solar panel, normally 200w and upto two 120AH batteries.  The hob is a double gas burner.  We supply two 6kg gas cylinders.  There is a brilliant 3 way heat exchange fridge, which can run off gas.  This means that you do not have to worry about running down 12v  batteries when there is no sun.  It also means you can have a large spacious fridge.  The water heater also heats water from the diesel heater, so hot water shower under the rear door awning with very hot water.
Our first camper 'Maria' is now a Quirky Camper rental and the owners have decorated in their own style and it looks gorgeous.
We provide a memory foam mattress for the fixed double bed to create maximum comfort and lots of storage space in the garage area
Oak flooring and pine cladding throughout with full insulation
There is a fully fitted kitchen, with a large fridge and the all important wine cooler!!
Our new vans now have a rear door awning with a fitted shower on the back door, the awnings are fully enclosed and provides 2m2 of shower area.  We are now fitting a 70 litre water tank with a 10 litre water heater.  heated from the diesel heater or solar panel
We create our vans and then sell them, we are not offering a full personal conversion service, we believe this layout works for comfort and lots of storage for your sporting activities.  We can of course make some changes if these are requested in advance with decor etc , please call and ask
We can also would consider converting a new van provided by a customer and quote for just conversion
Jones Sport Campers could also provide a brand new van with awning, solar panel, vents and side windows already fitted as an empty shell so you can do your own conversion in your own style
We are based in the Chew Valley between Bristol and Bath, please check our website for the full list of what is included in our beautiful campervan conversions www.jonessportcampers.co.uk or call us to come and have a look Jennie 07949 718264
hello@jonessportcampers.co.uk
www.jonessportcampers.co.uk
NEXT  CAMPER WILL BE AVAILABLE APPROX DECEMBER 2023
Jenny & Clive build beautiful, functional campervans designed for adventures for one or two people. Their conversions are very well thought out, reliable and include everything you will need. Clive's long experience in the building trade and Jenny's customer and business experience give them the perfect skills for a great customer experience.
✔ Quirky Approved:
Guarantees a top-quality conversion and exceptional customer service from a trusted business.
Membership Number:
QC221208
Landlords Gas Safe Certificate
Landlords Gas Safe Certificate
Guaranteed Appropriate Payload
DVLA Motor Caravan Registration
Electric Conversion Experience
Has experience with converting new electric vehicles.
Has experience with retrofitting classic vehicles.
No experience, but happy to take on an electric conversion.
Dylan mk2
Clive builds amazing campers and Jenny's communication on the build and equipment is superb. The only thing that surpasses this is when y …