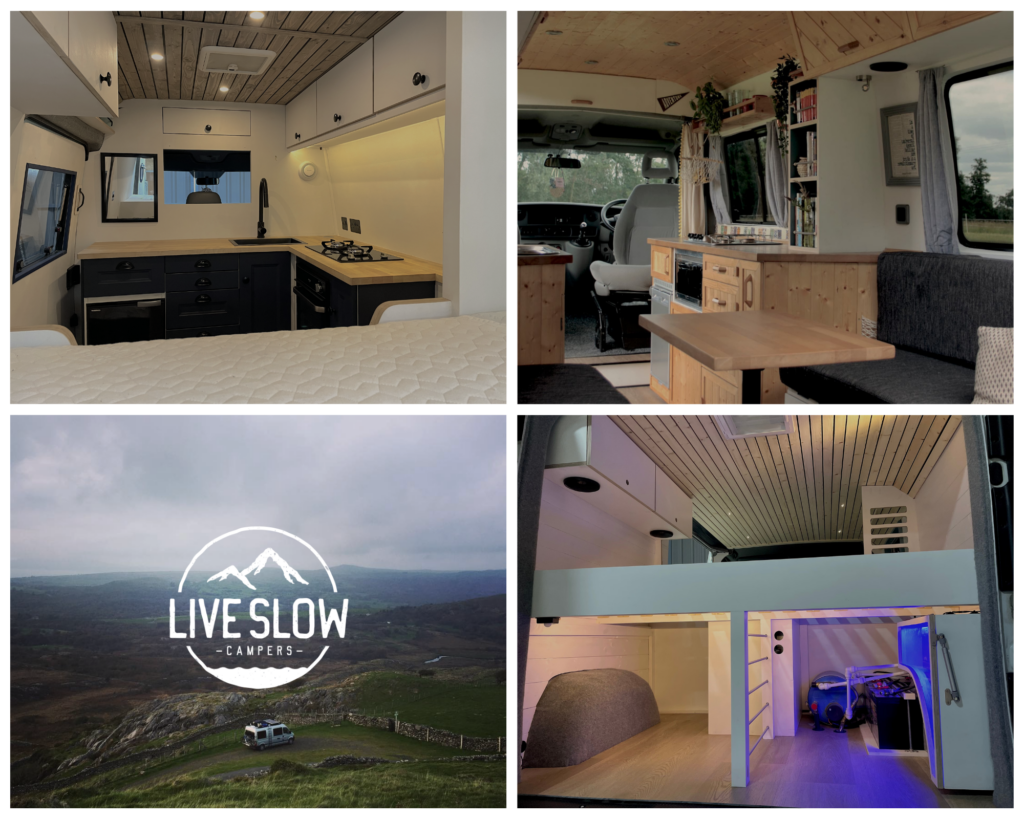 Waiting List
All build slots are now full. Please email for waiting list.
Live Slow Campers is a family business owned and run by Emily and Tom Grainger, with help from our two dogs Dexter and Rudy.
Having previously lived and travelled full time in our campervan Zephyr and now hitting the road for short adventures in between build slots – we have a good understanding of the ins and outs of campervan life for both full time and recreational use.
Our business is located just outside the little Yorkshire village of Sandhutton, in between Ripon and Thirsk with quick and easy access from the A1M.
Live Slow Campers is a small business run with strong ethics and consideration for the environment and how our existence impacts it. Ultimately our aim is for all our builds to start their lives in the best and greenest way possible, therefore each new build receives a carbon footprint calculation which allows us to monitor our impact and provide insight for our customers.
WHAT WE OFFER
We offer a dedicated and bespoke service to every customer, we only book 3 conversion slots each year so there is plenty of time to ensure we realise your dream camper and complete it to the highest standard. We also set aside time to work with self builders on their projects as it allows us to touch base with current van-lifers and check out new and interesting designs.
Each build is made to order and we offer a good range of flexibility in the design, layout and choice of features. Our standard specification can be tweaked to either 'off grid', 'campsite' or 'crossover' step up, all are well tested for robust use, include high quality products and offer great value and reliability for years to come.
We specialise in panel van builds, grouping these into SWB (Vauxhall Vivaro), MWB (Renault Master) and LWB (Mercedes Sprinter). We also have experience working in the micro camper market and offer this as a build option too.
Over the last 3 years we have built a strong supplier base which covers the main manufacturers in the leisure industry but more importantly includes specialist local suppliers that offer creative and unique solutions that are better suited to the vanlife and off grid camper market. Key brands we work with include Victron, Truma, LG, Inlander, S&T, Dometic, Thule, Gas It, Vitrifrigo, KS Energy and Thetford.
BUILD OVERVIEW
Although we do not offer a standard model build, here is a breakdown of the minimum features we include in each build.
Kitchen
Full kitchen system with auto lock drawers and choice of colours and styles
Solid wood or laminate worktop
Integrated oven* and hob with 12v ignition
12v fridge freezer
Wide range of sink and tap combinations (hot and cold) Choice of backsplash including tiled options
Additional storage with creative space saving designs
Multi level led lighting system with 2 way and remote switch options
*Not available on SWB or micro builds
Living/Bed Area
Appropriate seating depending on berth and layout of build
High strength fabric with large range of colours
Positional table system
Storage for clothes and additional luggage
Multi level led lighting system with 2 way and remote switch options
2.1 bluetooth speaker system
Conveniently 12v usb and 240v sockets
Various fixed and convertible bed options
Memory foam mattress with choice of firmness or integrated foam cushions
Shower/Bathroom
Fixed shower* room as standard in LWB models inc mixer shower, wash basin and roof vent
Choice of chemical or composting toilet system (included in all models)
Hot air vent for clothes drying
Multi level led lighting
External shower point with mixer shower head
*Not available on SWB, MWB or micro builds
Windows and Vents
Top Hinged Cassette Windows with Black out Blinds and Fly Net Screens
Maxxair maxxfan deluxe roof fan with remote
Dometic mini heki roof light
(The number and locations of windows and vents will be dependant on camper size and layout)
Electrics
High wattage solar panel by LG or BIPVco (rigid or flexible)
Lithium leisure battery bank
Victron managed smart 12v/240v electric system
Vehicle Split charge system
4/5g antenna with internal wifi
Water and heat
12v/Gas heating and hot water system
Fresh water and waste water tanks – winterised as standard
Electronic water level gauge
3 stage water filter system (sediment, carbon and chlorine)
Gas system
Chassis mounted gas tank
Remote isolation switch and gas level indicator
LPG leak sensor
Insulation
3 stage insulation system using recycled low impact materials
Vapour barrier and ventilation points
Safety Pack
Combi carbon monoxide and smoke alarm Fire extinguisher
LPG leak sensor
Gas safety certificate
Habitation check certificate
Weighbridge certificate
Complimentary Pack 
Live Slow E-tablet with build user manual, pictures and connected device apps
Full wash and valet
Wheel trims if applicable
Exterior TLC
NEXT STEP
Since we opened in 2019 we have completed 8 camper conversions ranging from LWB full time globetrotters to campsite skipping micro campers alongside a number of bespoke electric, gas and water installations. For more information on our builds, pictures and specifications please visit our website www.liveslowcampers.com/ourbuilds.
If you would like more information about our service or would like to request a new quote please get in touch and let the adventure begin.
www.liveslowcampers.com
facebook/liveslowcampers
@liveslowcampers
Landlords Gas Safe Certificate
Landlords Gas Safe Certificate
Guaranteed Appropriate Payload
DVLA Motor Caravan Registration
Electric Conversion Experience
Has experience with converting new electric vehicles.
Has experience with retrofitting classic vehicles.
No experience, but happy to take on an electric conversion.