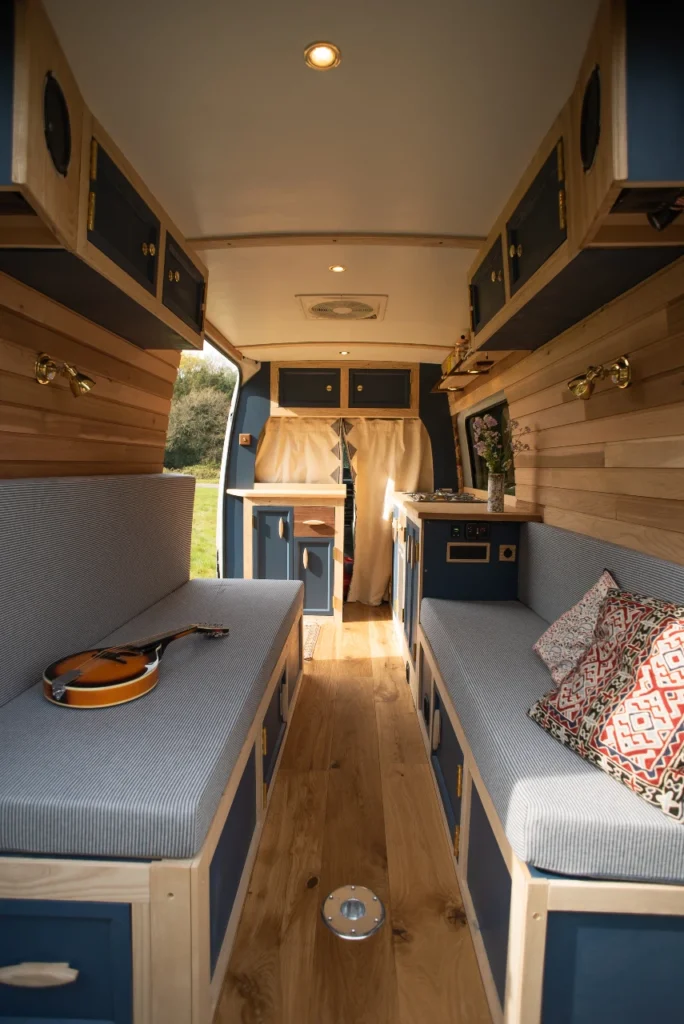 Waiting List
Taking bookings for May 2023
Who is Roam and Slumber Campervans?
My name is Sam Howard and I am a passionate / obsessive van converter. For many years I have been putting huge amounts of time and love in to making beautiful things out of wood. More recently however, I have channelled that creative flow in to converting vans in to unique rolling homes. Check out Quincy and Ike on Quirky Campers, which are loved by myself and the many renters who take them on adventures.
What I can do
I am experienced in almost all aspects of van converting. From insulating to 12v electrics, cabinet making to pressurised water systems. I take great pride in being able to do almost every part of the conversion myself. I believe that having an experience in all parts of the conversion process enables me to design and build far more cohesively and efficiently. After all, too many cooks spoil the broth.
What is special about Roam and Slumber conversions?
I am obsessive about the detail. Quincy has hand-crafted ash door handles and pivoting wine glass (and Champagne flute) holders, made from corks. It's little touches like this that make Quincy unique. There are far easier ways to make handles and transport glasses around, believe me, but it's eye-catching elements like these that make the van distinctively different. And that's the point. If you wanted a bog standard van, you'd buy one. You're here because you want something original.
When making any carpentry commission or starting to plan a new van conversion, I will pay absolute attention to the details that are important to you. It's what will make your campervan conversion truly special and unique. I never tire of giving people the tour of my van, every element of it makes me smile. The sound system in particular…
When it comes to your campervan conversion, I'll create a custom interior that is exactly what you seek. You simply need to kick back, enjoy the rare freedom that only van life brings, and look forward to giving people the tour of your own pride and joy.
So what do you want in your dream campervan? For me the best thing about converting vans is having total creative control. You can start with a totally blank canvass allowing you to truly make it your own. If you want to sound out some ideas you've got for your conversion, just get in touch. I am very happy to talk through early decisions and options.
Roam and Slumber have two beautiful conversions listed for hire with Quirky Campers; Quincy and Ike. The craftsmanship of both of these and in fact all of Sam's conversions are not only aesthetically stunning but also top quality. The feedback we get from his hire customers is always top notch and Quirky Campers would be delighted to list any conversion created by Roam and Slumber for hire or for sale.
Sam is a lovely guy , a delight to work with and we are proud to have him as part of the quirky family. I have no hesitation in recommending Roam and Slumber.
David
Co-Founder of Quirky Campers
Landlords Gas Safe Certificate
Landlords Gas Safe Certificate
Guaranteed Appropriate Payload
DVLA Motor Caravan Registration
Electric Conversion Experience
Has experience with converting new electric vehicles.
Has experience with retrofitting classic vehicles.
No experience, but happy to take on an electric conversion.