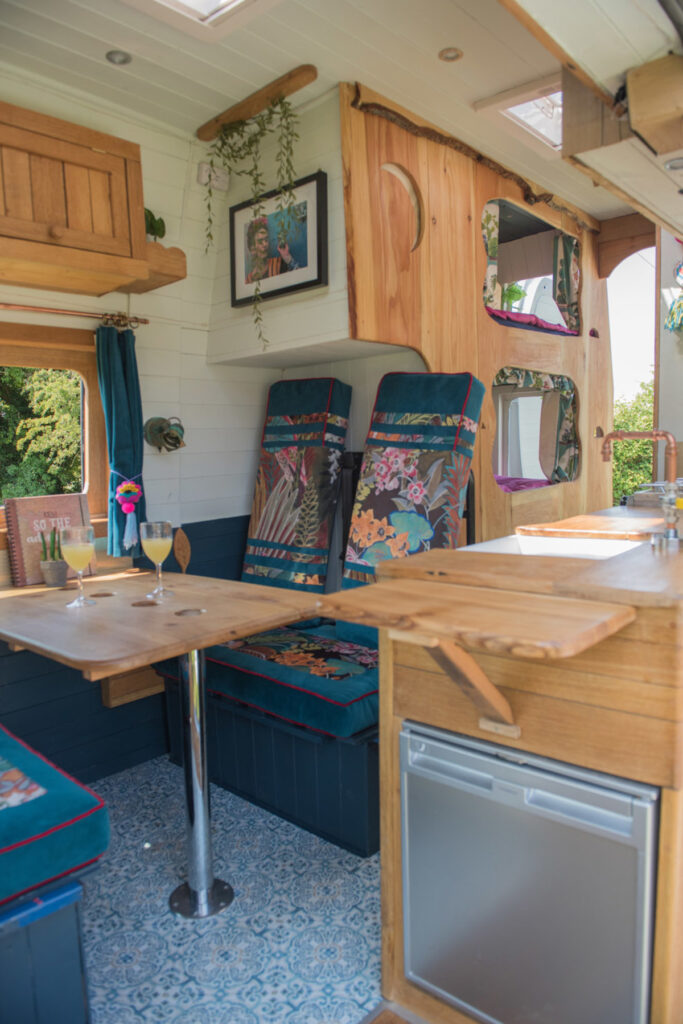 Waiting List
No availability just now – Usually around 6 months
Rustic Simplicity are the proud builders of Frida…the van belonging to the Quirky Campers owners, David and Lindsay.
We have also built many vans that have been part of the Quirky family including Hamish, the first Scottish quirky camper, Macintyre, Silva, Sassanach, Serenity, Peggy Flora, Scottie, Moana, Florrie, Skye and many others from the Quirky Campers festival such as Morag the van who you can follow on Instagram. Our vans are soon instantly recognisable for their eclectic and truly quirky interiors – every van is totally unique but they all have that certain je ne sais quoi!
So where does all of this curious activity take place?  Imagine if you will a tiny workshop set in a magical wild garden in Fife, Scotland. It is surrounded by wildlife – the cawing of buzzards, hare, deer and even the occasional red squirrel……it is this simple country life which inspires our builds.
When you enter one of our rustic campervans you will experience a feeling of peace and positive healing energy which comes from the use of reclaimed materials and the love and care that has gone into the build.
We create in a very rustic style with a quality finish, but ultimately our ethos is to 'keep it simple'. James builds from reclaimed whisky barrel wood and we always finish our vans with our quirky often mismatched upholstery and soft furnishings. What you will get when you buy from or even commission us is a very homely campervan, a place to relax where you can feel as comfy as if you were at home. We have built 36 campers to date, and have honed our skills, trying out many different designs until we have reached a place here we feel ultimate comfort has been achieved.
Scroll through our photos and you will see happy families enjoying campervan life in a simple, stress-free environment…this is our mission. A whole community of happy customers can often be found nestled together in the fields of Kelmarsh at the annual Camp Quirky festival where they will be happy to show you around some of the vans featured in the photos here… James and I grew up and raised our own family in very basic VWs. Time moves on, but we try to retain some of the simplicity of those early days. We now spend our days bringing the best of our knowledge and experience into building the kind of vans you have come to expect from the team at Quirky Campers!
We occasionally build to commission and if this happens you will be assured of a stress free, happy time as between us we create the camper of your dreams.
Contact us to find out if we have anything currently coming up for sale, or if we are in a position to build for you.
Landlords Gas Safe Certificate
Landlords Gas Safe Certificate
Guaranteed Appropriate Payload
DVLA Motor Caravan Registration
Electric Conversion Experience
Has experience with converting new electric vehicles.
Has experience with retrofitting classic vehicles.
No experience, but happy to take on an electric conversion.