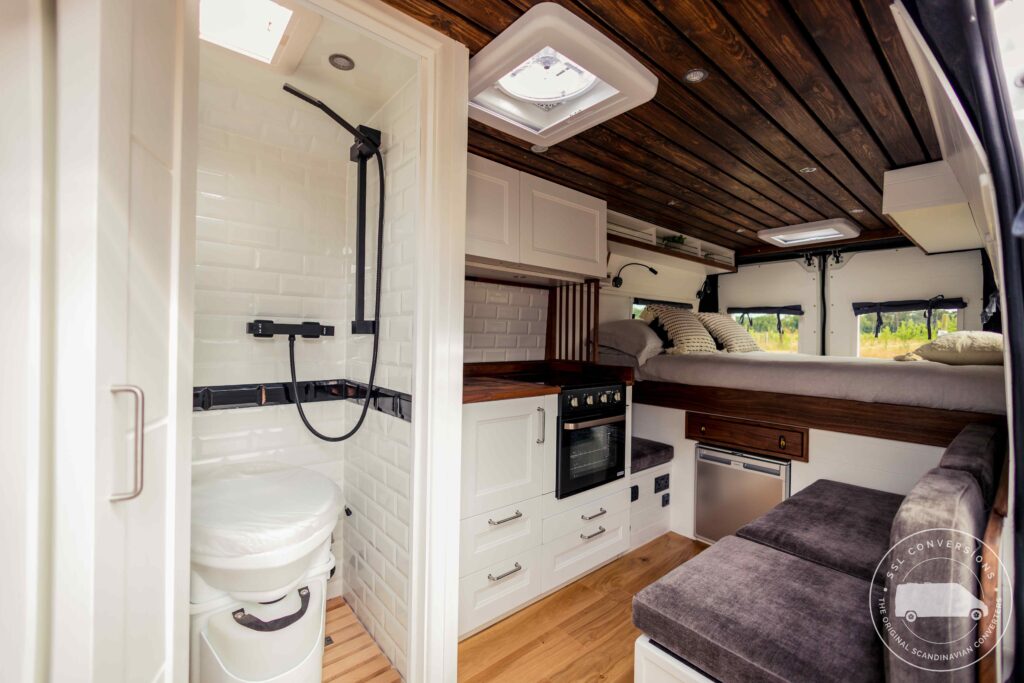 Waiting List
Typically 3 month waiting list
Hi, I'm Liam, creator of  SSL conversions Ltd… The original Scandinavian style conversion company.
I'm a van life enthusiast (before it was even called that!) that grew my passion into a business over 20 years ago in the coach built motorhome sector. Since 2015 we've been designing and building our own conversions in house. Our close knit team has a perfect blend of a qualified motorhome technician, professional carpenter and me! Each of us with over 20 years experience each in our respective trades.
We are well versed in all aspects of leisure vehicle work including: gas and electrical installations, window fitting, carpentry, water systems, damp repairs, LPG systems, solar installations, habitation checks and much more.
Drawing on this wealth of experience, our conversions were conceived with over a year of careful planning and designing from the ground up with great attention to detail on insulation, maximum use of space, aesthetics, build quality and last but not least…how they make you feel 🙂
We are passionate about each conversion that we create, and put our hearts and souls into each and every one. We love what we do and that reflects in the feedback from our customers.
All the materials and appliances that we use are of the best quality. Our Eberspacher blown air heaters, Dometic/Waeco fridges, sink/hob units and Truma water boilers are all top German brands. Our solar packages use Victron and Sterling products, even the screws, sealants and consumables we use are all premium brands.
We take your safety seriously and do not use inferior, unbranded appliances or products. All our conversions come with a 12 month no quibble guarantee on all aspects of the build.
We currently have 5 models that can be made to sleep from 1-5 people. With or without a shower. They are fully customizable allowing you to choose various different layouts, colours and styles for the cupboards, handles, flooring, curtains, cushions, blinds and shower walls.
We have flexible packages that include us sourcing and purchasing the base vehicle for you, or you can supply your own van for us to convert. If you'd like to specify a certain year or mileage for your base vehicle we can take care of that too, right up to a brand new van.
Feel free to drop me a line if you'd like to know more.
SSL are a very professional well set up out fit. Their first conversion to be listed for hire with us is Astrid in Stoke-on-Trent.
Landlords Gas Safe Certificate
Landlords Gas Safe Certificate
Guaranteed Appropriate Payload
DVLA Motor Caravan Registration
Electric Conversion Experience
Has experience with converting new electric vehicles.
Has experience with retrofitting classic vehicles.
No experience, but happy to take on an electric conversion.