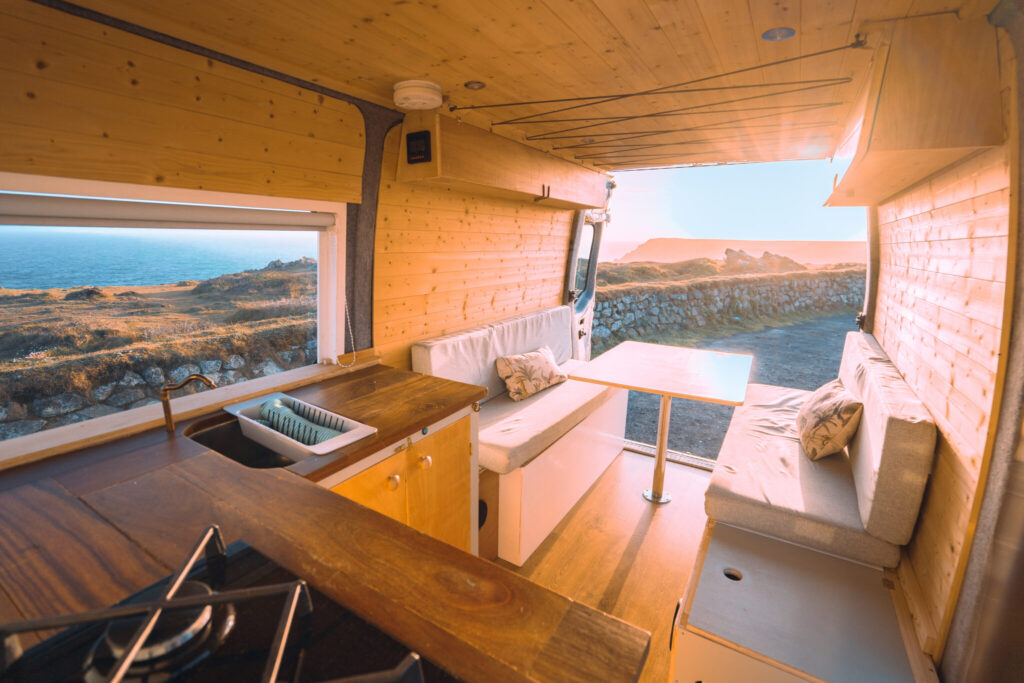 Waiting List
Please get in touch for our latest timings
Twin Coast Campers specialises in the design and build of unique campervan conversions. We start by listening to your specific requests and lifestyle needs to design you the perfect campervan.
The workshop is headed up by founder and master builder Jack. Jack has been working on vehicles and designing transport interiors for over a decade beginning with his degree in Transportation Design. Since then he has designed for global brands such as Ford, Renault and Singapore Airlines. With a passion for travel, sustainability and tiny homes, Jack began Twin Coast Campers and has had great success in building campers for a variety of customers and their unique needs.
Twin Coast provides versatile and practical solutions to create the perfect van for you. With the customer at the heart of all our builds, we will discuss your needs in great detail to develop a design for your conversion. Every part of the camper is customisable, we can help develop which colours, materials, and finishes to use to give you the exact look and feel you are after. Our goal is to help, advise and build you the best possible campervan!
Our design philosophy is to create a van conversion to help you 'get out there' and to bring your plans for adventure to life! We are always excited to hear about your future ideas and plans so please do get in touch with us to have a chat about how we can help you.
If you aren't looking for a full conversion build but are a bit stuck in the process of planning a build or in the middle of your own self build, then we are here to help you get the job done. We can help you with any aspect of the build. Maybe you need some help with installing a solar power system or fitting windows, whatever it is we are here to help.
Our campervans as standard come with an electrical and gas safe certificate. They also come with a weigh bridge certificate so that the weight of the camper is legal to drive on a standard car driving licence.
To note, all ours vans are 'Quirky Approved' so you are all set to hire them out with Quirky Campers if that is something you are interested in doing.
We also have a range of campervans for hire called Hampi and Lundy which can be found on the Quirky Campers hire pages.
Please do feel free to get in touch with your questions and we look forward to hearing form you!
Many thanks
Twin Coast Campers
✔ Quirky Campers can verify the work of this Converter meets our standards.
Landlords Gas Safe Certificate
Landlords Gas Safe Certificate
Guaranteed Appropriate Payload
DVLA Motor Caravan Registration
Electric Conversion Experience
Has experience with converting new electric vehicles.
Has experience with retrofitting classic vehicles.
No experience, but happy to take on an electric conversion.