11 Amazing Space Saving Campervan Storage Hacks!
Living big in a small space is more than just a trendy new Instagram hashtag. You may be upsizing your outside space, but you're majorly downsizing your inside space. For those looking to embrace a more free and downsized lifestyle, achieving domestic harmony in a small space has an awful lot to do with how that space has been planned out.
Whether you're having a week-long campervan holiday, or a full-time nomad, these top campervan storage hacks are for you. Guaranteed to ensure you pack more into your small space!
Getting Organised
Having an organised campervan living space inevitably leads to a calm and laidback road trip. In a living space that's smaller than you are used to, a stray sock or rogue plate becomes a far quicker annoyance than in a bricks and mortar space.
Many full-time vanlifers extolled the virtue of putting things back where they should go in our vanlife tips blog. The easiest way to ensure you have a perfectly organised campervan is to consider using some of these awesome campervan storage hacks.
Use the ceiling!
If you have the luxury of a high-top campervan, why not consider using this space for some additional storage? Campervan ceilings are particularly good for storing surfboards, or even some cargo netting for bags and coats!
Getting Spicy!
One of the best things about being in a campervan is cooking up incredible food with a view over some equally amazing landscapes. Our favourite tip to keeping your spices neat and tidy is to screw the lids to the underside of a cupboard. This keeps them out of valuable cupboard space, off the worksurfaces, but also keeps them really accessible.
Flexible Storage
You don't have to install permanent storage for everything. Sometimes you might want the option to add or remove storage as your campervan trip requires. We love these vinyl storage pouches that can be hung up on the back doors, which make awesome use of an often-wasted space.
Stack it Up!
It's not so much about the storage space, but what you put in it! A great campervan storage tip is to find foldable versions of things like buckets and bowls. Or slimmer plates, graters etc. You can even get collapsible cookware which means you can fit a lot more in your kitchen cupboards.
Low Hanging Fruit
If, like me, you get through at least 2 bananas a day, it's nice to have somewhere to put them where they aren't going to get bashed about. A hanging fruit basket is a genius idea, but be careful when searching online if you want to buy one – "banana hammock" might not give you the desired search result!
Bungee Cord is your Best Friend
Keep shoes and boots off of the floor by attaching a piece of bungee cord to the end of a bench seat. Instant floor space saver, plus you never lose your shoes! Some people also attach bungee cords to their campervan wall to store books, laptops and phones.
Eric's owners have used this genius storage hack!
Campervan Storage Access
A fixed bed is a super popular choice in a campervan because it gives you a large storage space underneath it. However, the downside of this is you normally have to go outside to access it, which can be annoying if it's raining! Check out this awesome idea from Mabel's creator, where the entire bed lifts up giving you access to the underneath space. Plus, some of the space is accessed by the drawers at the front.
Multi-functional is the New Sexy!
Not all storage hacks have to be bespoke and elaborate crafted solutions. We highly recommend a trip to the world famous blue and yellow home store to pick up some incredibly multi-use storage containers! Shakti's owners have used these handy hook-on storage containers for everything from herb containers to extra bathroom storage!
Space Saving Furniture Design
In order for your campervan to be classified as one on the V5C, it needs to have a permanent fixed table. But, where can you put these when they're not in use so they don't take up too much room? We think the idea of having a slide out table is a really great space saving storage idea!
Another fantastic tip is to keep your seats hollow and create a hatch. This creates a great amount of storage so you can tidy away board games, walking gear or even food.
Cooper's handy slide out table is awesome!
Dog Friendly Storage Design
Campervan storage is not limited to your clothes and belongings. For those travelling with a pet, it's best to have somewhere safe and secure for them to travel in the day, and to snuggle up at night (unless they get to claim the bed, that is!)
We love this garage set up that K9's owners have designed. A fully integrated kennel space which you can access from the front and rear of the campervan, provides super useful storage space when you're not taking a dog along for the ride.
Roll with it
One of the most difficult things about vanlife is downsizing your wardrobe. No matter how many clothes you have, there just doesn't seem to be enough space. A great tip for your 'van'drobe is to roll each piece of clothing up, that way you can back away more in a smaller space. Just bear in mind that large thick pieces of clothing such as jumpers, may take up less space when folded.

Want more storage ideas? Take a look at our campervans for hire. Why not hire one before you convert your own van so you can try out different storage setups and find the right one for you!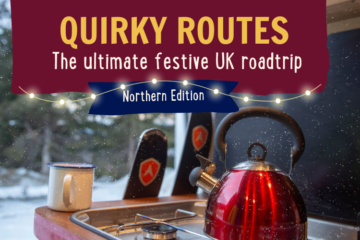 Are you a festive fiend or a grumpy Grinch? This season no matter what mood you're in, escape the normal and take yourself and …