A Guide to Winter Campervan Adventures
There's no better way to shake off the winter cobwebs than hitting the road for an epic adventure. Nothing compares to looking out at wintry landscapes whilst being tucked up in your very own home on wheels.
But you may ask yourself 'will I be too cold?' or 'where will I park?' Well we've got you covered. This is the ultimate guide to campervanning in winter, featuring everything from what to pack and where to park.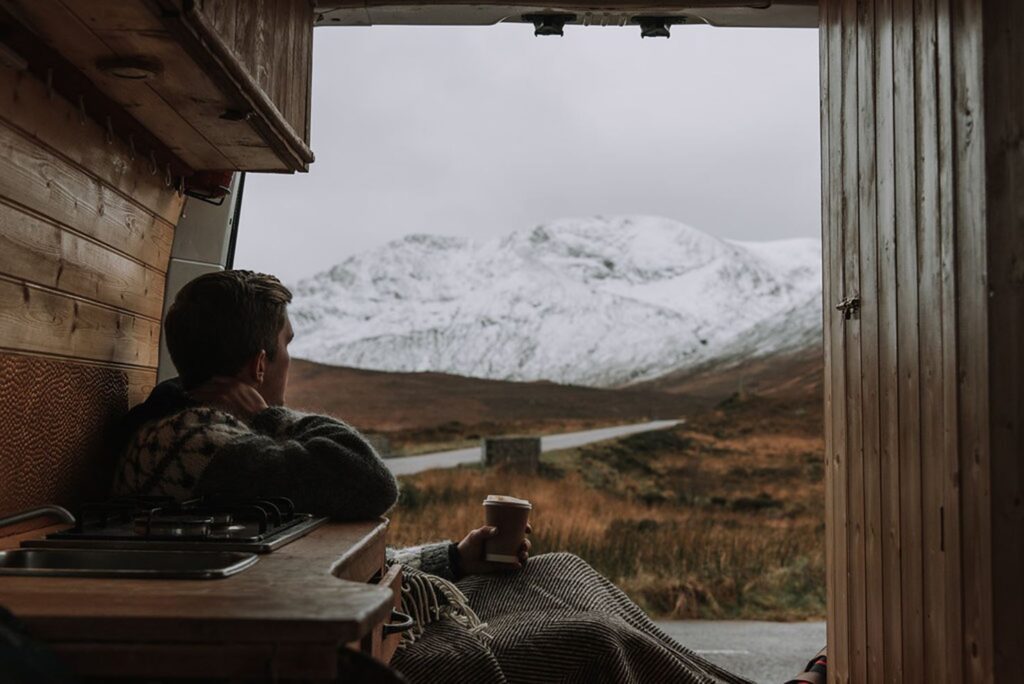 Pros
Quieter on the Roads
Meeting friends on the road is wonderful but sometimes all you crave is a bit of peace and quiet. There's less traffic on the road in the colder months and you'll most likely have first pick of pitches and park ups.
Cheaper
Not only are winter holidays less busy, they're often cheaper too! Campervan hire, campsites and any attractions which remain open throughout the season tend to cost less, making it a great time for those on a budget.
Cosiness Factor
Nothing quite says cosy like being cuddled up in a candlelit camper with blankets and a hot drink. The days may get shorter but your evenings get longer, meaning you can spend more time curled up on the sofa watching your favourite film.
Photographers Haven
With winter comes excellent photography opportunities. Snow covered mountain tops, crystal ice rivers and mystical woodlands, these dramatic climates and landscapes translate beautifully through the lens.
Cons
Closed for Business
After a busy summer period, some attractions and restaurants close or run on reduced hours and most campsites shut for the season. This may make it harder for you to find somewhere to refill, empty and recharge.
Restrictive Weather
If there's one thing that is guaranteed year round, it's that English weather is unpredictable. But during the colder months, there's a higher chance of the weather restricting you from doing something you really want to do like climb a mountain or ride a zip line.
---
What to Pack
Winter essentials
Blankets
Extra towels
Insulated coffee cup
Hot water bottle
Hand warmers
Firewood
Entertainment
Board games
Pack of cards
Books
Laptop
Arts & crafts
Puzzles
Headphones
Clothing
Jumpers
Long sleeve t-shirts
Thick socks
Walking boots
Wellies
Thermal leggings
Raincoat
Umbrella
Hats, gloves & scarves
---
All Season Campsites (£-£££)
£££ | Pet-friendly | Shower & Loos | Chemical Disposal | Electric Hook-Up
Tired of city life? Border Forest is the perfect place to escape to. Like the name suggests it borders a large forest, where you can enjoy winter walks and woodland adventures. This dog-friendly campsite offers pitches with the option of electrical hook up all year round.
££ | Pet-friendly | Shower & Loos | Onsite Bar
The Quiet Campsite is situated between Little Mell Fell and Ullswater. As you warm your hands with your first morning cup of coffee, you can bask in the views of snowy top mountains and icy lakes. There's also The Quiet Bar where you can spend your evenings listening to live music by a roaring fire.
£ | Pet-friendly | Shower & Loos | Woodland Setting | Campfire Friendly
Have a wild camping experience with the added security of a campsite. This eco campsite offers unserviced pitches nextled in their woodland. Spend your evenings stargazing whilst you roast marshmallows around a campfire.
£££ | Pet-friendly | Shower & Loos | Campfire Friendly | Woodland Setting
This campsite is steeped in history, with origins dating as far back as the 17th century. Located in the heart of Snowdonia National Park, you will be surrounded by 75 acres of picturesque farmland and forests. You can explore nearby trails by foot or even on 2 wheels before returning to your camper to warm up.
£££ | Pet-friendly | Shower & Loos | Hardstanding
If you're looking to explore Cornwall this winter, Polladras Holiday Park is a great spot to get some rest. For travelling families, they have all the practical facilities you will need such as hot showers, a laundrette and electric hook up. They also have everything you need to keep entertained including a play park, games room and access to walking trails.
---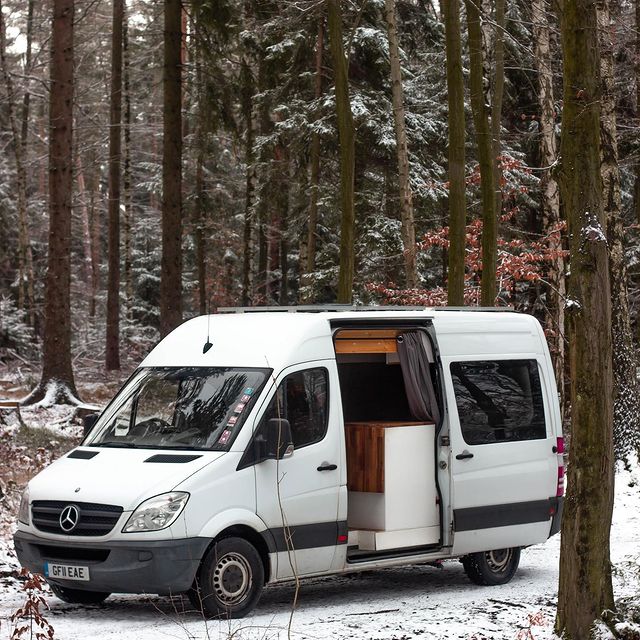 Winter Ready Campervans
All the below campervans are ready to take you on an unforgettable adventure this winter. Each has some form of heating, a heated indoor shower and a comfortable place to rest your head.
Our very own log cabin on wheels, this 2 berth camper presents the ultimate romantic backdrop for any couple looking to get away. Enjoy slow mornings in your very own king size bed and blissful evenings snuggled up in front of the woodburner with a glass of your favourite wine – doesn't that sound dreamy?
Travel in sustainable style this winter in Edub Maggie. With 3 berths, this pet-friendly VW even has room for a little one. With a range of 90 miles, there's plenty of glorious spots which reach their peak level of beauty in winter, including the Yorkshire Dales and the Lake District.
Cloud has everything you need to stay comfortable on the road this winter including a hot shower, a cosy bed and a large seating area for you to read a book or host a games night. With four gas hobs, you'll have plenty of space to cook up hearty winter meals.