Unique Campervan Hire in the UK
Welcome to our range of bespoke campervans for hire.
Whether it's for adventure, work or family holidays to remember, you can experience a taste of vanlife.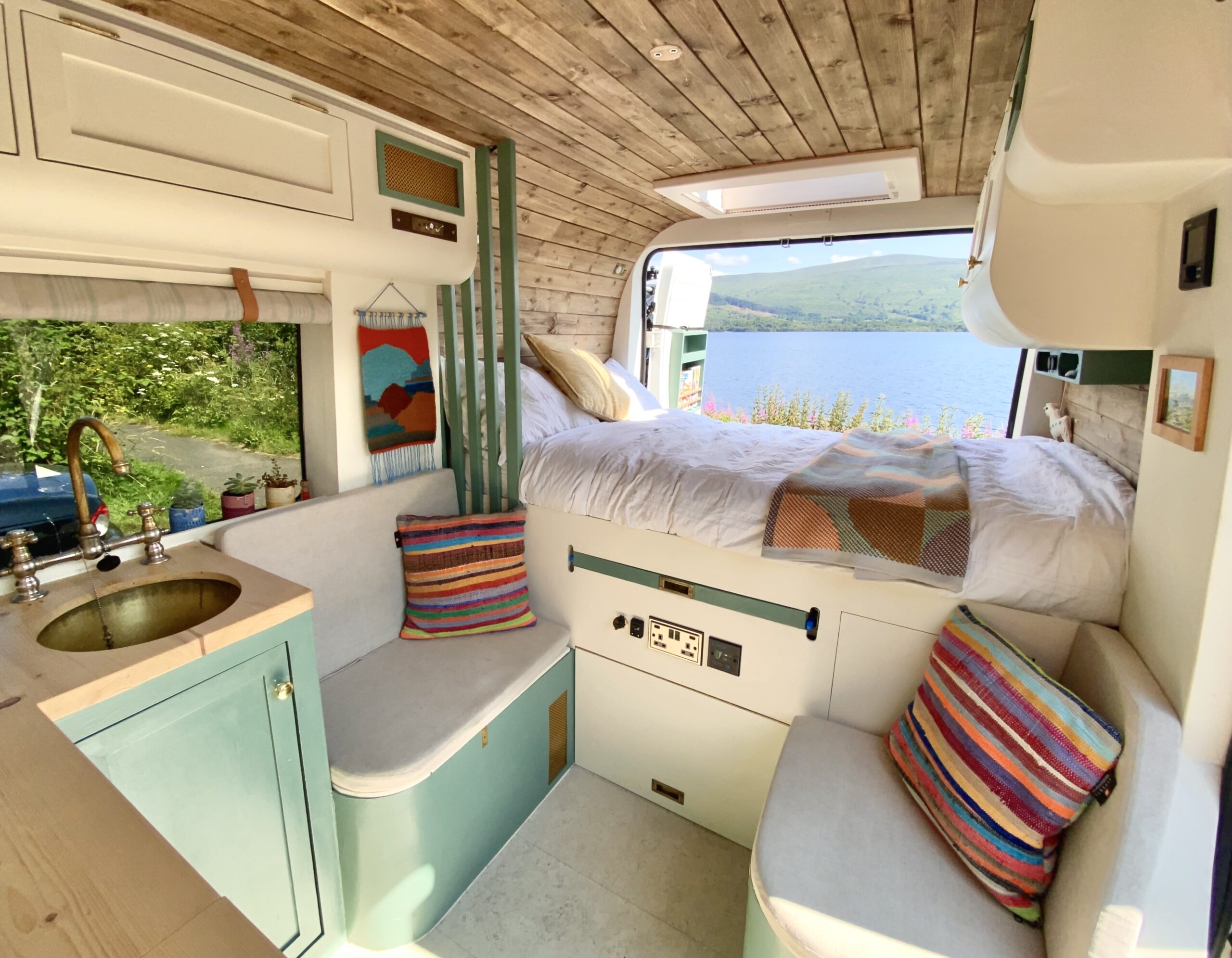 Unique Campervan Hire in the UK
Welcome to our range of beautiful and bespoke handcrafted campers. Quirky Campers are not your average campervan hire company. You won't find homes on wheels like these anywhere else. If you're looking to rent a campervan for your dream UK holiday or even want to venture further afield into Europe, look no further. 
Whether you're after a romantic break just for two, an off-grid adventure, a pet-friendly holiday or some family fun, you can find the ideal campervan or motorhome for hire in the UK here...
Explore the UK and Europe in luxury and style
We know exactly how it feels to enjoy being out in nature, but not enjoy the sensation of a slowly deflating mattress. Plus the unique freedom of the open road and being able to stop wherever you want and whip up lunch for the family is unbeatable. Or to find the perfect picnic spot and decide to make it your home for the night.
There really is nothing like travelling in a campervan on holiday to give you a sense of adventure without having to compromise on comfort or luxury. Think luxury motorhome holiday rental but with oodles more creativity and uniqueness. Then you'll be close to what we have to offer here at Quirky Campers.
Find your perfect campervan rental
Our listed campervans and motorhomes are available for you to hire, fully equipped, across the UK and Europe. Plus we have made it easy for you to find the right van. Simply select the region or enter the postcode where you'd like to collect, and the vans will automatically appear for you. Use the date selector if you are looking for specific dates and see which one takes your fancy.
Refine your search by selecting how many people you need to accommodate and whether you need a toilet, shower, fridge/freezer or require the van to be pet friendly. There are also plenty of hireable extras in case you need things like bedding, firewood, bike racks and lots more. 
If you need to know something more specific. Such as whether the campervan has a double bed or a king-size bed, how many gas hobs, or how the living area converts into the sleeping area, just get in touch and we can find out for you. 
As the only rental agency that is especially selective, you can be confident that whichever one you go for has been chosen for its craftsmanship, originality and style. All our vans have private owners, meaning you've come to the right place if you're looking for an experience like no other.
Whether you're looking for smaller campervans like a VW T6 to glide through country roads, or a converted minibus to fit the entire family, Quirky Campers Campervan Hire has you covered!
Click on each campervan to see the full details, optional extras and find the perfect 'room with a thousand views'.
Search by your dream destination
We have campervan hire across the whole of the UK – London, Scotland, Northern Ireland, Wales and across England.
For the Cotswolds, Dartmoor or the Cornish coast have a look at what's on offer in Cornwall or Devon. For the Lake District and the Yorkshire Dales, see what there is in Cumbria or Yorkshire. Fancy a road trip to Northumberland? Check out our campervans in Newcastle.
Seeking adventure across the pond? Check out GoCamp, our recommended camper van rental company in the U.S. GoCamp offers a curated camper van fleet, excellent customer service and helpful van owners, who provide a great experience every time.
For New Zealand, our recommendation is of course Quirky Campers New Zealand. Headed up by Dan and Leanne who are avid campervan lovers themselves, you're bound to receive a personable, friendly and knowledgeable service.
Need help finding a place to stay?
Take a look at our 10 must-visit campsites across the UK or our pick of the best campsites in Scotland for campervans.
Heading to The Welsh Valleys? Have a look at our recommended campsites in Wales.
Or take advantage of our Camping and Caravan Club Site hirers discount…
Did you know we are members of The Camping and Caravanning Club Motorhome Hire Scheme? This entitles you to up to 30% off Club Sites. You can find details of their sites on their website www.campingandcaravanningclub.co.uk
To guarantee your pitch it's best to book by calling the service centre on 024 7647 5426. Then all you have to do is show the Motorhome Hire key fob, which you will find on the keys of your hire vehicle, on arrival to claim your discount.
So what are you waiting for? Your road trip starts now!
What do our customers say?
Here at Quirky Campers, we pride ourselves on having hands-on customer service, and even better campervan owners. Here is a selection of recent reviews from hirers. You can find hundreds more on our individual campervan pages, or on Instagram and Facebook: 
---
"We had such a wonderful and memorable family trip in Blackberry! We're so glad we picked this van – not only is it equipped with everything you could possibly need, but it's been designed with such imagination and colour and attention to detail. Floss and Mags went above and beyond for us, too."
David & Naomi, August 2023
---
"Our time in Evangeline was glorious. She is a beautiful van that works so well and everything is finished with such quality. Really comfy bed and the pull-out table is just great. I would highly recommend her."
Kirsty, August 2023
---
"I had such a great time with Splinter. It's great fun to look at and has everything I needed for my weekend away. Having a shower after a luxurious sleep in the huge very comfy bed was bliss. It's like home from home. Plenty of room to cook a proper meal too. Val the owner was brilliant with his handover and was on hand if I needed any help with anything. I'll definitely hire Splinter again. Thanks guys!"
Benjamin, September 2023
---
"I had a lovely three days driving Chip down to the south coast with my son. I was worried about driving a bigger vehicle but it was totally manageable even though it was my first time and was a lot of fun! Drove really smoothly and super cosy and comfy to sleep in. We didn't want to come home."
Ashley, September 2023
Absolutely wonderful experience. Quincy was the most charming chariot for our holiday. Quirky campers have a great, easy and user friendly system also. Definitely recommening to friends. B )
Ben Cazzola
20 November 2023
We spent an amazing 9 nights touring the outer hebrides in Miss Windermere. She never missed a beat and is easy to drive. The van fit out is high quality, well thought out and just works. The gas and electric setup is spot on, over the 9 nights we where off grid for 6 but could easily have done more. Shower and loo is a big plus. Keith was excellent and friendly, so the pick up and drop off where great.
Stephen Lees
11 November 2023
Using Quirky Campers was smooth and easy; we managed to get quite a last minute booking but everything went through nicely. Customer service were quick to get back to me when needed urgently as well. The campervan (Betty Blue) was amazing (saved us from horrible weather!) and the owner, Jo, was fantastic and lovely. Would highly recommend using Quirky Campers and hiring Betty Blue if you get the chance.
Liam White
7 November 2023
"Loved the van. So easy to drive, toasty at night with underfloor heating. Saffron was friendly and informative. Smooth all round."
Linda Young
26 October 2023
"Dixie is the most beautiful and cosy camper with everything we could have needed for a wonderful trip to the Peak District. There was no detail too small. Dixies owner is super friendly and helpful and made the process really simple. It was our first ever campervan holiday and we can't wait to do it again. "
Emily Jones
13 October 2023
Kev was a superb camper; warm and comfortable even in some stormy weather we had. It was equipped with everything we needed for our mini adventure. We can't wait until next time!
Allison Draper
8 October 2023
"Loved Beaty... gorgeous and homely, user friendly, everything you might or might not need you will find in a drawer or cupboard. Great to drive. Loads of storage space, comfy bed, plenty of extras. Highly recommended."
Dina Cohen
27 September 2023
Excellent van, superb owners, EXCEPTIONAL holiday in Pumbaa.
Christopher Gray
26 September 2023
"If we could would give 10 stars, best campervan ever hired so far. Great attention to detail. Super functional easy to operate, drives beautifully, truly was a pleasure hiring Solveig. It has everything you need for your adventure. Emma and Matt were very helpful and explained how to operate everything, although it was all very straightforward. Awning shade was not mentioned on the description , so it was a real bonus to have on a very hot and sunny weekend. What a beautiful conversion. Solveig has much attention to detail. Can't wait to have the opportunity to hire it again. Thank you."
veronica tormida
17 September 2023
Renting with Quirky is great research for a future campervan owner. I rented Firefly recently: Firefly was perfect for our short weekend at a festival. Super comfy bed and all the amenities you need. The owners were lovely and very helpful. I recommend renting Firefly from them.
Karen Louise Bunday
16 September 2023