Asha's campervan conversion story
John and Sue, Asha's owners, share Asha's campervan conversion story.
---
Asha started life as a panel delivery van with no windows, rooflights etc. I handcrafted her at home, using 90% reclaimed materials including mahogany science desk tops from a public school (now a canter-leaver table which slots cleverly under the bed) and mahogany parquet flooring from an old Sunday school. An old mahogany clock case found in pieces and now converted into a drinks cabinet and several oak headboards used in the ceiling and splash-back; and plenty of recycled storage pallets.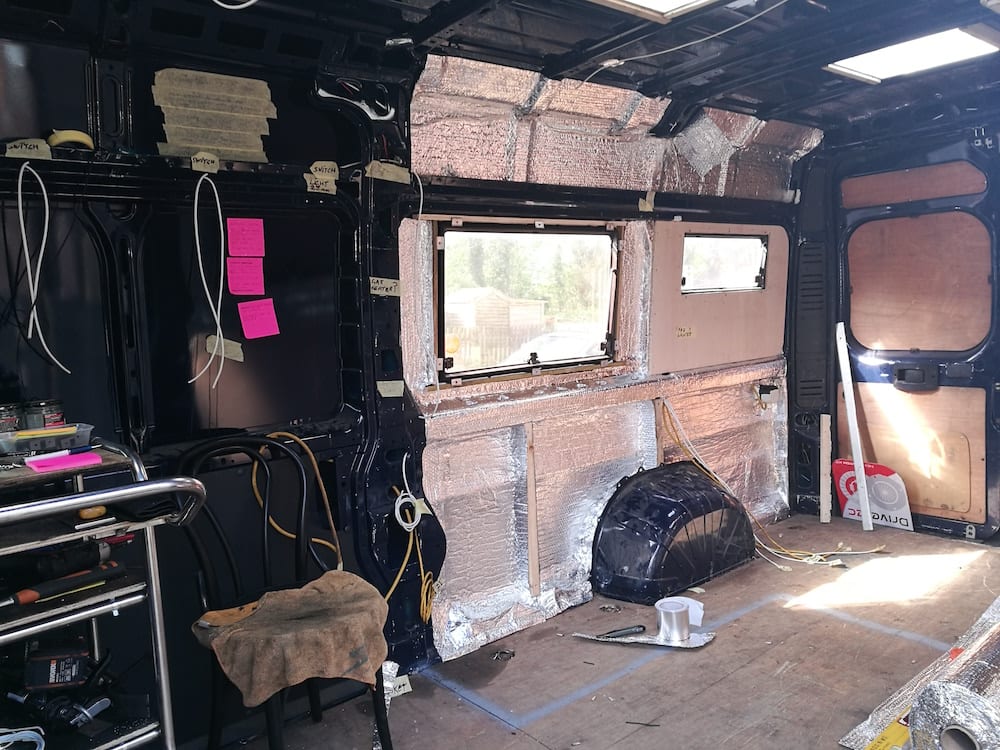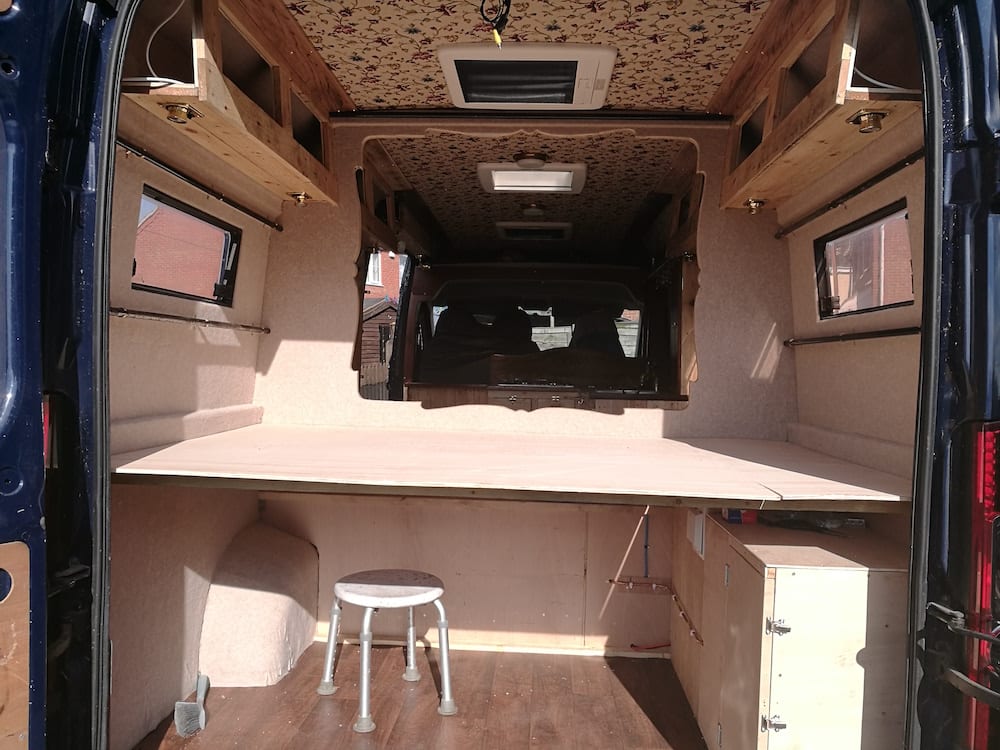 All the curtain rails are former electrical conduits. The sink and tap are reclaimed, I'm not sure which period they are from but now the tap runs from a 12v power supply. I put in 15 individually switched lights which can all be switched separately to enhance the mood in Asha. The kitchen lights are old pickle jars which are recessed in to the mahogany desk top plinth with all wires hidden as they run through the mahogany. There are three roof lights, including one in the fixed bedroom area which is perfectly placed for stargazing.
My wife is from Kenya so we named the van Asha. Asha means 'life' in Swahili. So we thought it was a great fit as she had been given new life to a variety of reclaimed materials. All in all it took around 1,170 hours of blood, sweat & beers!
Why did we convert the van?
I have done conversions before, have been camping all my life and have also bought and sold campervans. I am not a trained carpenter but learned everything from watching my dad who loved making things in his shed. At Shambala festival 2016 we saw a quirky camper van for hire and thought what a good idea and decided to give it a go.
The design process for this campervan conversion
With my conversions something small will spark a design idea in my head around which I base the whole design. For Asha it was a tap spotted at a car boot. If you think this is crazy I designed a Mercedes van around a scarlet cushion and it was converted in to a Victorian parlour room complete with leather chesterfield sofa! I do one sketch of what I want with the relevant measurements but I can't start a van until I have the whole design  from start to finish laid out in my head. For example in Asha I cut the first roof light in but still knew where I was going to place the 'throne' loo!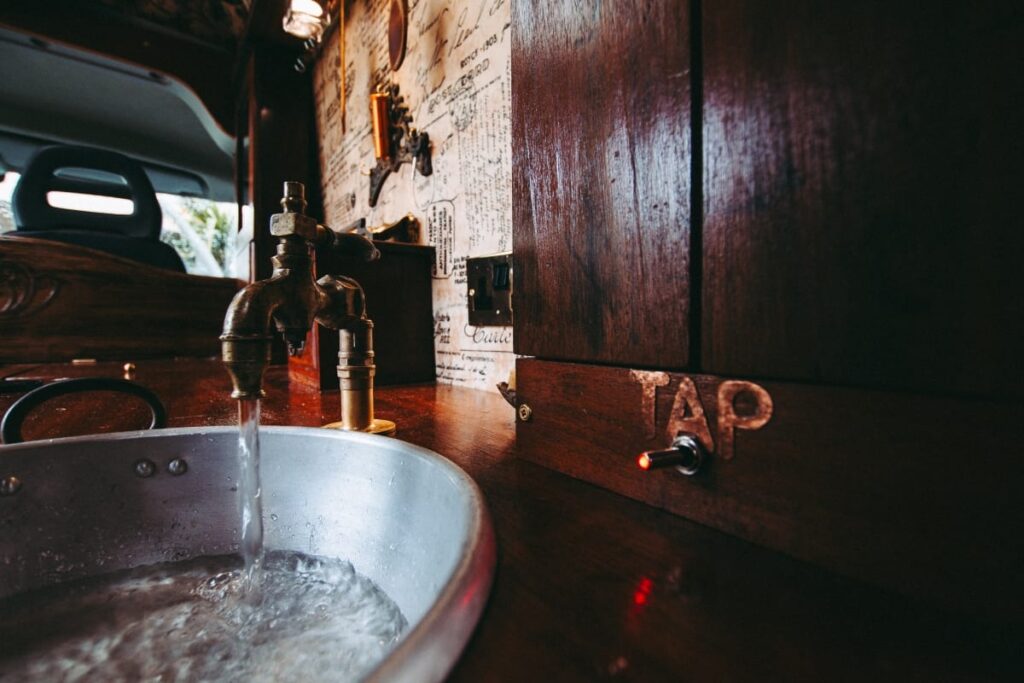 Which van?
It took me four months to find the right van and the right cost. However the most important factor was the width as I wanted a fixed bed at the rear so a Fiat Ducato is wider than most vans.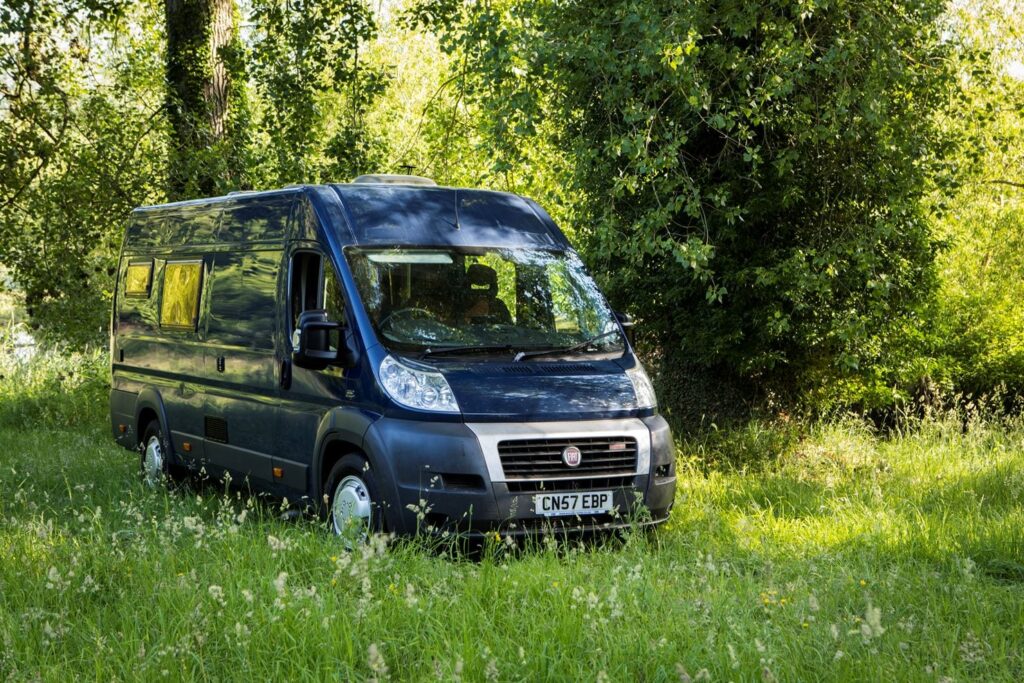 Which materials?
I have a couple of reliable suppliers for reclaimed materials. One is an old boy (Scouse Bill) from whom I got most of the mahogany and other hard wood. I spent a lot of months visiting car boots and sales to pick up the interesting bits and bobs and stashing them all away to be used in a campervan.
How long did it take to do the conversion?
In labour it took over 1000 hours but this does not include sourcing and buying materials etc.
What was the most frustrating part of the build?
The parquet flooring. It was second hand flooring of an old Sunday school caked in tar and old lacquer. I had never done parquet flooring before and it took 2 solid days of stripping the tar & lacquer. Two days of sanding, a day to make the cuts and a further day or two to lay the floor and varnish etc. A gruelling seven days of hard toil in the hot heat of the summer!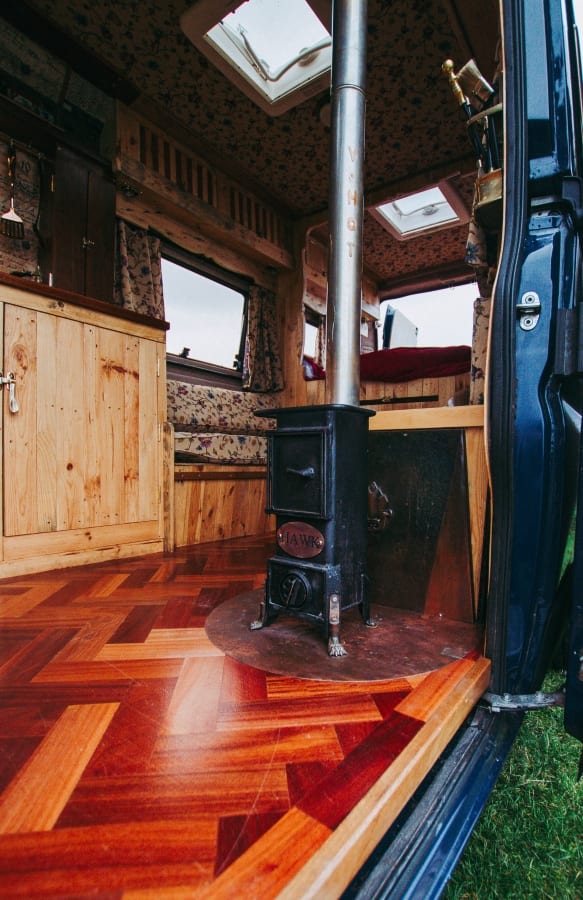 What was the most satisfying part of the build?
Well all of it! I loved doing the divider section around the bed. But I was really chuffed with the flooring which came out so well. Also the fact that the van has the feel of a rustic 100 year old abode; it has all the modern amenities- hob, oven, grill, fridge, solar panels and a diesel heater. The fact that the van has 15 lights is unusual for a camper meaning you can read, dine, cook and relax in different parts of the van with ease and good lighting – there are even lights which turn outwards so you can see what you are barbecuing!
What was the least satisfying part of the build?
When people say 'ooh I like your posh lino flooring! However now the van has been used, the patina of the parquet flooring is starting to really shines through.
What was the most challenging part of the build?
One of the most important aspects of a good campervan conversion, in my view, is the storage and I wanted a lot of storage to be available. I did this by utilising all the space under the fixed bed and the seats to house 2 gas bottles, 2 leisure batteries, and inverter battery charger as well as doing it in such a way that everything was concealed/hidden out of the way. Including the oven, fridge and the x2 20 litre water containers. There is also a ton of space to put away clothes, boots, coats etc. It took quite a bit of brain power to get it all to fit together.
Although I had all storage solutions sorted one customer (Max) said that it would have been great to be able to sit on the bed, doors open facing a beach with a glass of wine. But there were no tables  on which to perch said wine so straight away I built 4 half-moon tables around the fixed bed area. Thanks Max, you were right and I was wrong!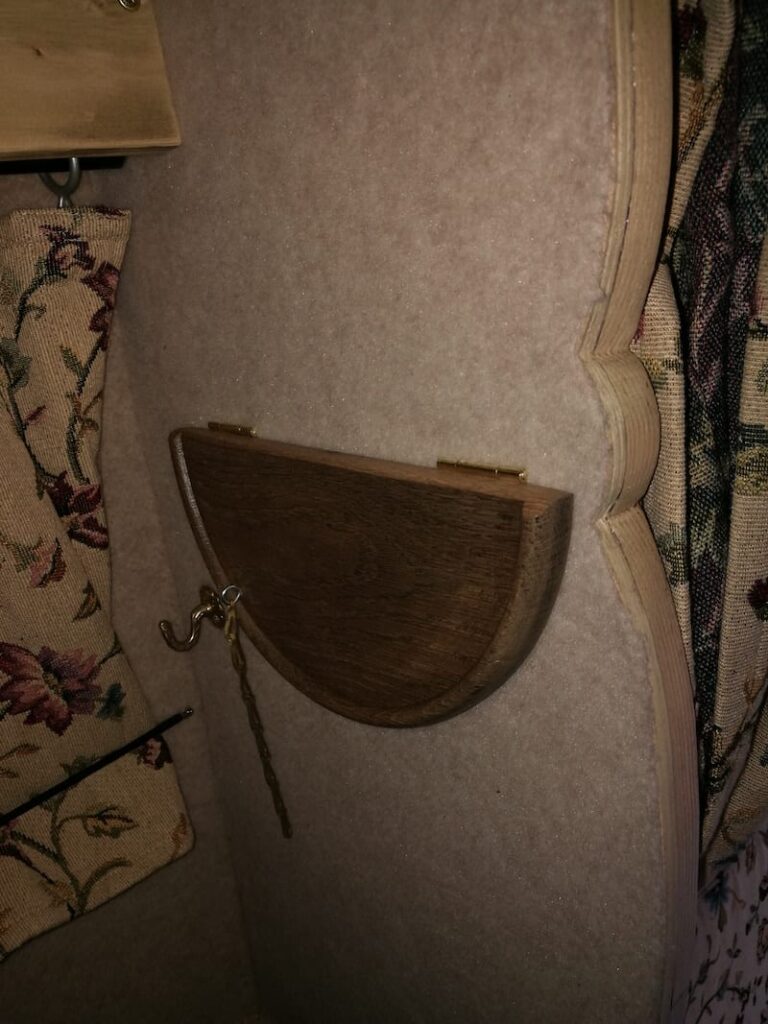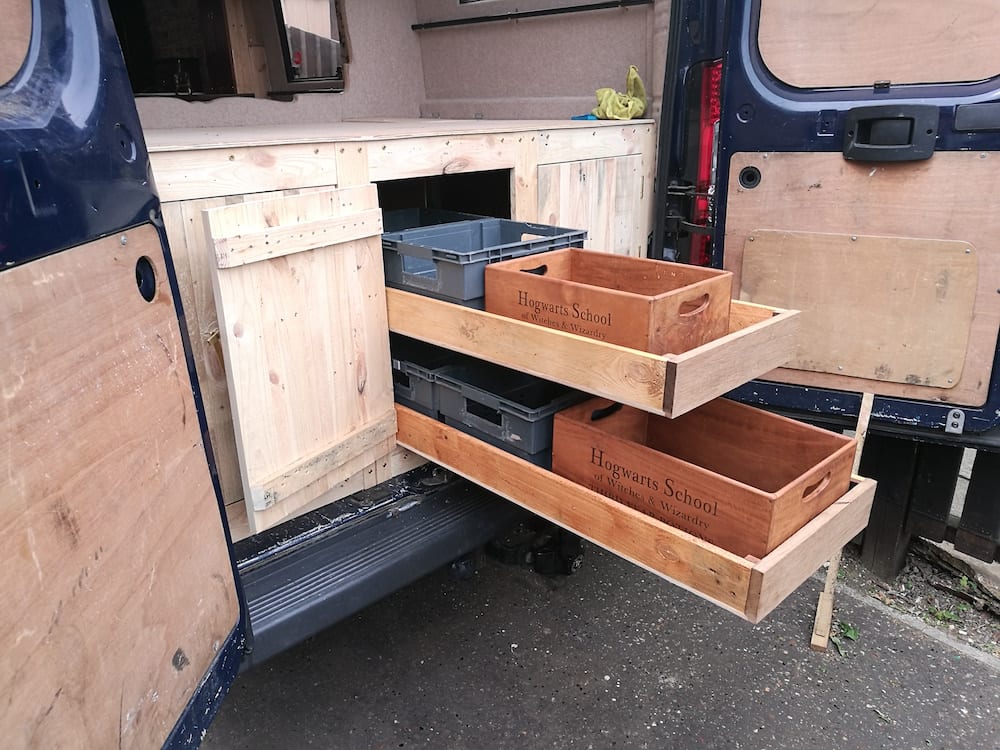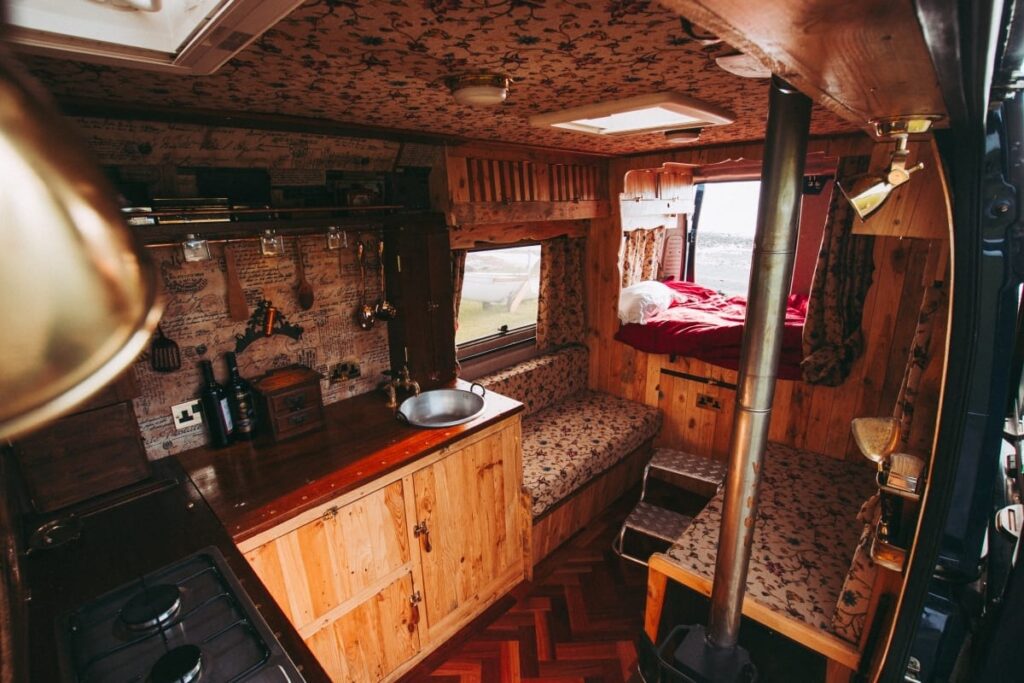 See other posts about Quirky Camper's owners and the campervan conversion process: Finn & Cleopatra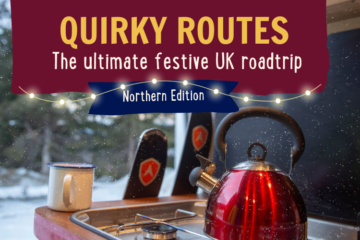 Are you a festive fiend or a grumpy Grinch? This season no matter what mood you're in, escape the normal and take yourself and …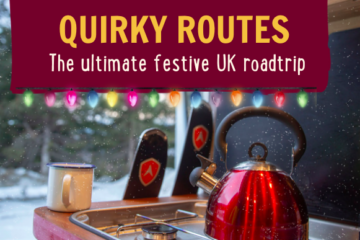 Are you a festive fiend or a grumpy Grinch? This season no matter what mood you're in, escape the normal and take yourself and …