Campervan Interior Design 101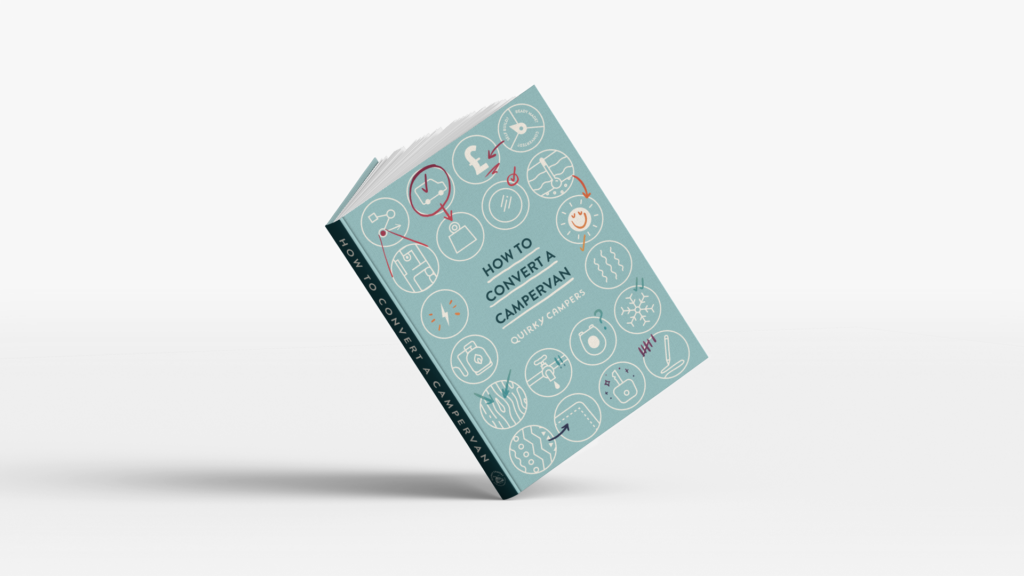 20 chapters from 16 experts + The Quirky Campers Team sharing 300+ pages of tips, how-tos and VANspiration!
Campervan interior design is not much different to house design.  You have areas for designated activities and it's a whole new space to customise and personalise.  Because it's a small space, everything must earn its place. Therefore it's important that the design works both practically and aesthetically.
One of the things that will make the biggest impact is the campervan soft furnishings. If you're converting your own van, buying a used one, or even splashing out on a new model, there are a lot more options than you might initially think when it comes to your seating and bedding.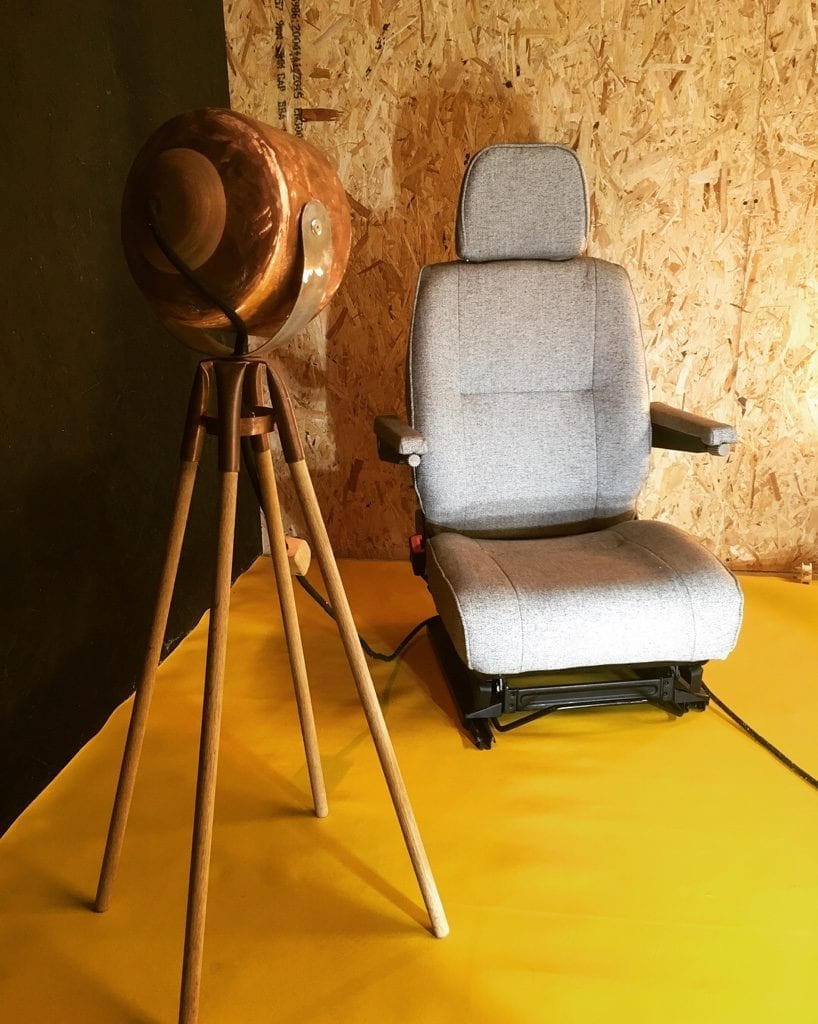 Cat Sinnamon-Large owns and runs Catupholstery, a bespoke auto upholstery company. This amazingly talented lady gave up a career in teaching in 2016 to focus on her passions in life – campervans and haberdashery! She is determined to prove that there are alternatives to the standard manufacturer cushions and interior options.
Cat is running a campervan interior workshop at this years' Camp Quirky. She's preparing to share all her interior wisdom with all you eager festival goers. We caught up with her in her studio space in Freestone Studios, Bristol, to snoop around some of her projects and ask her what it's like to have carved out this bespoke niche in the van life community.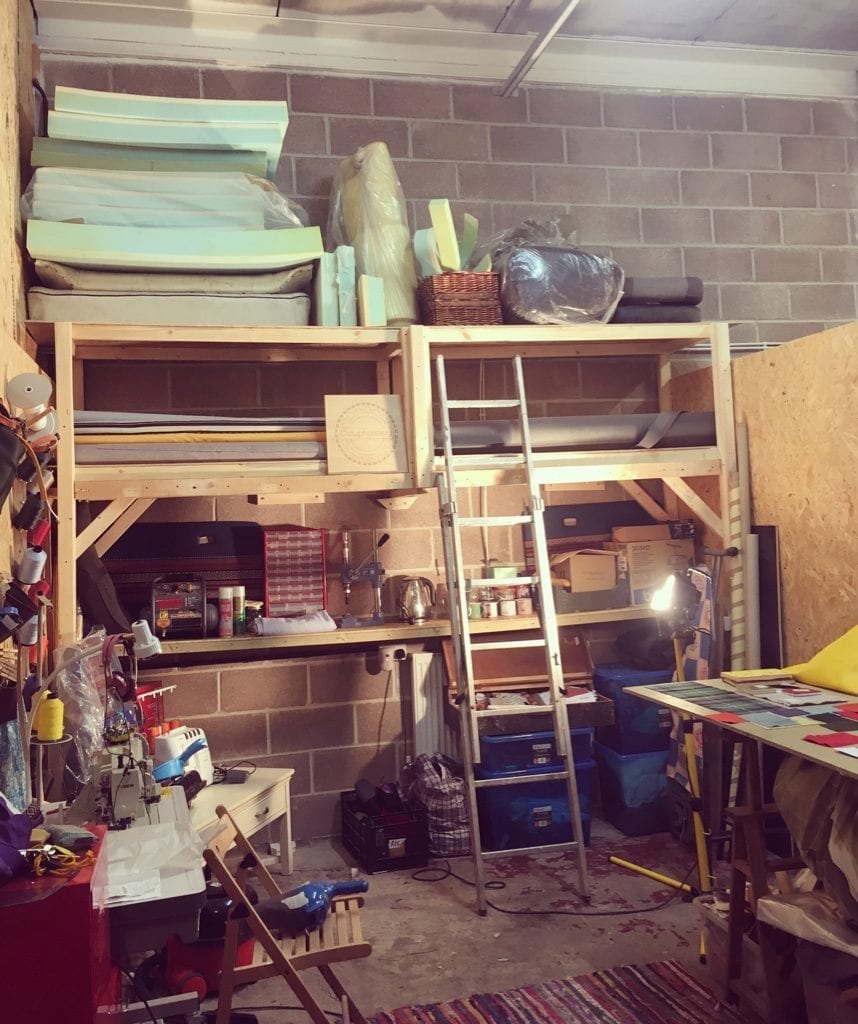 If you had to give yourself an official job title, what would it be?
Trimmer / automotive upholsterer
You obviously had the courage to take a leap of faith by setting up Catupholstery; what made you decide to take the plunge?
I've got an artistic background with a degree in fashion/textiles. I'm obsessed with fabrics and hoard samples everywhere! Campervans have a special place in my heart, they've been in my life from childhood to right now so the opportunity to combine all that I love into one job was something I just had to pursue. I have always wanted to do something creative, but I had never quite found out exactly what it was…now I think I have!
You seem to be able to turn your hand to a variety of projects related to campervans – what is your favourite thing to make?
Seats! I like designing them and then making something that looks old and worn out into something beautiful. It's a great feeling to be a part of the vision that my customer has and to help them achieve it.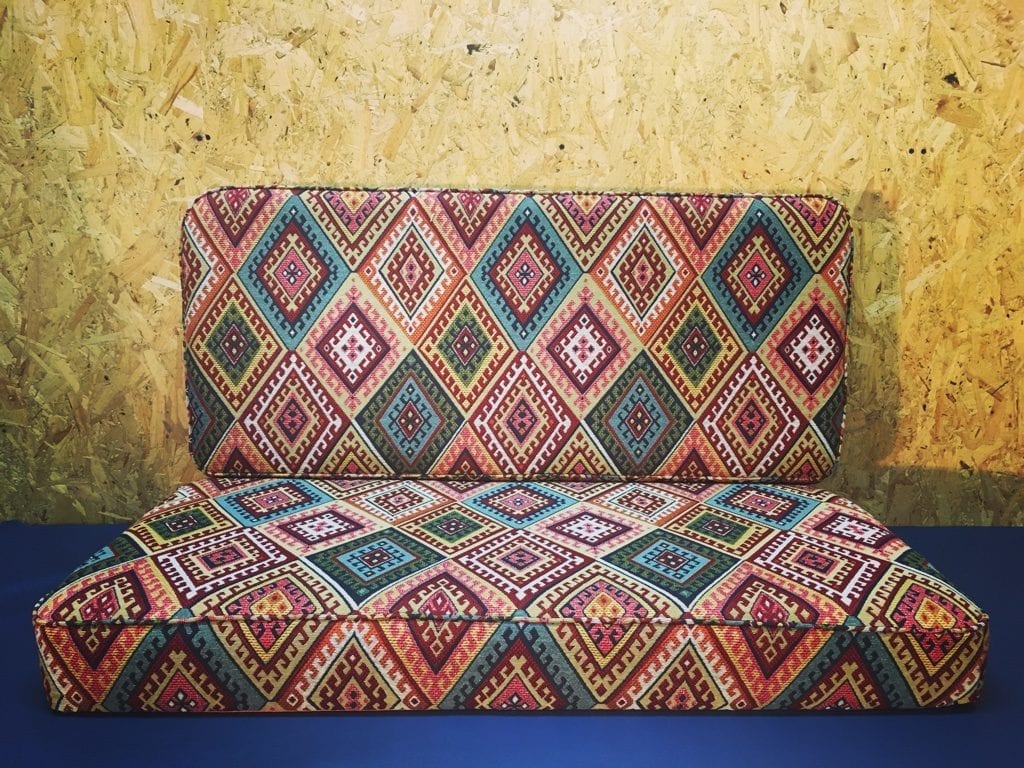 Are there any restrictions on the kind of project you would take on? Or, can any campervan be Catupholsterised?!
That's a hard question! I do love a challenge and I love to continuously learn, if I get stumped then I know enough people in the trade that can help, or if I can't do it, I will know someone that will. Any van can have a bit of creativity thrust upon it – bold design and gorgeous fabrics are not the reserve of retro or quirkier vans.
What's your favourite part about running a bespoke creative making company?
The people I get to meet, the awesome vehicles I get to work on, the creativity of design and the fabrics I get my hands on. Also, I feel like I have met customers that have become friends. That wasn't really one answer was it!
We're being nosey poking around the tables and storage containers around Cat's studio – it's like a treasure trove of colourful things! What's that large wooden box in the corner?
That was a present from an old studio buddy, he found it at the tip and thought I might have a use for it. I have a borderline obsession with old chests and trunks; I love an aesthetically pleasing vessel! It also makes me look like a travelling salesman, Del Boy as some of my friends would say. It stores all my fabric samples in for when I go to trade fairs, festivals, run stalls etc. I love it, if only it could talk and tell me about all the adventures it had been on.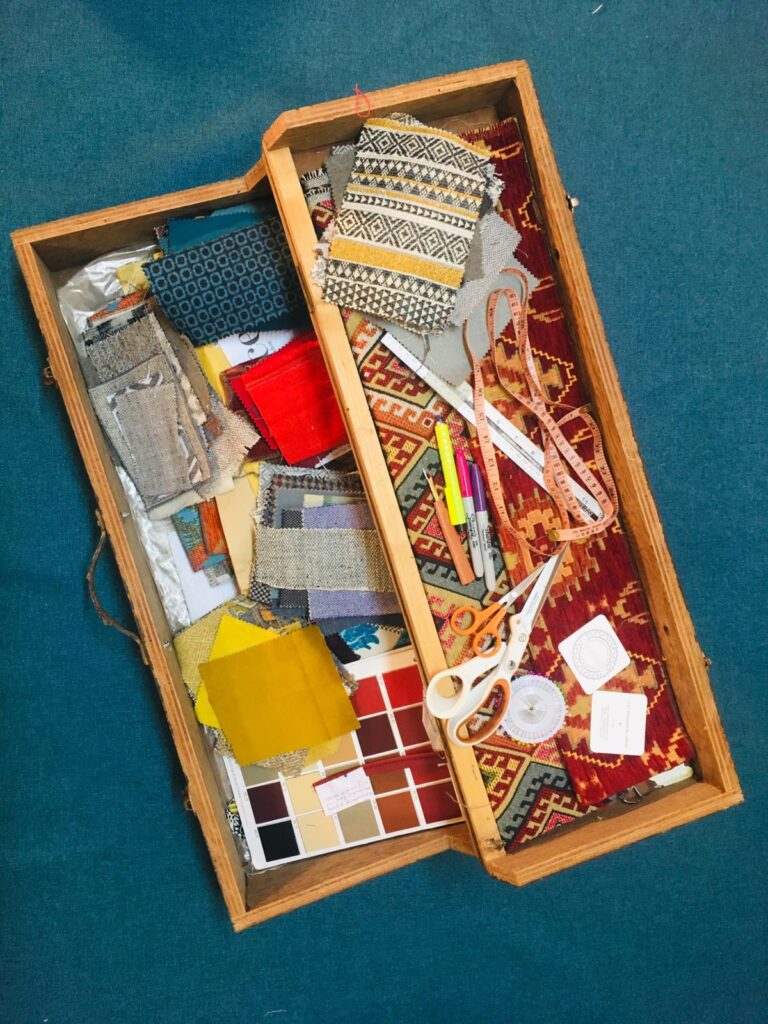 What are you currently working on?
A 1971 Peugeot J7 French panel van called 'Claude', I'm going to be trimming up the front seats and then making 8 cushions in total that will make the 2 sofa areas that become a big bed in the back too. The owner, David, is a designer and has heaps of style, so that makes my job easier in one sense. However, I also like helping people who have less idea what they want pin down their ideas to the perfect colour combination.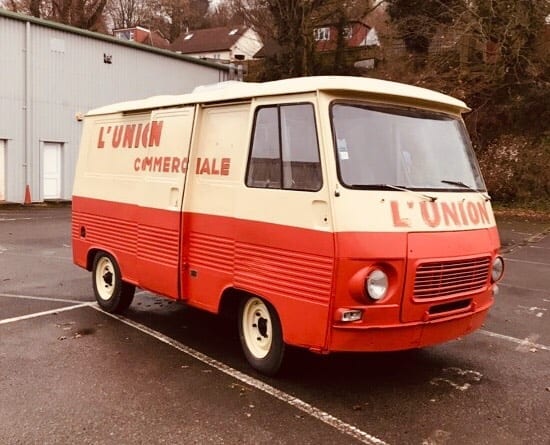 Have you ever told someone their colour choices are just dreadful?!
Hahahah! Not in so many words! I'd like to say I have the ability to listen to my customer, offer advice tactfully and work to their brief. It's not about me, it's about my customer and the vibe they would like to create.
What campervan do you currently have?
My husband and I converted a Jumbo Ford Transit called The Honeybee – also available to hire through Quirky Campers! She's a glorious big yellow van with a massive bed that I struggle to get out of because it's so comfy! I've had great fun doing all the upholstery in our van and it's great to able to try out new ideas such as the pouches. These are made with left-over vinyl from other projects and are a brilliant space saving way to add more storage to a van where space can be at a premium.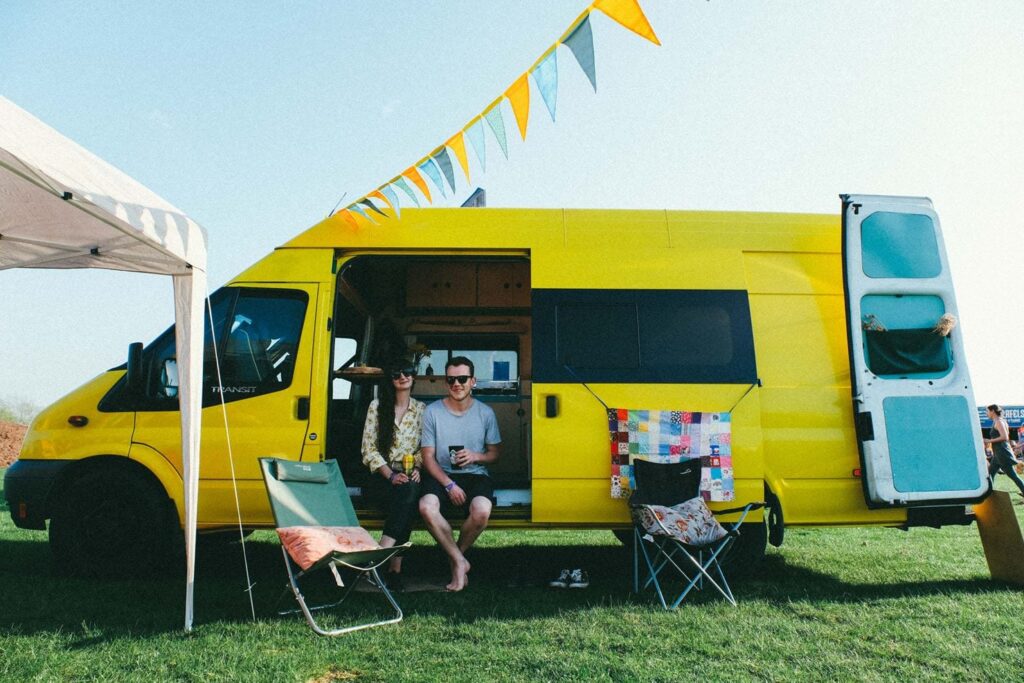 I know campervans have played a huge part in your life from childhood to now. Can you tell us your favourite campervan story?
Oh, this is too tricky! I have so many stories of campervan adventures!
One of my earliest memories was in our orange T2 called 'Muv', on a family trip to visit my Granny and Grandad in Southwold. My dad was driving and our ginger and white cat, 'Tooties' accompanied us for the journey. She hibernated underneath the drivers' seat for most of the journey but as we approached our final destination near the coast she would get out, sniff the air and then sit on my dad's shoulder as he completed the journey. Funny what you remember.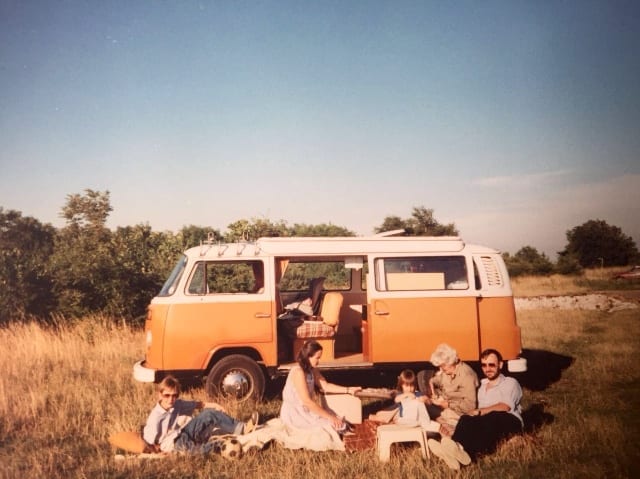 Finally, why should people consider changing their factory fitted seating to something done by you?
It's a chance to have something completely unique, inject a splash of your personality into your campervan. It might be for more practical reasons, for example if you require a change in material from cloth to vinyl that is durable and hard wearing because of a hobby that you do.
I pride myself on fusing together practicality and creativity with my customer, enjoying the process and being part of it.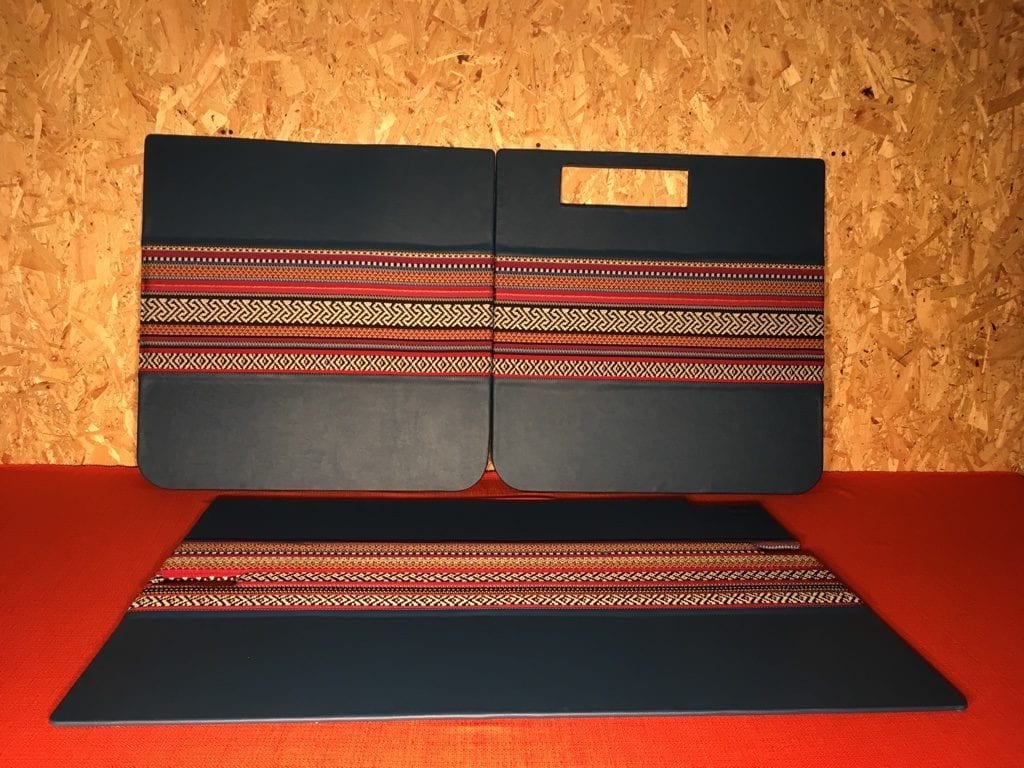 So, if you literally want to try before you buy, there probably isn't a better way to do it than this than to hire Cat's van! Though, Cat says she's more than happy to let you have a little snooze on the seating foam in the studio if you'd like to test it out!
If you'd like to attend Cat's workshop, nab yourself some tickets for Camp Quirky before they're all gone!