Should you install a toilet in your campervan?
To loo or not to loo? That is the question. Many would not consider a home to be a home without a toilet, but just how essential are they? From she-wees to trowels, there are multiple alternatives to having a toilet in your camper. By the end of this blog, you should have a clearer idea of whether or not you need a toilet in your campervan and which option would be best for you.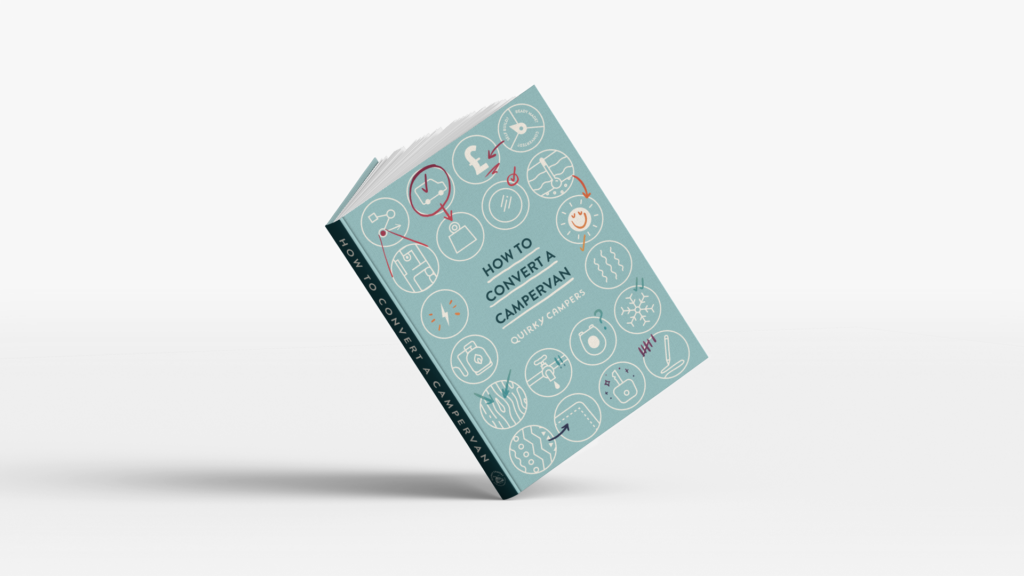 20 chapters from 16 experts + The Quirky Campers Team sharing 300+ pages of tips, how-tos and VANspiration!
Questions to ask yourself
Before we go into detail about the different toilets available, here are some general considerations for having a toilet in your campervan, in order to help you get a sense of the kind of toilet you need.
Do you actually need a toilet in your camper?
If you are building your van for weekend adventures, you plan on heading straight to campsites for your mini break, or you're happy to use the bushes, Shewee, or a good old-fashioned bucket, then maybe you don't need to consider a toilet at all. If you are planning to live in it, have young children or spend long periods of time in your van and don't fancy digging a hole every time you need a number two, then perhaps having a toilet on board is necessary.
Where will it go?
Are you building a separate bathroom inside your van? Will the toilet be cleverly hidden in your build? Or will you just be bringing it along every now and then from home? Will you be building a slider for it to sit on, or boxing it in so it fits neatly within your build? Or would you just like a tent to pop it outside once you park up? No matter where it goes, you really need to know what you want before your build begins to take shape.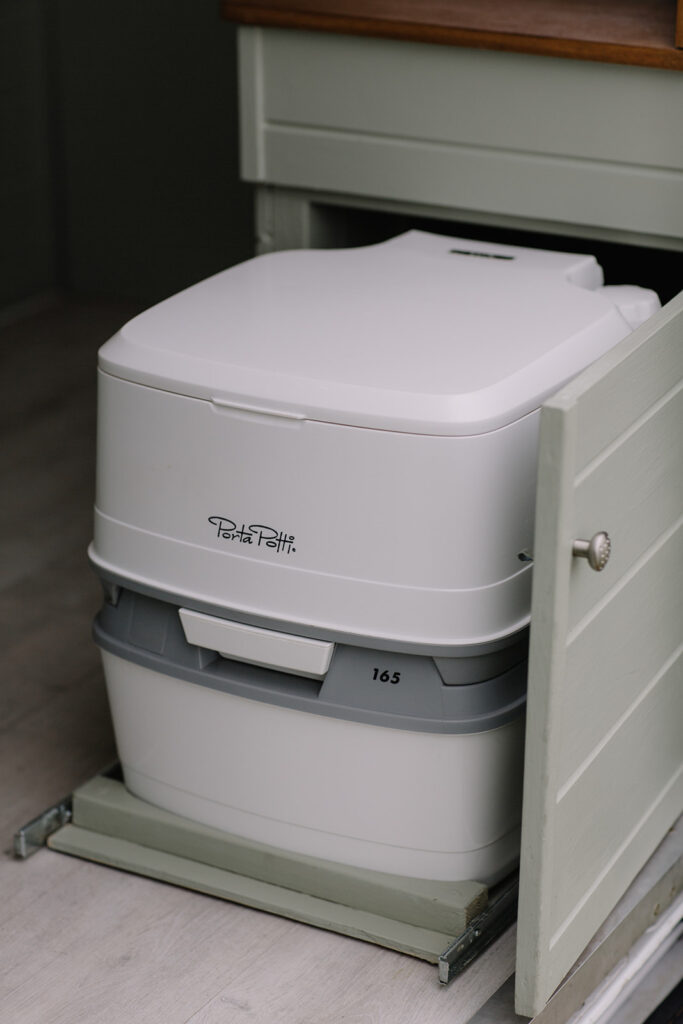 What size of toilet?
This depends mainly on how many people will be in the van and how often you plan on using it. If it's just one or two of you and for emergencies only, you could look at the Outwell 10L portable toilet. Whereas if it's for a family of four, you might want to consider something bigger like the Thetford Porta Potti 300 series. If comfort is high on your list, you might also want to consider the height when choosing.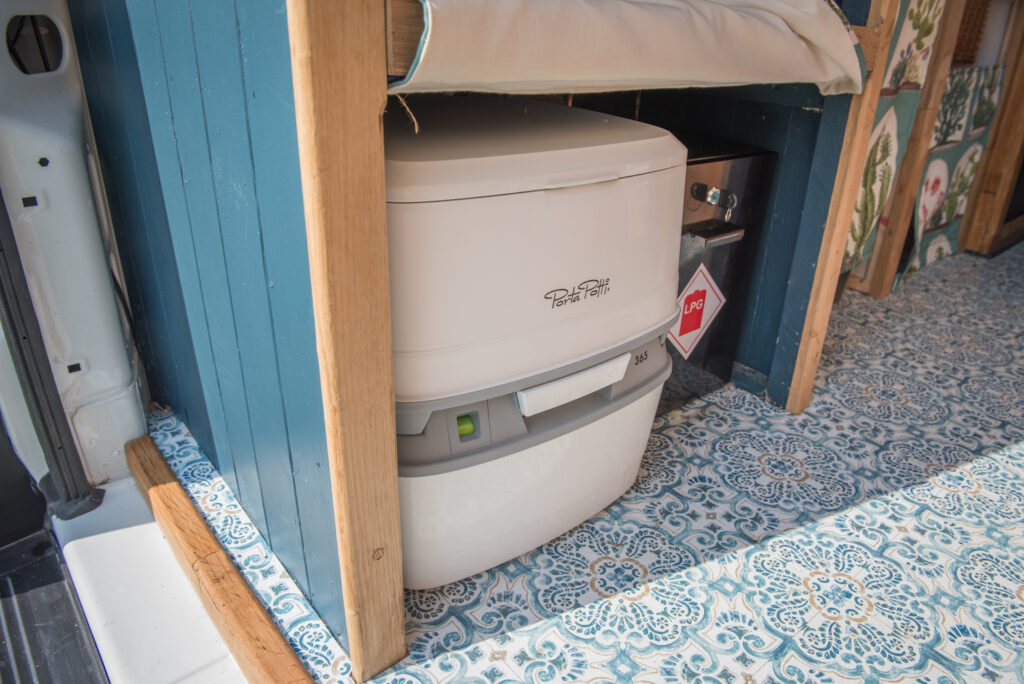 ---
Types of campervan toilets
Compost toilets
First up, compost! It can be a great option for the eco-conscious travellers amongst us. If you have access to a space which allows you to use the contents of your newly created compost, then this could be a perfect choice. There's really no point gathering all of that wonderful composting material only to put it in the bin – the clue is in the name! There are two front runners when it comes to compost loos for campervans: Nature's Head & Kildwick.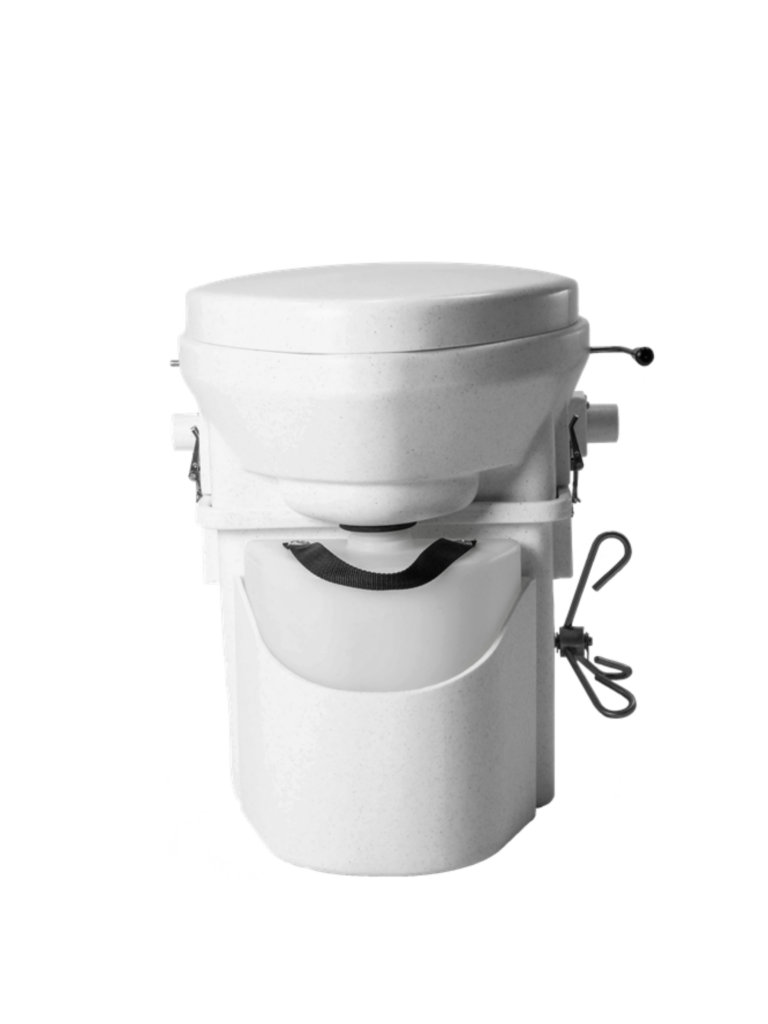 Nature's Head
Completely self-contained, this toilet operates by separating the liquids from the solids, which also helps combat any odours. In fact, Nature's Head promises a completely odourless experience.
It is easy to assemble and even has the option for a fan through your 12V electrical system. This makes the experience truly odourless as the fan pushes any odours out of the vehicle. However, this does mean you need to install a vent and drill an extra hole.
Kildwick
Kildwick also offers a separation system for liquids and solids and provides a couple of different options: with or without a fan, and now the new MiniLoo. There are a couple of differences between the two: whilst both feel comfortable and similar to a 'normal' toilet, Kildwick's structure is made from birch plywood, giving it a different look and feel.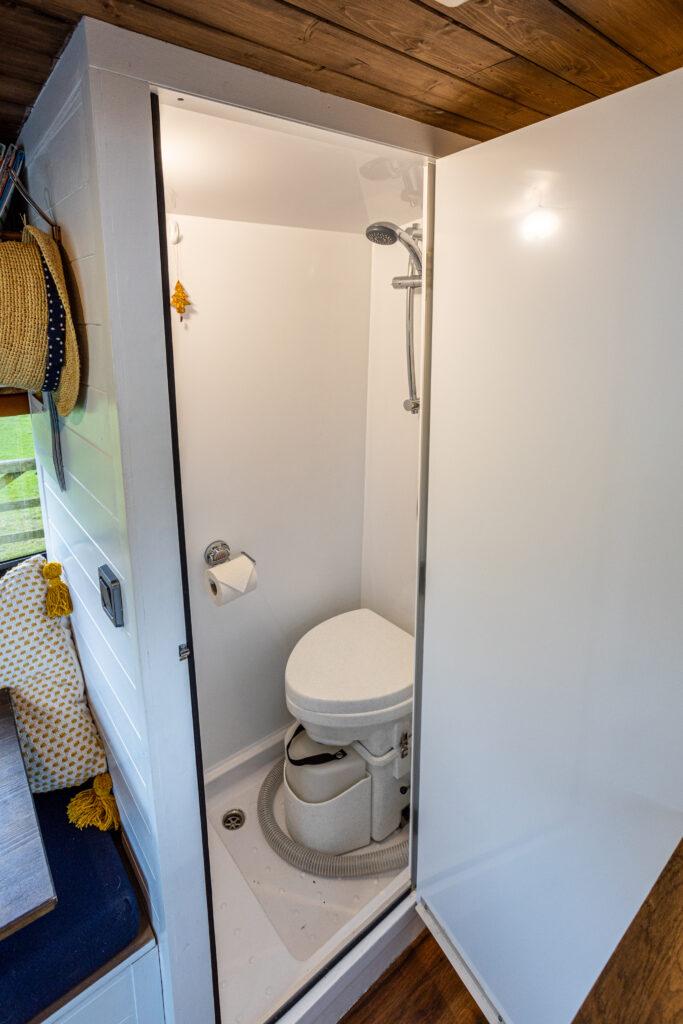 As with any option, compost toilets have their pros and cons.
Pros
Eco-friendly and non-toxic
Easy to assemble
Lighter in weight as no need to worry about water
Cons
It may be difficult to use and get the process right – adding fresh waste to dry waste, for example, leads to differing levels of composition, which can make the process harder.
There is some debate around how to empty your compost – some people suggest simply disposing of the waste in your household bin. However, as mentioned above, we think there is little benefit in getting a compost toilet only to empty the contents in this way.
Portable toilets
Portable toilets are just that – portable! They can be stowed away whilst travelling and taken off to empty when full, so they're perfect for us campervanners. They're often referred to as 'Porta Potti' which is the brand name for the versions made by Thetford.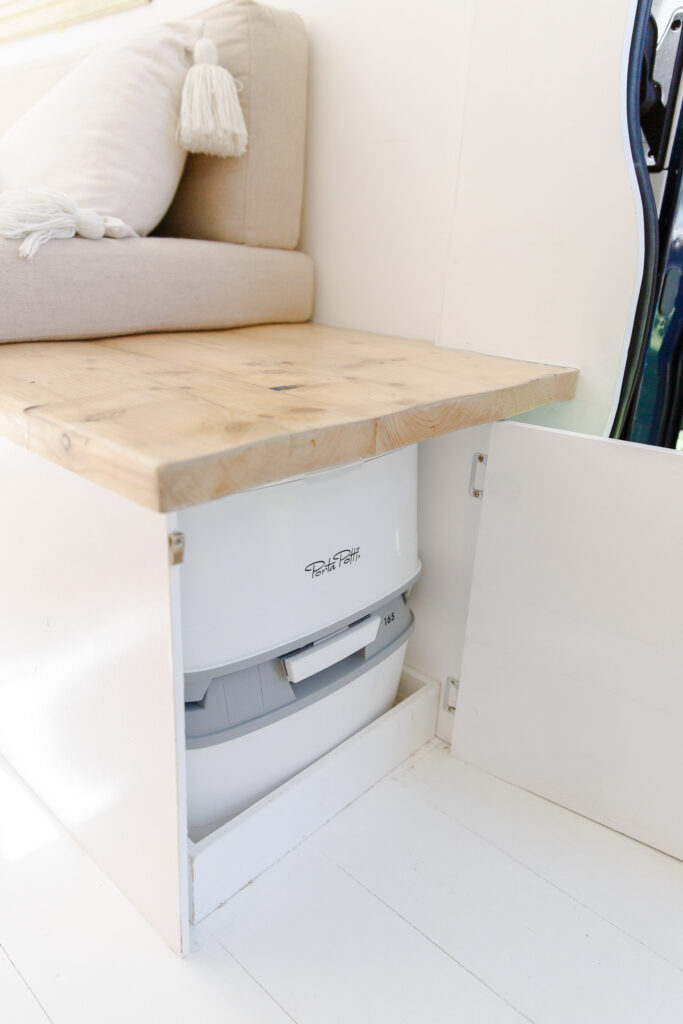 They function similarly to a real toilet in that they flush from a tank of water. As well as needing water, they require chemicals to properly break down the waste and to stop the odours.
Here we will cover some of the options available for your campervan. One main thing to note with portable toilets is the variety of sizes and the different types of flushes. So again, you need to know your needs before choosing your loo. Thetford and Dometic are the clear market leaders.
Thetford has a range of portable toilets to suit your budget. From the basic 100 series to the more sophisticated toilet – complete with its own toilet roll holder, level indicator, larger waste tank and an electric flushing system.
Pros
Easy to use
Affordable
Portable
Cons
Can be smelly if you don't use the right amount of chemicals, especially if used in a heatwave
Sounds obvious, but you have to empty them! If you're out in the sticks and your toilet is full, you may have a problem
Heavier than compost loos
Cassette toilets
Cassette toilets are very similar to portable toilets in the way that they flush and require water and chemicals, but they're usually permanently fixed to the vehicle. Some even have an external access point to retrieve and dispose of the cassette contents. They have a separate seat/flush unit from the holding tank (cassette) making for probably the most house-like toilet experience for campervans.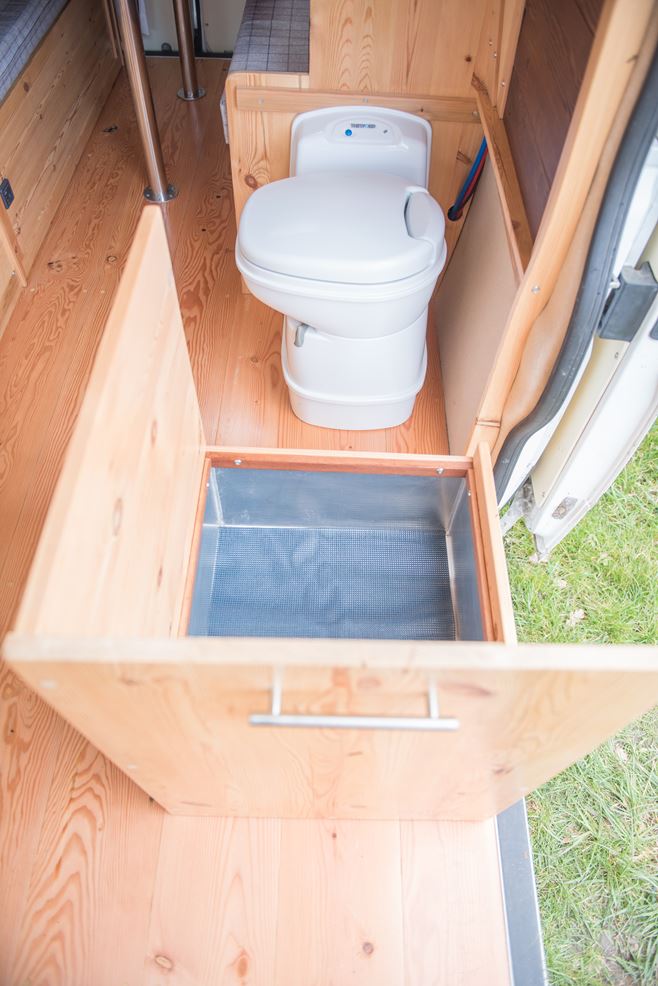 If you're fitting a cassette toilet to your vehicle, retrofitting will be tricky, so make sure this is something you definitely want before you start your build.
Pros
Probably the most comfortable option
Easy to use
Cons
Most expensive option
Takes up a lot of space (permanently).
Requires a greater level of installation
---
What chemicals to use for your toilet
Chemicals aren't for everyone and if you're really not up for using them, then portable and cassette toilets are not for you.
The most popular options for your chemical toilets are most identifiable by their colour. You will usually find blue, green and pink options. Pink is for the toilet flush, which disinfects and deodorises the toilet bowl. The blue and green chemicals are effectively used for the same thing: for the waste tank and for breaking down the waste matter. The difference between the two is that the green option contains less harsh chemicals in its formula and does not contain the highly toxic formaldehyde. There is no good reason therefore to opt for blue liquid unless there is nothing else available, and if you do these toilets must not be emptied into a septic tank.
There's no shame in not having a toilet in your van, or in fact wanting to have a throne that is there when you need it! Unlike many other aspects of your conversion, whichever decision you make is highly reversible. It might just be worth reserving a spot in your mind for a future toilet if you start without one.
If you're still not sure, why not try some different options before you commit? See our full selection of handcrafted campers here. We also have a useful blog detailing everything you need to know about campervan toilets during your holiday.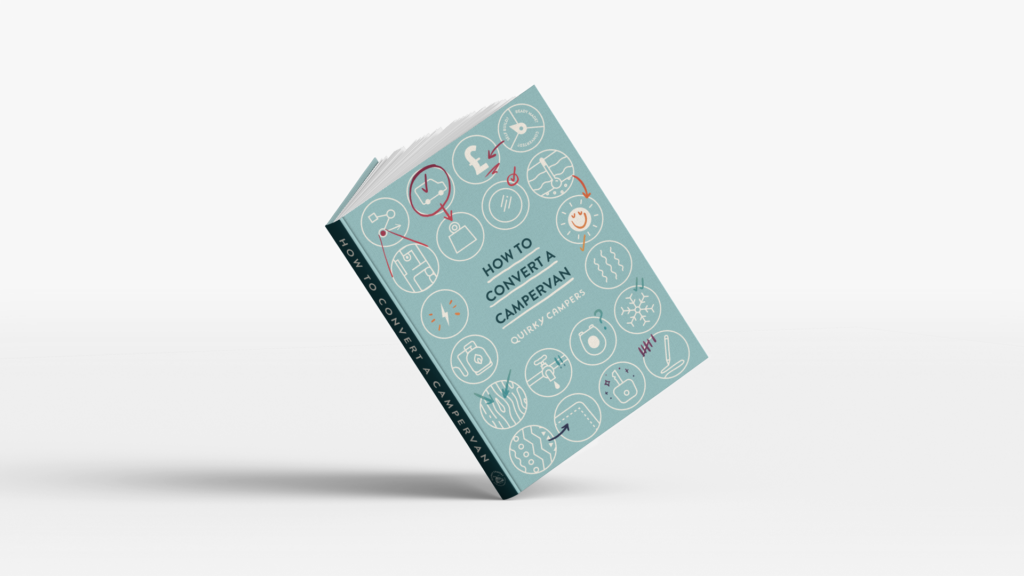 20 chapters from 16 experts + The Quirky Campers Team sharing 300+ pages of tips, how-tos and VANspiration!