7 Unique Mother's Day Gift Ideas
Mother's Day is just around the corner (Sunday 19th March) and this year you've decided that the usual bouquet and box of chocolates aren't going to cut it. But you may wonder what is a unique way of saying 'thank you for everything you do?' Whilst there may be no gesture or gift large enough to show your gratitude, these 7 alternative Mother's Day gift ideas will undoubtedly make any mum feel extra special.
Made with love
One of the most thoughtful gifts you could give is something homemade. The time and effort you've put into creating something with your bare hands will never go unnoticed. It could be as simple as crafting your greeting card, or putting together a memory scrapbook or if you're feeling particularly inspired, why not head to your nearest pottery class to sculpt a bowl or mug? Whatever you choose to make, it's guaranteed to be something that she will cherish for many years to come.
---
An experience
If you're looking for a unique and memorable gift this year, booking an experience like a trip to the theatre or a ticket to a festival weekend like Camp Quirky may be the answer. It's an opportunity for her to let her hair down and do something fun whilst creating lasting memories with the people she loves most.
---
An opportunity to learn
No matter what stage you're at in life, discovering or developing a skill can be incredibly rewarding. Buying your mum a voucher for a course or a 'build your own kit' shows her that you're invested in her personal growth and interests. You could even tag along and discover something you could both build on together. If she is interested in or in the process of owning a campervan, our conversion guide would be the ideal present!
---
Your time or skill
Sometimes the most precious gift you could give someone is quality time. Spend an hour or two going for a walk, having a picnic or simply spending the day together doing things you both enjoy. Another option to consider is utilising an existing skill of yours and offering that service for example if you have an interest in photography you could set up a family shoot (we all know mums love storing photos!)
---
An adventure
Give the gift of the great outdoors this Mother's Day. A campervan adventure is a chance for her to reconnect with nature and unwind. It's an opportunity for you to spend quality time together and create new memories as a family. Sunset hikes through stunning scenery, marshmallows roasted on a roaring campfire and moments of reflection underneath the stars, there is nothing like it! Take a look at our selection of family campers ready to hit the road.
---
A subscription or membership
Subscriptions and memberships are the gifts that keep on giving. Not only are they a meaningful and long-lasting way of showing your appreciation, but they will also allow your mum to discover new interests or indulge in an existing one. Lover of the outdoors? A National Trust membership is a great gift option. An avid reader? A library or book club membership could be perfect.
---
Something to eat or drink
Cooking is a lovely way to show your love on Mother's Day. You could put together a personalised menu of all her favourite dishes. If you're not a whizz in the kitchen and you'd like to avoid serving up something undercooked or burnt, then it may be worth opting for something like Pasta Evangelist who delivers restaurant-worthy food straight to your door and requires minimal prep. Hosting a cocktail party is another great way to celebrate Mother's day. You could serve up a signature cocktail dedicated to them and play some games with the entire family.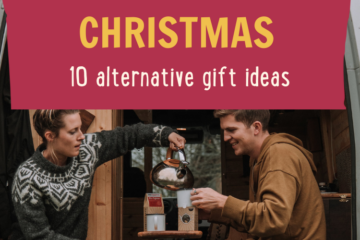 Are you looking for a different way to approach Christmas this year? Updated for Christmas 2022 The season of giving is upon us, and …