First Time Campervan Hire – Top Tips!
I Want to Rent A Quirky Campervan – What Do I Need to Know?
So you think you want to rent a campervan? If you're reading this, you've probably either booked your first campervan holiday, or you're about to book one of our awesome Quirky vans and need a little nudge to reassure you that it's going to be awesome!
We've listed some of the main pointers to think about when you rent a campervan for the first time.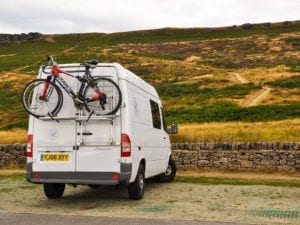 Planning
Every good adventure starts with a good plan.  It doesn't have to be a detailed itinerary mapped out to the minute on a spreadsheet but it does help if you have a good overview.  These plans will help you figure out which van to hire and what equipment to take.  As well as estimating how much the holiday will cost you.
What Type of Campervan Should I Hire?
The first thing you need to overcome is the sheer variety of vans on offer! You know it's going to have 4 wheels and a steering wheel but what else do you need?
Well, to a certain extent this will depend on where you're planning to go, who you're taking with you and what you're going to do when you all get there!
The hiring page on Quirky Campers has a nifty set of filters which you can use to narrow down the location, the number of people it can accommodate and the facilities it includes. You can also use the date filter if you are limited to specific dates. However we are so busy this summer that you might be better off finding the vans you like and seeing what availability they have.
You might also find it helpful to browse our collections; categories like 'cream of the quirk', 'just for two' or 'off grid' can point you in the right direction.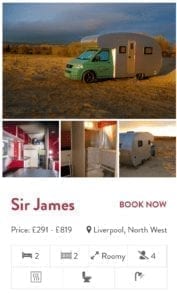 How Easy are the Vans to Drive?
Chances are, this might be the first time you've sat behind the wheel of a vehicle this size.  Don't panic!  Driving a van employs exactly the same principles as a car, it's just a little bit bigger.  Some of our vans on hire are Long Wheel Base vehicles like Blubelle and some are on the more petite side like Serenity.
Our owners are more than happy to give you a crash course…. um…. show you the ropes of how to drive their vans when you pick it up!  Some top tips for driving a campervan for the first time are:
Plan your route!  If you don't want to drive down narrow country roads then plan a route to avoid them;
Watch your speed!  It sounds obvious but breaking times are slower so take your time. You're on holiday remembers!
And of course, leave more space than you would in a car;
Remember that some of the items might be loose – you don't want cupboards to come open and all your porridge oats to spill out! So avoid fast corners and sudden stops if possible;
Take a note of the height!  Before you drive into a multi-storey car park, or under a bridge, make sure you know a) how tall your van is and b) how low the entrance is!
 The side mirrors usually have two very handy mirrors lower down angled so that you can keep an eye on where you are positioned in the road.  This is helpful for driving wider vehicles and making sure you stay within the lines.
If you'd like more top tips on driving a van for the first time, read this blog.
What Should I Take With Me?
Packing for a holiday is a tough job!  Actually, we think it's easier when you have a whole campervan to pack.  You might not have to decide between shoes or sacrifice a jacket for the sake of an extra pair of trousers because, happily, camper vans are bigger than suitcases!
That said, you probably don't want to pack a suitcase before you get to your campervan.  This is because whilst there is tonnes of storage available for your clothes and bits and bobs, a bulky suitcase will take up a lot of room. The best idea is to pre-pack in a soft holdall so that will easily fold away when you unpack everything into your home on wheels.
Our owners often send you on your way with biscuits, tea, coffee, and the essentials for washing up.  Some vans have games for you play, and some have TV points or surround speaker systems so you can plug your laptop in and settle in for a good old Netflix series binge!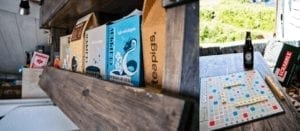 What are the Extra Costs?
At Quirky Campers, we're an open book on costs and we don't sneak in hidden extras.  When you rent a campervan, costs can be broken down like this:
The actual hire cost.  The costs of each van are clearly displayed when you pop in your dates on the individual van page;
It's cheaper in winter and midweek, so consider these times if you're on a budget;
Insurance – fully included;
Additional drivers – no extra cost;
European hire – no extra cost;
Optional extras –

Each van owner has a selection of extras you may wish to add onto you hire.  For example, bedding, porta potty, camping furniture, even kayaks and paddle boards!  These are individually priced.

Refundable security deposit – £500.  This will be deducted from your chosen card just before your trip and returned within 7 days, provided of course nothing has been damaged.
Fuel – you will pick up the van with a full tank and you need to return it with one.  A typical 2.0 litre diesel van might cost between £80 – £100 to fill to the brim.  On average, you'll get around 350 – 400 mile range on this.  Of course, this will depend on the mpg of the van.
What Happens If There's An Emergency?
The van you will be driving is insured fully comprehensively and includes breakdown cover.  So you don't have to worry about getting stuck in the middle of nowhere trying to thumb a lift to a local garage! You will also have a number for the vehicle owner who will do everything they can to assist you and we are at the other end of the phone too.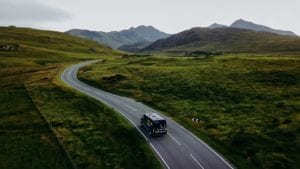 What if I Have More Questions?
Our team are ready and waiting for you to ask them!  Get in touch with us if you have a question on anything van related.  We will help you try and narrow down the perfect van for your first time campervan hire from the beautiful and varied options you have from our fleet!  We will have many ideas and suggestions to make your first campervan adventure totally awesome!