How to Meet DVLA Campervan Conversion & Reclassification Rules
by naomi fiddes-baron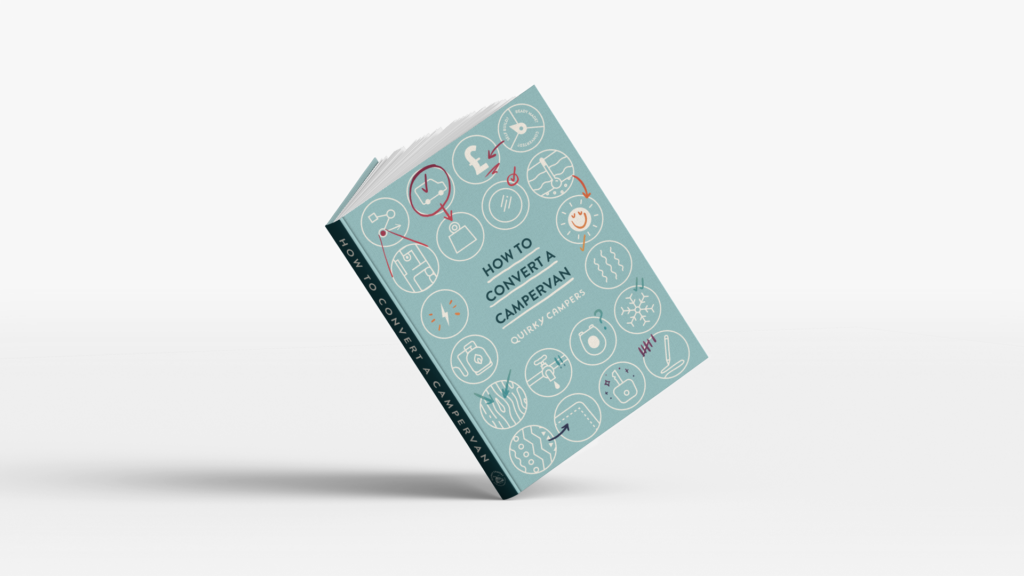 20 chapters from 16 experts + The Quirky Campers Team sharing 300+ pages of tips, how-tos and VANspiration!
There seems to be a growing trend in the UK for people embarking on a project to convert a panel van into a campervan. The reasons for this increase are numerous. It could be due to more people embracing a fulltime van life style. Perhaps there is a greater desire to be able to enjoy a spontaneous weekend break. Maybe it is simply the desire to flex your DIY skills and own a campervan that is different to the other coach-built options available. Or perhaps it's the increasing costs that come with living in a house.
Nevertheless, converting your own campervan or even having it custom converted, is often more cost effective than buying a shiny new one straight from the factory.
So, What's New?
As a result of the increase of more campers on the road, it seems the DVLA has decided to review their rules on what requirements need to be met in order to reclassify your panel van camper conversions into a motorhome on the vehicle log book.
There has been a lot of conversation on social media in the last few months about people getting their motorhome conversion rejected by the DVLA. There seemed to be a distinct contradiction between the types of campervan conversions submitted for reclassification and the reasons behind the rejections. Importantly, new rules and guidance have now been released by the DVLA, which aim to make the requirements clearer. We take a look at what they are, and how they could affect you if you are planning to convert a campervan.
Why Does Reclassification Matter?
The body type information of the vehicle V5C is there to help the police and enforcement agencies easily identify vehicles. So, the information on record needs to accurately describe what the body of the vehicle looks like in traffic.
A couple of important things to remember:
The body type recorded does NOT affect the insurance category of the vehicle;
There are no effects on speed limits or other legislative requirements, though you should check out the current speed limits for different types of vehicles here;
You can still use the vehicle for a 'motor caravan' purpose, even if the body type has not been changed on the V5C*
To sum up, the recorded body type on the V5C is only used for accurately establishing the vehicle appearance and identification.
*This is as long as you are certain that the vehicle meets the required internal features for motor caravans.
What do I Need to Reclassify my Vehicle into a Campervan or Motor Caravan?
You must meet three requirements from the DVLA in order to get your vehicle reclassified to a motor caravan.
The body type on your V5C is one from this list;
You can prove you meet the external permanent features requirements;
You can show that your vehicle matches the internal features requirements.
The DVLA has also produced a handy checklist for you to work through before sending in your application for reclassification.
Meeting DVLA External Motor Caravan Requirements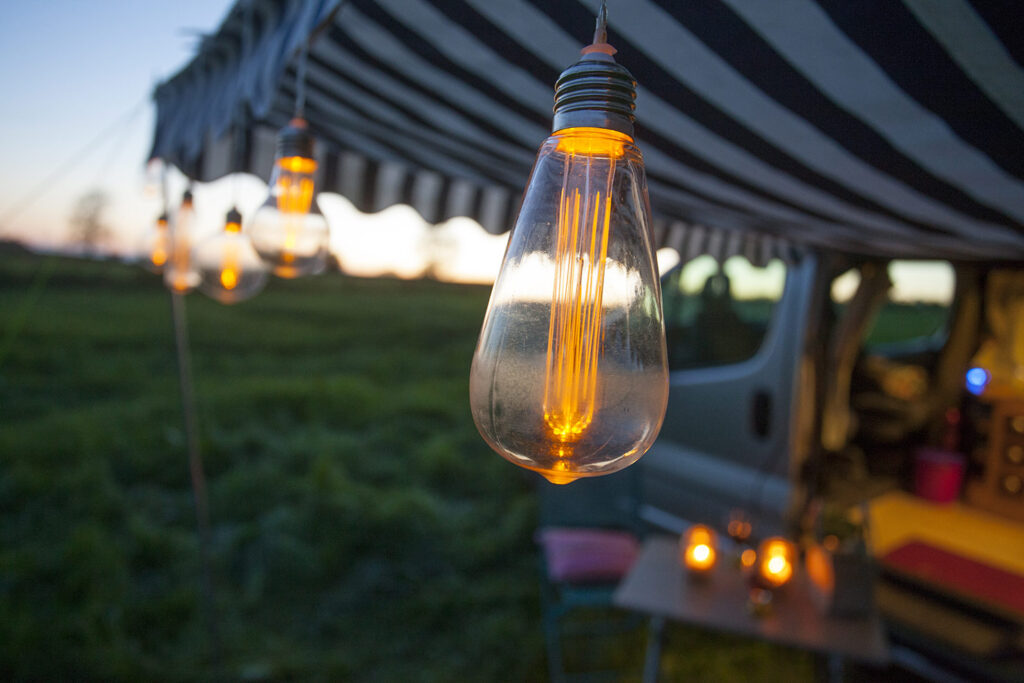 We recommend that you read through the requirements in full on the DVLA website before you start your camper van conversion. Most of the requirements are easily achievable, and are likely already part of your van build. For example, having a separate door which provides access to the living accommodation of the vehicle.
However, there are some new rules that are a touch more controversial. You now need:
Motor caravan-style graphics on both sides of the vehicle;
An awning bar attached to either side of the vehicle;
A high-top roof (this does not include a pop-top elevating roof).
There is not a conducive list of what exactly constitutes motor caravan-style graphics, and this could be considered subjective. It does not also bode well for those of us wanting to achieve a more stealth-style campervan.
When you think awning bar, you likely think of a bulkier Fiamma -style pull out awning. However, you could consider a single rail attachment where a tarpaulin can be run in as and when you decide you want to make use of an awning.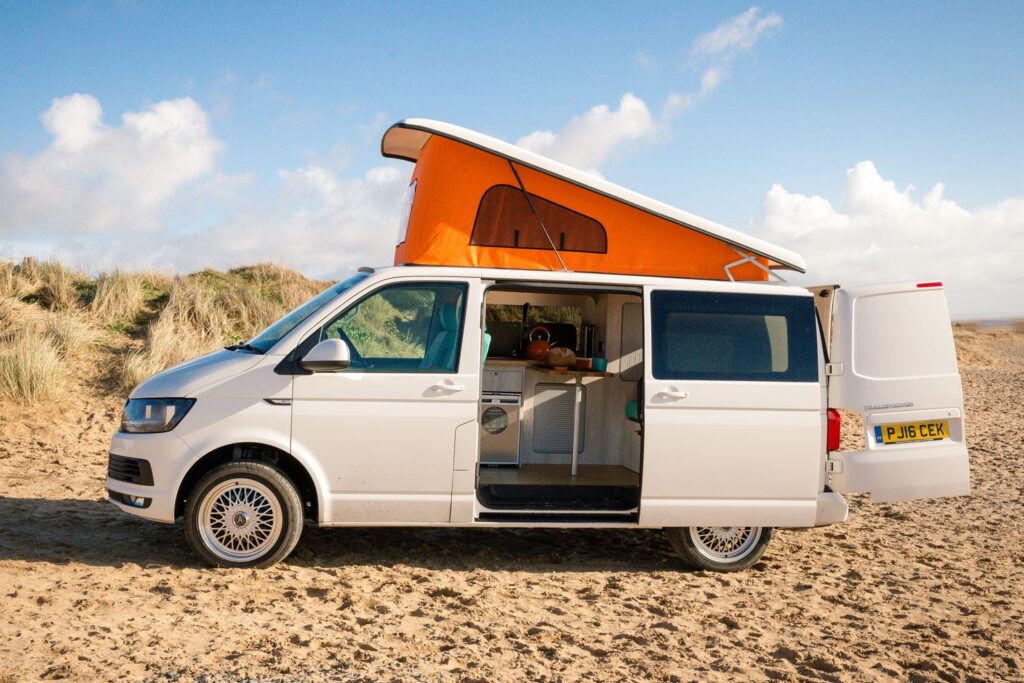 The high-top roof requirement has got us scratching our heads at the Quirky office. It is unclear how you will be able to achieve reclassification of an aftermarket pop-top on a VW T-series campervan with this new requirement, possibly leaving no alternative but to purchase a factory manufactured one with this addition. Though, whether those vehicles will still be able to be classified from registration as a motor caravan remains unclear to us.
Meeting DVLA Internal Motor Caravan Requirements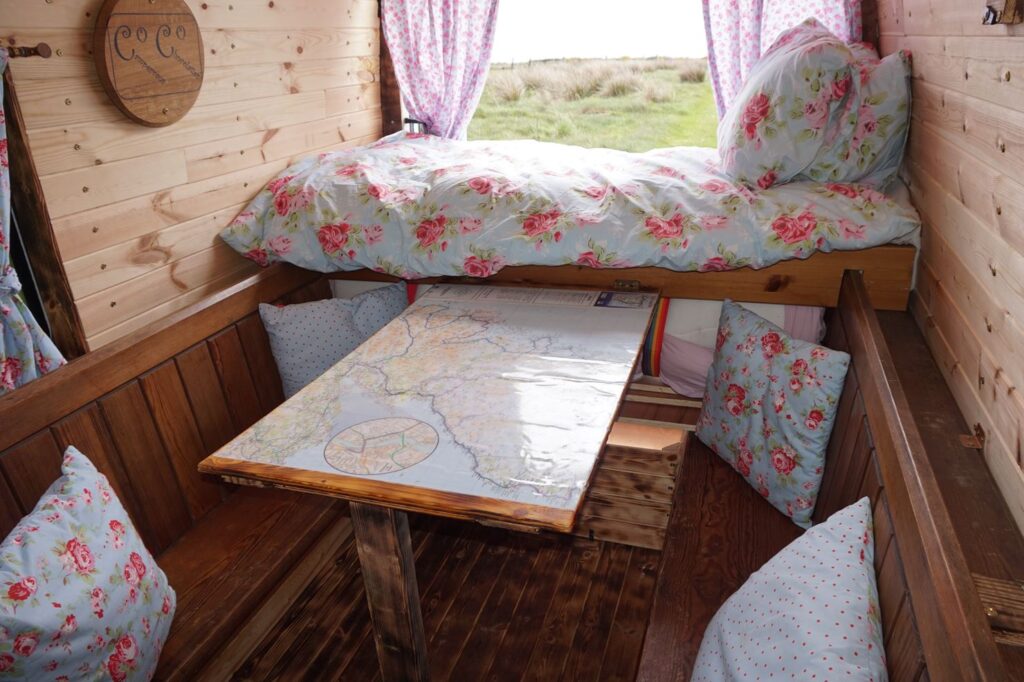 The key internal requirements that you will need to meet in order to have your vehicle reclassified as a motor caravan by the DVLA do not appear to have changed much. They still cover the following four categories which you will need to show that you have:
Seats and table;
Sleeping accommodation;
Cooking facilities;
Storage facilities.
All of this equipment, save for the table which can be removed from inside the vehicle, must be rigidly and securely fixed to the living compartment of the campervan.
A full list of the requirements for each internal category requirement can be found here.
Applying to get Your Campervan Reclassified by the DVLA
If you believe you have met all the internal and external requirements to get your campervan reclassified by the DVLA, you need to send off for their approval. Check out the full list of the process here.
Our top tips to help with a successful reclassification application:
Double check, and then check again. Make sure you have ticked every appropriate box on the checklist, and that you haven't missed anything off from the written admin side of the process;
Plan ahead! If you are going to attempt to convert your own campervan, ensure that you take these new regulations into consideration at the very beginning of your conversion build. This will help avoid unwanted expense further down the line if you have to retrospectively change things;
Don't guess! If you are unsure of any of the requirements and how to meet them, get in touch with either the DVLA team, or maybe join in some of the ongoing conversations on social media. Our Facebook group is a really useful source of information full of other people doing exactly the same things you are;
Make sure the photos that you submit are good quality and really clearly show how you have met the criteria. Much like selling a house, the better you showcase your work, the better impression you are likely to make.
Are you stuck on How to Meet the Campervan Reclassification Requirements?
It's a good idea to check in with the Vehicle Standards Team for handy advice throughout your camper van conversion process. You can do this by post at:
International Vehicle Standards
Department for Transport
Zone 1/34, Great Minster House
33 Horseferry Road, London, SW1P 4DR
Or email them here: ivs.enquiries@dft.gov.uk
Alternatively….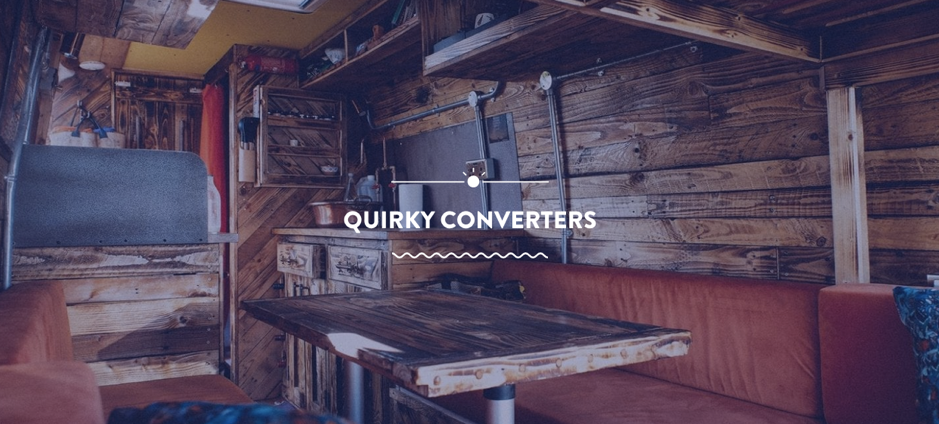 If you are unsure about undertaking your own conversion project, you might want to think about alternatives.  How about checking out our list of campervan converters – the chances are you'll find someone in your local area whose work you love, and who can build a completely bespoke, awesome campervan just for you.  Plus, they have the knowledge and experience in getting the vehicles reclassified.
Likewise, you should definitely check out the campervans we have for sale. These are listed with really clear indications of whether or not they have already been reclassified as a campervan by the DVLA, which means you don't have to worry about a thing!