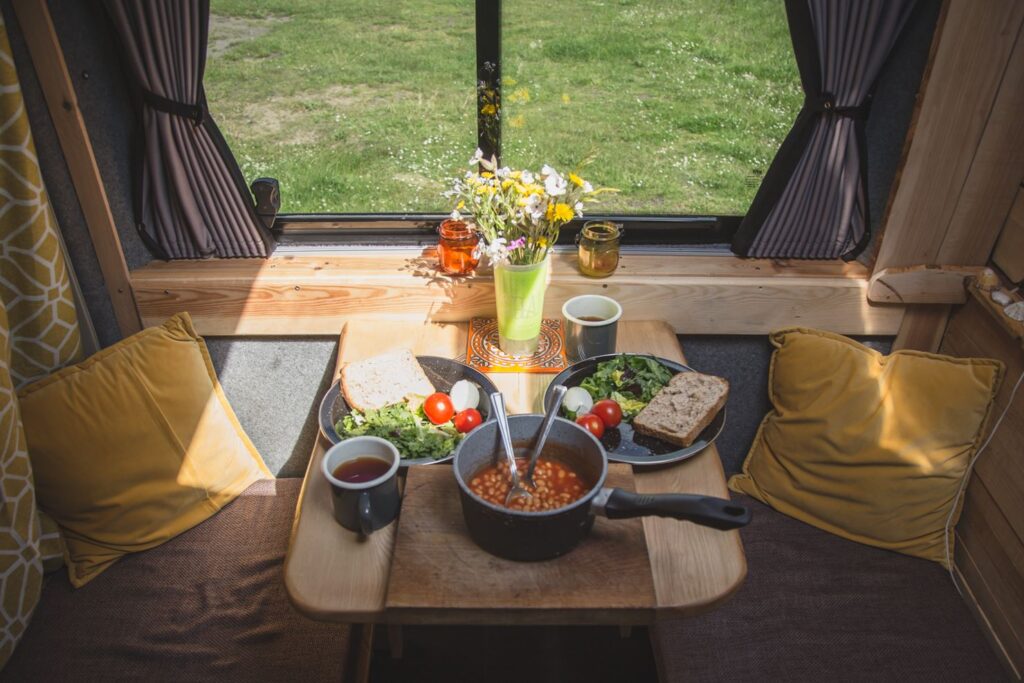 We've been living full time in our campervan for just over 6 months now.  And, in that time, cooking in a camper van has become ever more practiced and adventurous than it ever used to be in a house.  There is a temptation to panic when going away in a camper van, and think that you have to resort to beans on toast and Smash.  Although, actually, there is a time and a place for these, there is so much more that can be cooked in a fully functioning yet small kitchen camper van space. Check out some of our campervans with spectacular kitchens here.
Equipment
When we moved out of our house, I was amazed by the various kitchen paraphernalia I found lodged at the back of my cupboards. I mean, who even needs a spiraliser?! It was an effort to get my wife to sacrifice her Le Creuset mug collection, but the teapot that only came into use when my mother came to visit was an easy donation to make!
Many camper van kitchens are fully equipped with ovens, three-ring hobs and even a microwave. It's a big consideration when you are building or hiring a camper van what equipment you might need. You will have to take the weight into account, as well as what kind of cooking you like to do. We have a two-burner gas hob that is perfectly good for most food, but we also have the king of all kitchen equipment – an Omnia oven! This is an ingenuous Swedish invention that makes a portable stove top oven in which all manner of food from bread, biscuits, cake and even apple crumble can be made!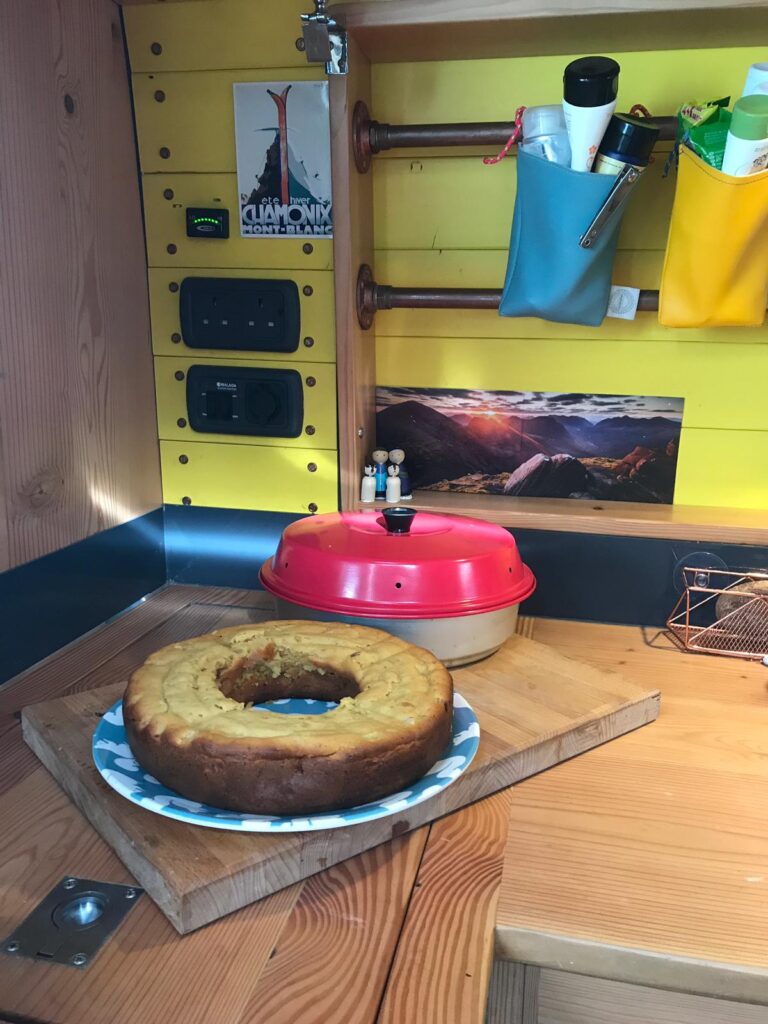 It's amazing what you can substitute in place of specific equipment you might need – who knew that a Ribena bottle makes a perfectly good rolling pin?! And, whilst it might be harder work, you can knead bread for 20minutes rather than needing a kitchen mixer!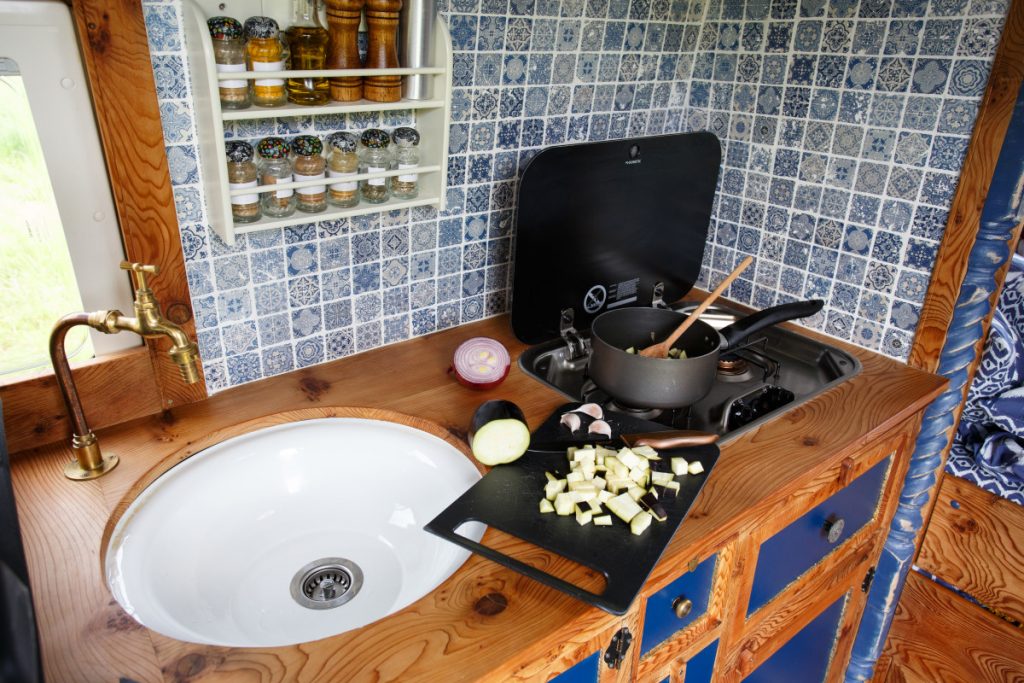 Of course, if you have an inverter in your camper van, life is made a little easier for things like hummus or smoothies. You can even make oat milk and avoid having to pop to a supermarket. But even if you don't have a handy Nutribullet (other blender brands are available) a fork and a determined attitude does go a long way!
So, having now classified myself as an experienced small space chef, here are my top 5 ideas of super easy but very flavoursome food things to make that avoid the need to resort to a chip shop!
Chick Peas
OK, this one is a bit of a two-in one. I recently learnt that chick pea juice is an eggcellent egg replacer; (sorry). I also learnt that chickpea burgers are epic!
As a basis, we follow this Jamie Oliver recipe for the vegan burgers themselves, but with a few tweaks on the spices and seasoning depending on what you've got in your cupboards!
Just make sure you drain the juice into another receptacle. You will need this in the morning.
So, the saved chickpea juice? Turn it into pancake mix for breakfast!
We use this recipe from A Virtual Vegan for the batter. Topping wise, in my opinion you can't go wrong with lemon and sugar! Pancakes in a camper van are one of the most wholesome and heart-warming foods you can cook. They're easy, they make you feel as though you're on holiday, and they're such fun!
Just remember, Friday night beer and burgers are always followed by pancakes – all courtesy of the humble chick pea!
Biscuits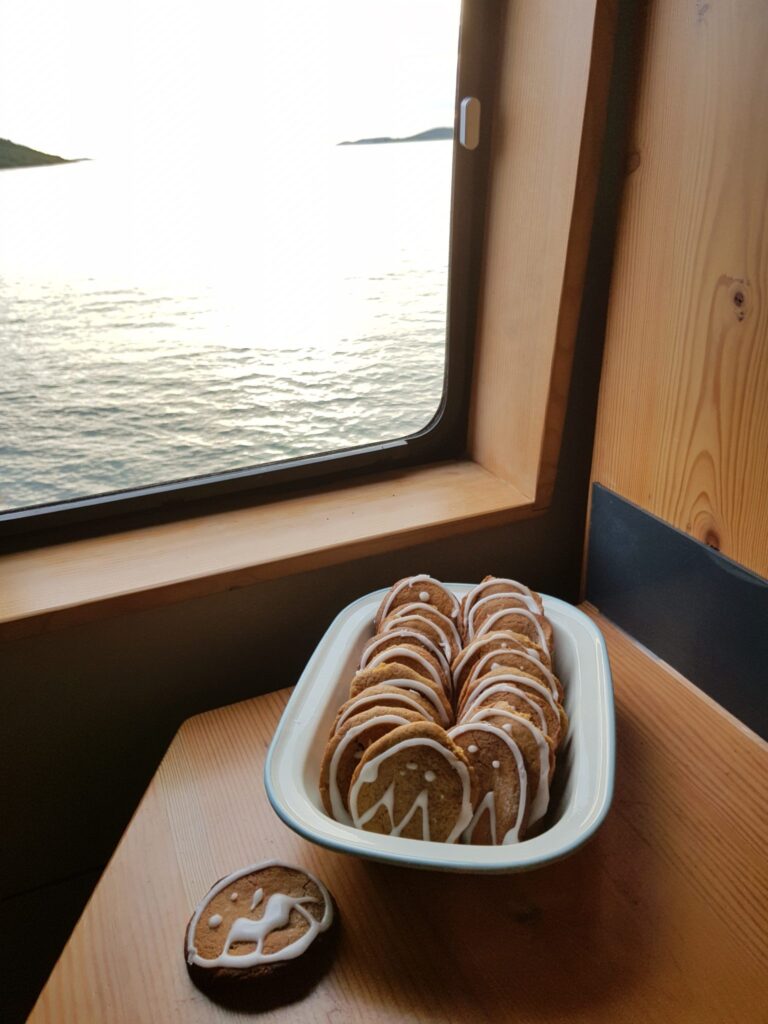 We've been following the Great British Bake off in our van and, rather wittily I feel, renamed our culinary efforts to the Great Van Bake Off. Cake was a doddle; biscuit week was a touch more challenging. However, even if you don't have an oven, biscuits can be achieved!
I used a super simple biscuit recipe from Netmums.com because unlike many others, it didn't call for a fridge to be used for chilling the mixture. This was so simple and easy to make in our Omnia, even if the biscuits did curl up a little at the sides and my mountain icing looks more like angry ghosts….
Sunday Lunch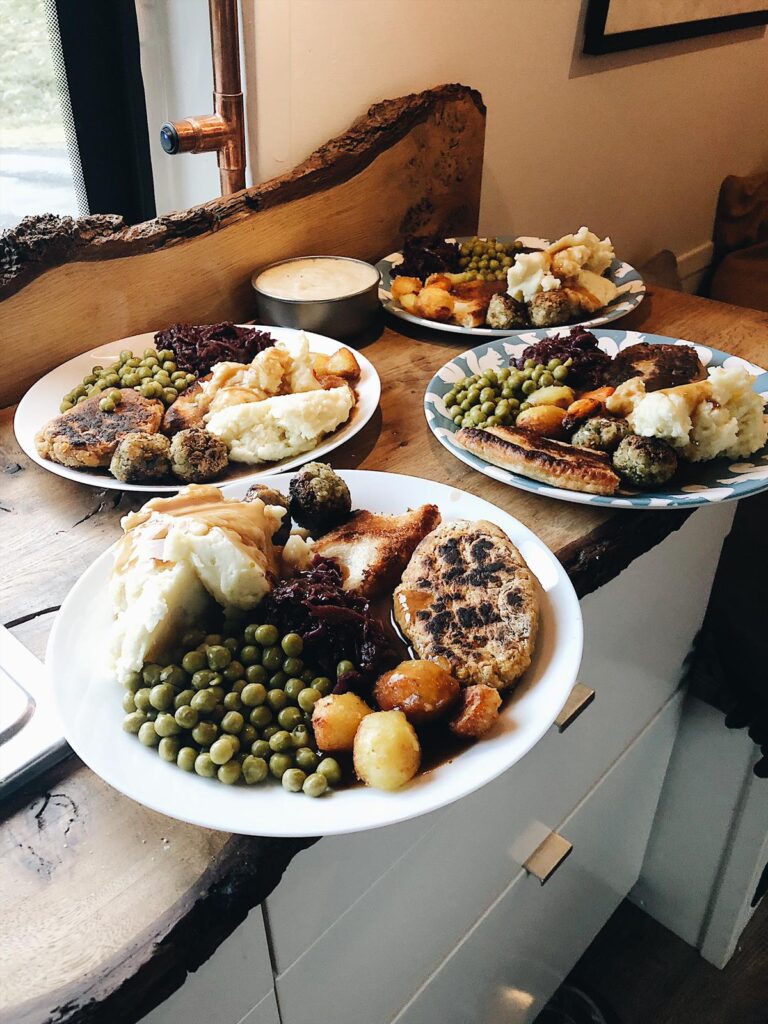 A Sunday lunch in a camper van, you say? Surely not?! But oh yes, it can absolutely be done! And here now, is where I think the time and the place for Smash exists! It helps, I will admit, if you have a friend with a spare hob or two for this one! But, behold a full vegan roast dinner made in a camper van – consisting of aforementioned chickpea burgers formed to make faux chicken fillets, peas, roast potatoes, mashed potatoes, red cabbage, bread sauce and stuffing!
Classic Mac & Cheese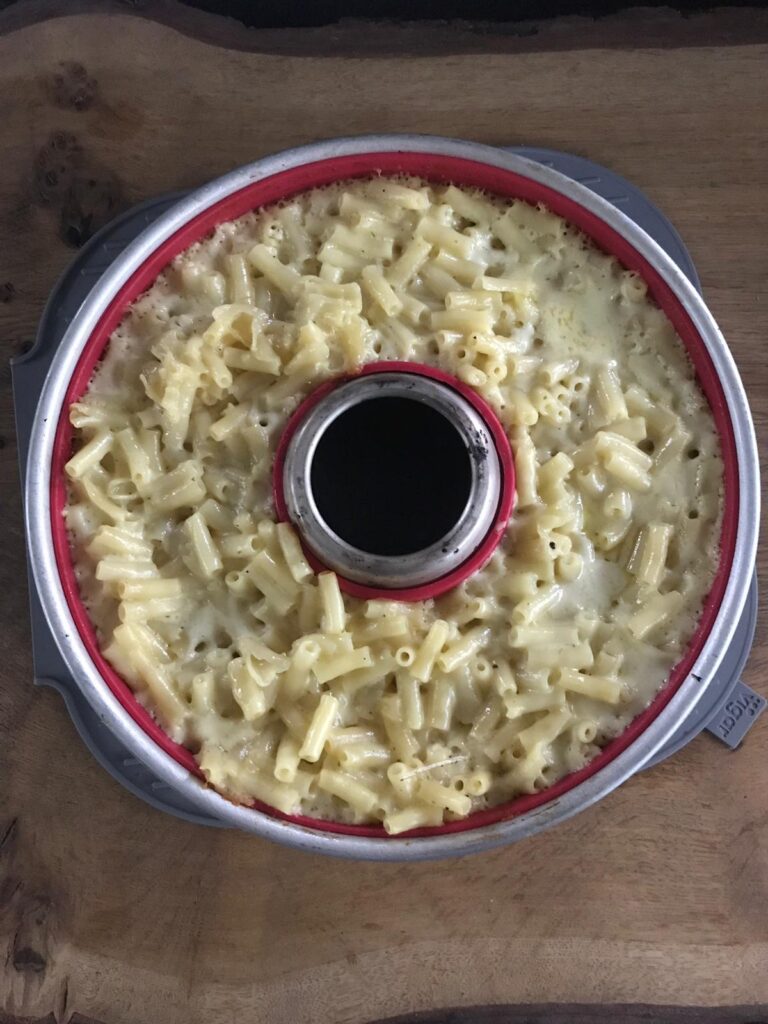 This one is so easy! Simply cook your macaroni pasta until al dente. Add in a vegetable stock cube, 250g of creme fraiche and a splash of cold water. Mix in one heaped teaspoon of English Mustard and season extremely generously with black pepper. Add in about 200g whatever cheese you have to hand. Except Stilton – that would be weird. Put it in your oven/Omnia for as long as it takes for the bottom to go crispy. Serve amongst adulation from your friends!
So, take a look at our campervans for hire. And the next time you go away in your camper van – don't just stick to the basics! You will be amazed at how easily you can cook even better things than you might do at home!