Spookiest places to visit in the UK
Revealed to be the second most haunted country in the world back in 2018, it's no surprise that Britain is home to countless horror stories and folktales. From haunted castles to burial grounds and eerie forest trails, it won't come as a shock that ghost hunters and paramonalists travel from afar to study and experience the many hair-raising locations in Britain.
So if it's ghosts, goblins and misty nights you're seeking, check out the 10 spookiest places to visit in the UK. If you're looking to add an extra layer of fright to your night, why not park up close by in a Quirky campervan?
The Screaming Woods, Kent
If you go down to the woods today, you're in for a spooky surprise. Named after a 1989 horror film, The Screaming Woods aka the Dering Woods is known as one of the spookiest places in the world. It's ghostly sounds are said to be the screams of the people who have gone missing and never made it out.
Frightening fact: The ghost of a decapitated local highwayman who was captured by angry villagers in the 18th century is rumoured to roam the forest.
Scare scale rating: 5/5
---
Wistman's Woods, Dartmoor
Straight out of pages of a fairy tale, this next spot almost has a mystical feel about it. Nestled in the glorious moors of Dartmoor, Wistman's Woods is a popular destination for paranormal seekers. Just don't be surprised if you bump into the big bad wolf!
Frightening fact: It's not only humans that haunt these woods. The Wisht Hounds are also said to lurk here. Described as giant dogs with 'coats as black as night and eyes burn with the fires of hell'. Some even say their fangs are controlled by the Devil himself.
Scare scale rating: 3/5
---
The Dark Hedges, Northern Ireland
If it's terror you're hunting for, you've certainly struck gold when it comes to this next place. A mystical avenue of beech trees planted by the Stuart family in the 18th century. With entangled branches lit by moonlight and the sound of bustling trees to keep you company, this place is guaranteed to give you the spooks.
Frightening fact: Unless you're spooked by television dramas, this fact isn't very frightening but it is cool. The Dark Hedges was used to represent the Kingsroad in none other than Game of Thrones.
Scare scale rating: 4/5
---
Holding the title for Britain's most haunted historic castle, Chillingham castle is a Grade 1 listed stronghold dating back to the 13th century. Built for action and battles, it's said to have some of the highest levels of paranormal activity. You may be lucky enough to spot one by taking part in one of their ghost tours.
Frightening fact: One of the spookiest sightings is of The Blue Boy, who was spotted in one room years ago which is no longer open to the public. The question is, how far can ghosts travel?
Scare scale rating: 4/5
---
Whitby Abbey, North Yorkshire
Paranormal experts and enthusiasts travel far and wide to this quaint harbour town in Yorkshire. Whitby Abbey is arguably the most haunted place in Whitby. A place where not one but two ghosts have been sighted, including the founder of the Abbey herself, St. Hilda.
Frightening fact: Did you know, Whitby has been the setting for many horror novels? It's most famous to date being Bram Stoker's novel, Dracula. So if you're planning a visit, make sure you pack plenty of garlic!
Scare scale rating: 4/5
---
Pendle Hill, Lancashire
Once home to wild wolves and boers, Pendle Hill became a world famous haunt following the Pendle Witch trials in 1612. It's been said that many refuse to visit in the dark due to the countless ghosts that have been seen and heard.
Frightening fact: Once during a Ouija board experiment, a tooth fell onto the board and when investigated turned out to be an old tooth belonging to a 40 year old male – yikes.
Scare scale rating: 5/5
---
Edinburgh is home to lots of great horror stories but one of the most talked about is the story of a young girl called Annie, who was one of the residents of the close. Annie was first spotted in the corner of what people now know as 'Annie's room' by a Japanese psychic in 1992.
Frightening fact: Apparently when Annie was discovered, she had been sad for centuries after losing one of her dolls. The psychic immediately went to buy her a doll and after giving it to her, Annie was no longer upset. Visitors have been leaving her dolls and toys ever since.
Scare scale rating: 3.5/5
---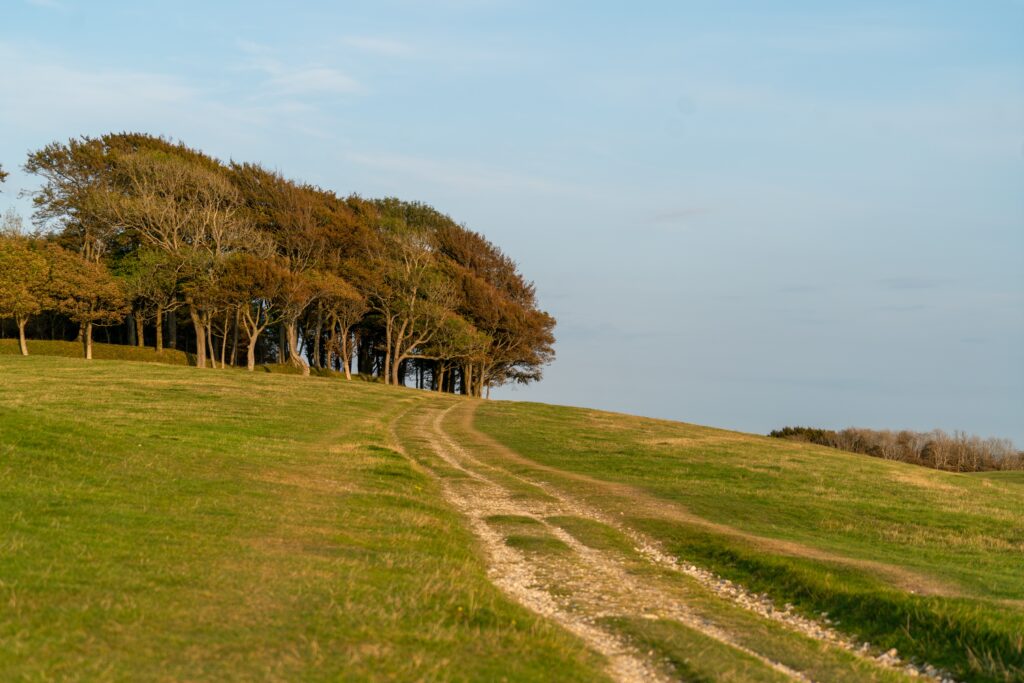 Chanctonbury Ring, West Sussex
Sitting on top of an ancient hill in the South Downs, Chanctonbury Ring has become one of the most studied locations in the UK. Roman ruins dating back to the first century AD were discovered here after trees that were planted in 1760 began to grow. There have been multiple reports of witches, ghosts and UFO sightings ever since.
Frightening fact: According to some local tale, walking around the ring 7 times (anti-clockwise) will summon the Devil.
Scare scale rating: 5/5
---
The Ancient Ram Inn also known as 'The Most Haunted Building in England' is the oldest building in Wotton-under-Edge. Once a bustling pub, The Ancient Ram Inn is now a unique tourist attraction. It's current owner even hosts overnight ghost hunts.
Frightening fact: Believed to have once been a pagan burial ground, the building itself is over 800 years old. It's also home to over 20 ghosts including a screaming man who was brutally murdered many years ago.
Scare scale rating: 5/5
---
If you're looking for a family friendly spook, head to The Forbidden Corner also known as 'The Strangest Place in the World'. Between the 24th-31st October they host a wide variety of activities for kids including a fancy dress competition.
Frightening fact: The Forbidden Corner is situated in Leyburn, a market town in Yorkshire where multiple ghost sightings have taken place.
Scare scale rating: 2/5