From delivery van to elegant and airy Mo
What inspired you to do a campervan conversion?
Our sprinter van conversion came after years of owning our simple German dinky caravan that we loved but which had such a tiny bed that we couldn't get a good night's sleep. We wanted a fully functioning, off the grid, luxurious space that would comfortably accommodate tall people (Andrew – Mo's owner!) and be warm enough to use all year round. So we sadly said farewell to our beautiful caravan and got a Mercedes sprinter van to work on realising our conversion vision: Mo! 
What materials did you choose for your sprinter van conversion and why did you choose these over other options?
We wanted to build a van that was capable of all seasons travel for our family of four.  Therefore insulation was essential, we decided to go 2 layers of insulation to make it extra warm, especially come the winter months.  The first layer we chose was sticky sided bubble wrap which has a high insulation quality.  The second layer was 30mm Kingspan.  The areas that were hard or tricky to get to we added eco sheeps wool.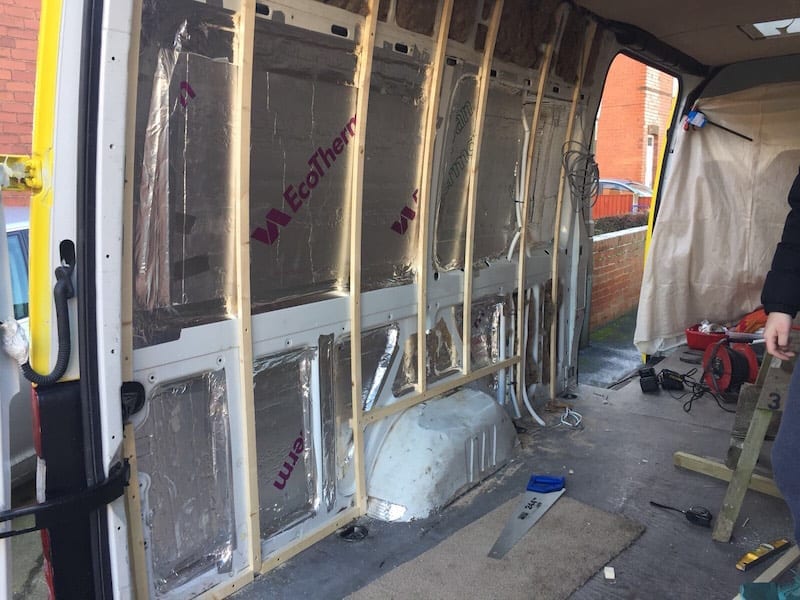 Heating and hot water were an important feature to us.  We wanted the luxury of turning on a switch and within five minutes central heating and hot water were accessible. Lots of thought went into what system would work best for us, eventually we decided on a diesel heater as opposed to a gas tank under the van.  The system is simply connected to the van's fuel tank, which draws fuel to power the heater inside the van. This dual system is very efficient and quiet using very little fuel, so makes it a great all rounder.
A solar panel was an essential piece of kit along with a leisure battery. So we could be fully 'off the grid' allowing us to wild camp. We chose a 250watt solar panel and a 220ah deep cycle leisure battery, this size panel keeps the battery topped up at all times. We also have a 2000w pure sign invertor which is compatible with all sensitive electronics.  Mo was also installed with a 240v double plug socket which runs off the invertor.
We chose the tongue and groove panelling as we wanted to create a light, homely feel combined with the marine ply wood to give the van some warm tones.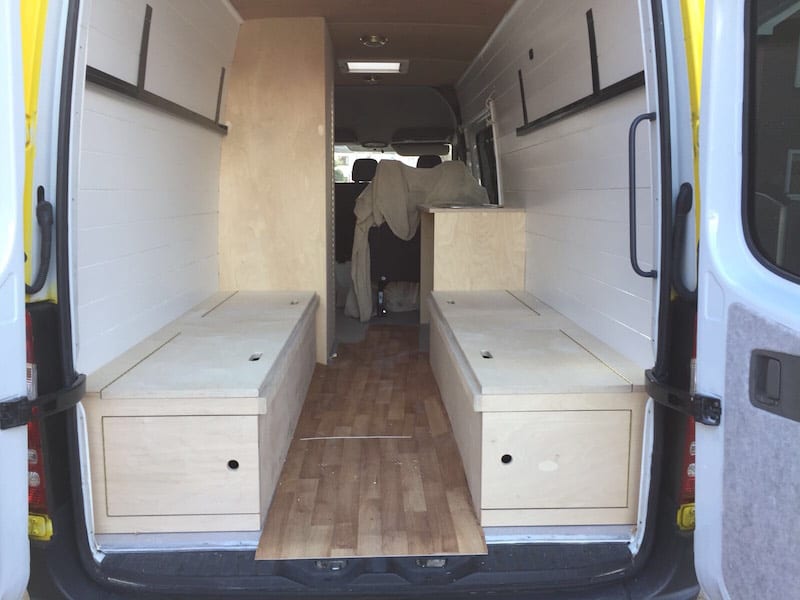 What things were fairly straightforward and what things took longer than expected?
The tongue and groove paneling was straightforward, we measured, cut and attached all pieces within two days. The electrics were quite a challenge and took much longer than expected! One of our main criterias were to be totally 'off grid' with no 240v hook up, allowing us to roam free and camp without needing to use a campsite. This process was lengthy and technical.  We also had to ensure we didn't encroach on too much of the storage space, as the battery and electrics took up a lot of space.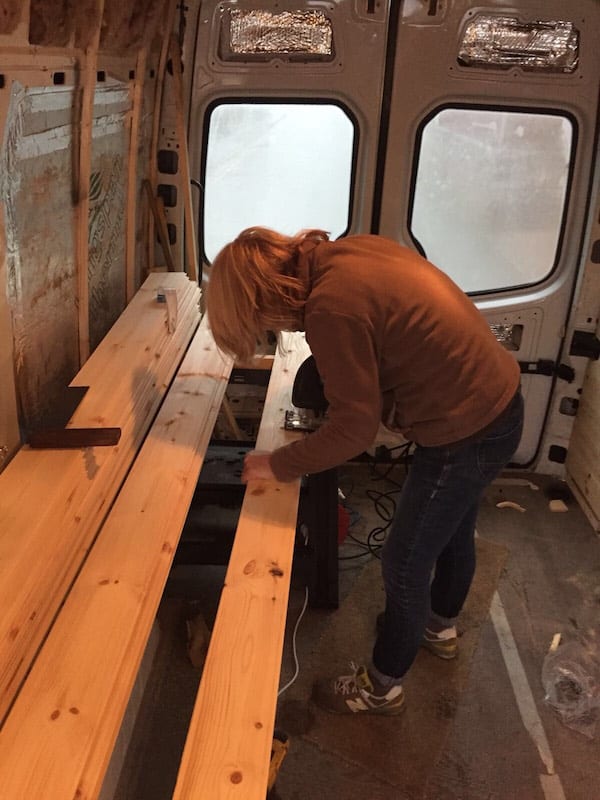 How long did it take in total from start to finish?
The build took 7 months in total. This involved working most weekends during the cold winter months. Mostly Andrew was in charge of the research and building and I did the interior design, but everyone in the family helped. Even the children Harry and Hetty, learning along the way! We had lots of laughs but some fall outs too, of course!
What was Mo before she was a Quirky Camper?
Mo was an ex courier vehicle in her precious life.
Why the name 'Mo'?
Mo was named after my late Mum, Maureen (Mo for short) who loved to travel. Yellow was her favourite colour, so it seemed fitting to be named in her memory. "Go travel the world," she'd say. Her vivacious love for life, fun, laughter and spirit will travel with the van wherever it may go.
Why did you decide to rent Mo out?
We loved the Quirky Campers ethos. Enabling like minded people to experience and enjoy the beauty of lovingly handcrafted vans that are special and unique.  Allowing people to travel in a different and creative way but still with the added touch of home comforts!
Mo has such a clean and airy look and feel to her – was that your intention?
Mo has turned out exactly how we intended for her to be.  From conception to birth Mo was meant to have a fresh, modern yet homely feel.  We wanted to have white walls to create light. Space with a view from front to back and creature comforts one would need away from home, wherever the path may lead you.