Ada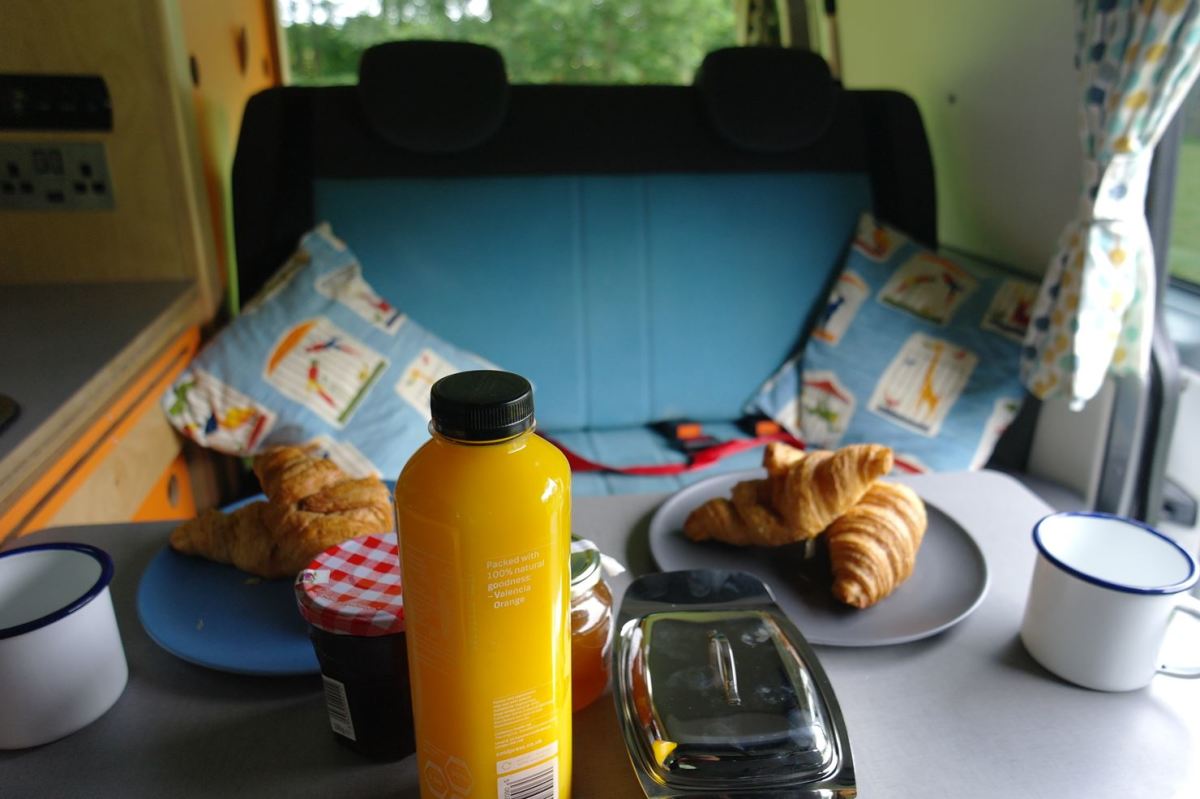 Worthing
6 Belted seats 4 Adult berths
If you're after the classic VW camper van stylings with a modern touch, then Ada is definitely your girl! This pet friendly campervan hire Worthing in West Sussex is perfect for a family camper van holiday, a fantastic base for outdoor enthusiasts, or a cosy, snuggly, romantic getaway just for two. Inside this VW camper van, you will find air conditioning, a toasty all-season diesel heater, a hi-spec sound system, fridge, and two-burner hob. Freshly converted in 2018; Ada is not your standard VW T5. With birch ply units and orange fronted cupboards, she packs a big design punch. With a wide range of dedicated cupboards and nooks and crannies, you might be surprised just how much you can fit into this compact camper. So, pack up your things, your children and your dogs, and get ready for an epic, free spirited holiday in Ada!
Essential Information
Air Conditioner
Hob
Heater
Dining Table
Refrigerator
Kitchen Sink
Tow Bar
Extra Storage
Leveling Jacks
CD Player
Radio
Pet Friendly
EU Travel Allowed
About the Campervan
Description of Beds:. Ada sleeps up to four people; two downstairs and two in the pop top, which can also be used without the bed pulled down, for extra headspace and room during the day.

Description of Seating: Three belted seats in the front (including driver) with head rests and three further belted seats (2 with with head rests) in the rear. 5 seats have three point belts. The 6th seat in the back has a lap belt only. 4 out of the 5 passengers seats are suitable for a child car seat using the belt.

About the area: Ada lives in Worthing and is parked on the quiet residential street.

Parking: If you drive to collect Ada, you are welcome to leave your car in her normal spot. We will provide you with the necessary parking vouchers. If you come by train, Ada's owners will be able to pick you up from Worthing station.

Cooking Equipment: In addition to the two gas hobs inside, there is a single gas burner that you can use to cook outside. Ada has everything you could need to cook up a feast, including: 4 traditional tin camping mugs | 4 melamine cups and 4 bowls | 4 large bamboo dining plates | cutlery for 4 | 2 stainless steel wine glasses | Chopping board | kettle | large and small frying pan | large and small saucepan | steamer. There are four bamboo cooking spoons | 1 sharp knife | 2 Opinel pen knives | tin opener | corkscrew/bottle opener. Ada also has a stove-top espresso machine and a toasting rack that you can use over the gas hob as well as a colander, washing up bowl, and small dustpan and brush.

Water Facilities: There is a 10 litre removable water tank that supplies water to the sink via a pump.

Audio Equipment: Ada has a pioneer head unit and two pod speakers in the rear of the van. USB plug-in and blue-tooth are both available so you can play your own music.

Type of Heating: Diesel Heater

Conversion Story: Ada began life as a humble builders' van (albeit one with air-con in the cab). We bought her after a long and careful hunt. She was converted in 2018 by Cambee.co.uk in Devon after we spotted their beautiful designs on Pinterest. Ada is inspired by the split bay VW campers of the 70s. Her units are built in birch ply with solid formica cabinet doors, and Matt and Tanya chose their own unique colour-scheme, as well as modern luxuries such as a diesel heater. One of the best things about hiring Ada, is that she is not much longer than a standard estate car. So, she's super easy to drive, and you can take her into cities and normal parking spaces without any bother. And, if it's your thing, explore some of the roads less travelled on your amazing camper van holiday!

Warning: The payload of this vehicle is 480kg. This is below the Quirky Campers recommended payload of 640kg for a vehicle with 6 belted seats. Drivers need to be aware that the total weight of driver, passengers and baggage must be below 480kg to keep the vehicle within its legal Max Allowed Mass (MAM) of 2800kg
Pick up / Drop off Times
| - | Pick up | Drop off |
| --- | --- | --- |
| Sunday | 9:00AM - 7:00PM | 9:00AM - 7:00PM |
| Monday | 9:00AM - 4:00PM | 9:00AM - 4:00PM |
| Tuesday | 9:00AM - 7:00PM | 9:00AM - 7:00PM |
| Wednesday | 9:00AM - 7:00PM | 9:00AM - 7:00PM |
| Thursday | 9:00AM - 7:00PM | 9:00AM - 7:00PM |
| Friday | 9:00AM - 7:00PM | 9:00AM - 7:00PM |
| Saturday | 9:00AM - 7:00PM | 9:00AM - 7:00PM |
Note: Campervan Hire prices are per 24 hours. The default pick up and drop off time is 2pm. If you request a pick up or drop off outside of this, the owner will quote you for the additional time. Typically this is £12.50 per additional hour.
When would you like to go?
Sorry, there was a problem...
Vehicle Spec
Vehicle Type: Campervan
Make: Volkswagen
Model: T5
Year: 2013
Vehicle Length: 4.8 metres
Vehicle Height: 1.9 metres
Max Laden Weight (MAM): 2800 kg
Payload: 480 kg
Transmission: manual
Fuel Type: diesel
Registration: emailed when you book
Note: The hire of this vehicle is arranged by Quirky Campers ltd acting as the agent on behalf of Ada's owners. We make every effort to ensure that all the vehicles listed with us are of a high standard but cannot guarantee the condition of the vehicle. If you experience any problems please notify us as soon as possible.