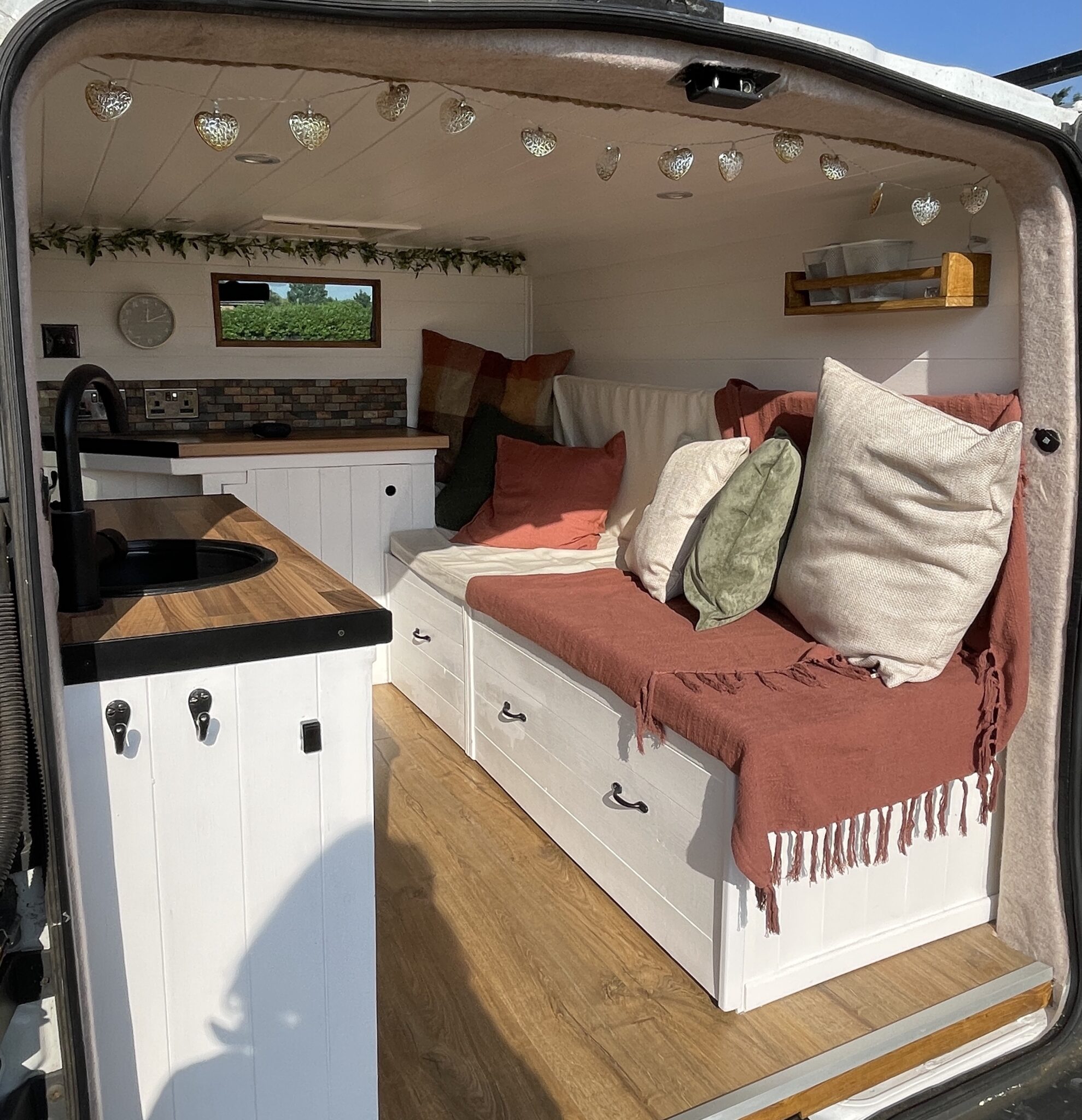 £13,500
Vauxhall Vivaro 2900 CDTI SWB EcoFlex
156,000 miles
Vehicle Description
Vinnie, otherwise known as Vinnie Van Gogh, is a quirky, unique, off the grid 2013 Vauxhall Vivaro stealth camper. The van encompasses 6 gears and a 2.0 litre Diesel engine with a spacious 2 seater front cab. The van is gas-free.
The van is well decorated and has a really cosy, beach hut vibe. It's a brand new conversion completed in July 2021. All parts and materials have been bought brand new especially for the conversion – many elements come with a warranty.
The bodywork is in good condition and I've had no issues whilst driving. The last 5k miles have almost exclusively been motorway miles.
Brand new MOT valid until 14 January 2023. The van has a full service history since it's registration with the most recent service 17th August 2021. Vinnie has only had 2 previous owners including being an ex-Anglian Water company van and ex-dog Walker van so has been well looked after and serviced.
There is one near side tinted window and two rear door tinted windows, the bulk head has had a rear window & mirror installed to make driving that bit easier.
The van comes with a high quality tow bar with electric plug in and a length ways roof rack.
The van comes complete with a fully installed electrical system incorporating a 120w solar panel, a leisure battery especially for campers, a switch charge relay system, mains hook up powering 2 x 240v sockets (inc 2 usb charging points) and a 2100w 12v-240v inverter system which powers 2 more 240v sockets & USB chargers.
There are 4 x LED lights which make for a super cosy set up in the dark !
Vinnie has a 12v skylight and two way fan for cooking or air con, a security/camping side light, an electric cold water system with a sleek black tap and hand-made black sink. Vinnie also comes with an additional 2 cigarette charging points to the very rear of the vehicle & a solar panel / battery health indicator panel. There are further fuses and fuse outlets for any additional electrical items that may be installed in the future!
Vinnie comes with full interior pine cladding (stained and varnished), stunning oak styled flooring, and two lovely barn doors with window sills. The doors extend to the side for protection against the elements or can be fully extended to provide further space to the rear. Vinnie comes with white netting curtains, beautiful ceramic/glass tiling, and sleek oak worktops which makes it feel like a home from home.
The van comes with a cooler box with designated storage space. The two gorgeous oak style worktops come with cupboards and 4 spacious shelves offering different storage options. There is a smaller wooden shelf with two white storage boxes on the side wall and a black hexagon mirror situated on the other side above the sink & tap.
There is also a cork board to pin up all the adventure photos along the way!
Beds Description
The custom made couch pulls out to a bed measuring 1.63m x 1.20m, with extra leg room on the right hand side measuring 1.93cm in length
The 6cm high density luxury foam cushions have a cream canvas lining with Velcro fastening for easy removal and washing.
The van includes brand new Dunelm Mill cushions specifically chosen to suit the vans interior.
Conversion Description
See below for the full spec. If you would like any more information, photos or videos please feel free to ask. Delivery and reservation options available, please get in touch (delivery costs may incur re distance).
Water system –
• Shurflo Trail King 10 Water Pump – 12V/30psi – this pump is a heavy duty pump which has lots of capability should Vinnie's future owner wish to install further water appliances e.g outdoor shower etc.
It includes Built-in check valves preventing backflow into the clean water tank and also has run dry capability. The pump has a switch control and includes a Thermal overload on motor for peace of mind. The pump provides a high pressure water system and is capable of 10.6 Litres flow per Minute
• Hand-made 30cm resin sink with black push-plug
• High quality Black Basin tap with hot water function for future use. The hot water valve is currently tapered off however would be a simple fix to install a heater & accompanying parts. Vinnie comes with surplus piping for such use of desired
• 2 x 10 Litre tanks for Freshwater and Grey water with accompanying P Trap which reduces waste water smell and relevant piping
Design & storage features –
• Full interior pine cladding, fully painted and varnished
•Two oak style worktop benches
• Cooler box with appropriate cupboard storage
• 5 wooden a shelves in varying size providing additional storage options
• Gorgeous bronze and stone ceramic/glass tile splash back
• Two barn door windows with frames and window sills
• Oak style flooring providing full coverage and wooden floor beneath
• Fully insulated in all cavities, doors, ceiling and floor with kingspan boards, aluminium double sided foil, and recycled glass
• Pull out couch with extra leg room on the right hand side
• Two large spacious pull out drawers beneath the couch with 45kg Load Capacity
• Stylish analogue clock & oak framed bulk head window
• 6cm high-density luxury foam sofa cushions with canvas lining with removable Velcro backing, inc brand new dunelm mill pillows & rustic blanket
• Tow bar with electrics plug-in
• Black Roof rack
• Blackout nearside and rear barn door windows
• Mini step with custom brush doormat, aluminium edging, and ceramic tiles sides
• White netting curtains & 3 green plants with pots
• Black Hexagon mirror, two white storage pots, and Reed defuser
• Battery operated led decorative heart-shaped lighting & interior greenery decoration
• Cork board with pins & Dancing Queen poster
• Bluetooth radio with hands-free phone connectivity & CD player, 2 USB ports
• Hands free Phone holder & rear mirror
• Standard cab air-con system
• Spacious two seater front cab with lots of storage
• Central locking
• 62MPH Speed Limiter (can be removed upon purchase if required)
•156000 mileage, last couple of thousand all been motorway miles. (Mileage may increase prior to sale)
Electrical List:
• Fiamma roof turbo vent skylight & 12v fan
• ECO-WORTHY 120W 12V Solar Panel Kit: 120W Mono Solar Panel & 20A Solar Charge Controller & 5m Solar Cable
• 12v 115AH Expedition PlusAGM deep cycle leisure battery with 4 year warranty
• 4mtr professional cargo Voltage-sensitive split charge relay 12v 140AMP relay 110AMP cable
• K Krieger 2000Watts Power Inverter (12V to 240V converter) including 6 month warranty – (the wattage allows use of power tools & more!)
•240v mains pick up outlet/inlet
• 4 x 240v plug sockets
• 4 x 240v usb sockets
• 12 way 12V fuse box (spare fuses included for any additional electrical items)
• Battery health indicator LED panel
• 2 x 12v control panel USB charger ports
• Switch controlled 4 x front and back LED ceiling lights
• 1 x further internal inverter plug socket
• 1 x external inverter switch control (allows for easy battery saving and usage)
• 2 x front cab 12v Cigarette lighter output
• 2x rear 12v Cigarette lighter output (ideal for powering outdoor gazebo fairy lights etc!)
• Front cab switch controlled 4inch LED switch controlled Security/work/night Light
Service History & things of note
• Full Service history with most recent 17/08/21 resulting in brand new air filter and oil filter
• 1 minor dent in the top left hand side rear door from previous owner (barely noticeable and doesn't cause any functionality issues)
• DVLA registered as Panel van – light goods vehicle (currently placing change of usage request in)
Have put my heart and soul into my first camper van conversion and learnt all the new skills along the way, there has been no expense spared and lots of leaning!
Vinnie has lots of character and is perfect for all things camping, road trips, beach trips, festivals, and loads more. I have used Vinnie myself for a few short trips away and have been so pleased with everything!
Registered Vehicle Type
Other - see description for explanation
Base Vehicle Condition
Refurbished
Converter Type
Self Build - Handcrafted Start-up
Maximum Weight (MAM or MTPLM)
2,950kg
Unladen Weight Verified?
YES - the vehicle has been weighed since completion
Gas sign-off supplied
Gas free
Please note: Quirky Campers do not inspect the listings for accuracy or check campervans in person. We have asked sellers to provide evidence of certificates and paperwork however you MUST check yourself that the information provided is present and correct. You will need to exercise the normal due diligence when buying any vehicle.