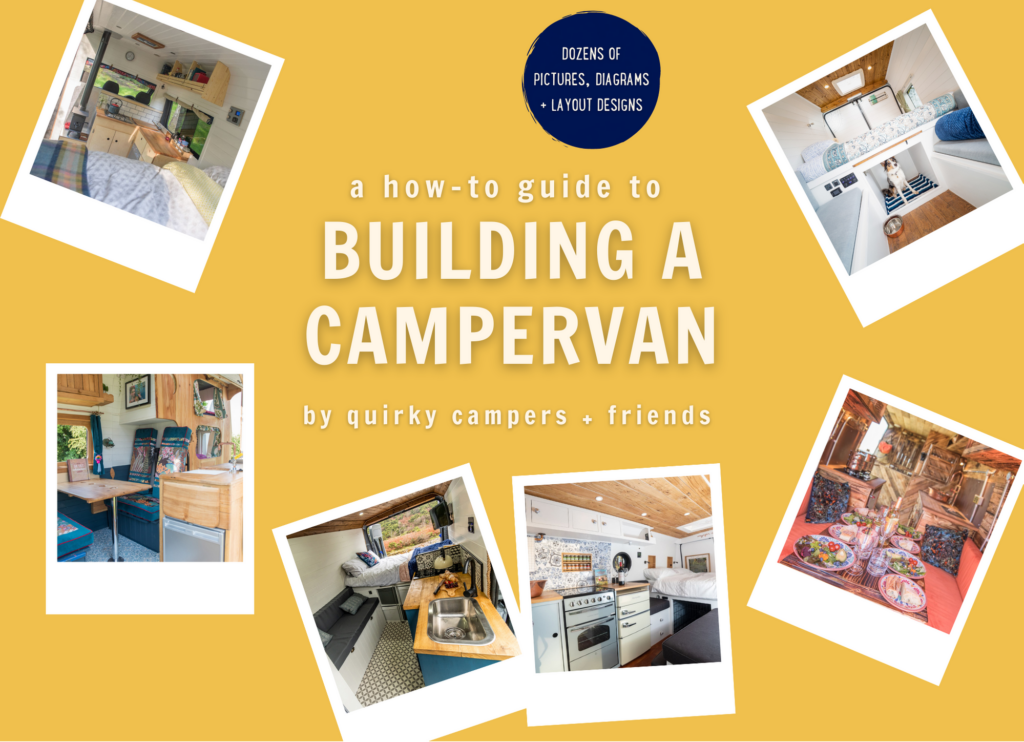 Our new Conversion book provides a start to finish guide on building your very own campervan
We have worked with dozens of converters looking to share their beautiful creations and make some extra income. Time and again we see people facing the same hurdles: Gas and Weight. To save you the hassle of reinventing the wheel, we thought we'd share what we know about these two issues when you are converting a campervan to hire.
1. Gas Safety
If you are renting out your campervan then you must have a Gas Safety Record with annual tests and ensure this is kept up to date in accordance with the Gas Safety (Installation and Use) Regulations 1998 (GSIUR). If you are not planning to rent out, the rules are completely different and you can stop reading here (lucky you!). The importance of having safe gas appliances is obvious but the process for achieving this legally, is not so clear. Why is it so difficult? The challenge with achieving sign off is that different engineers interpret the regulations differently and they are all very hesitant to sign off work carried out by someone else (Gas Safe Registered or not). So our recommended approach as follows. Note: it is the vehicle owner's responsibility to ensure they have the correct certificate in place. This guide was correct as of Oct 2017.
Types of conversion
The best approach is to find an appropriately qualified Gas Safe engineer (see below) early in the process. They can either install it for you or advise on exactly what you need to do to enable them to sign it off. There are several routes to arrive at the point of needing a Gas Safe certificate and the needs for each are slightly different:
Self-conversion from scratch: Find an engineer before you start to build and get them to do the work, or advise and then sign off.
Commissioning a conversion from scratch: Make sure you have in writing that the conversion will come with a Landlord's Gas Safe Certificate when completed. Many converters will not be familiar with the requirements for rental vehicles.
Buying a finished self-conversion: Before you commit, ask to see a Gas Safe certificate, if it is not a landlords certificate this may still be possible to obtain. If there is no certificate at all you will most likely need to do some work. See the 'basic check' below to assess how extensive this might be.
Buying a professional conversion: This should come with a Gas Safe certificate but it will most likely not be a landlord's certificate. As above, it should be possible to find an engineer to give this to you but it might be a good idea to get an engineer's assessment before you buy.
How do I find an appropriately qualified Gas Safe Engineer?
Gas Safe registration is a legal requirement for anyone carrying out gas work, but there are many different types of gas work a particular business may offer. All engineers need to hold a 'core' element to their qualifications – once they have this they can add categories for other types of work.
What type of engineer do I need?
To hire out your campervan you need a Landlord's certificate issued by an engineer that is qualified to work on LPG (bottle gas) systems and specifically qualified to work on LAV (Leisure Accommodation Vehicles).
How to search:
The best option is to go with a recommendation from someone who has been tried and tested:
Alternatively ask on the FaceBook group for people converting a campervan to hire and see who other owners are recommending in your area. If that doesn't work then:
Go to GasSafe.co.uk
Click 'find an engineer'
Tick domestic
Type in your postcode and click find
Then click 'choose appliance'
And select Caravan from the dropdown
This will then list the companies that have engineers with the correct qualifications by distance from you. Find the engineer with Caravan and make sure they have the LAV bit (see highlighting on example below)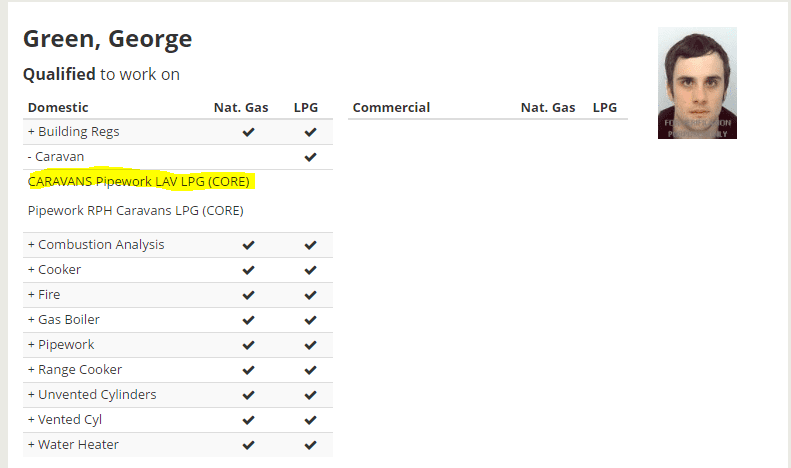 Note: The Gas Safe register is not completely up to date, engineers move around and the companies they work for don't always offer all the services they are qualified to do, so you will find that some companies you call will refuse to take a job even with the correct ticket.
What is a Landlord's Certificate?
The document you are supplied with should look something like this: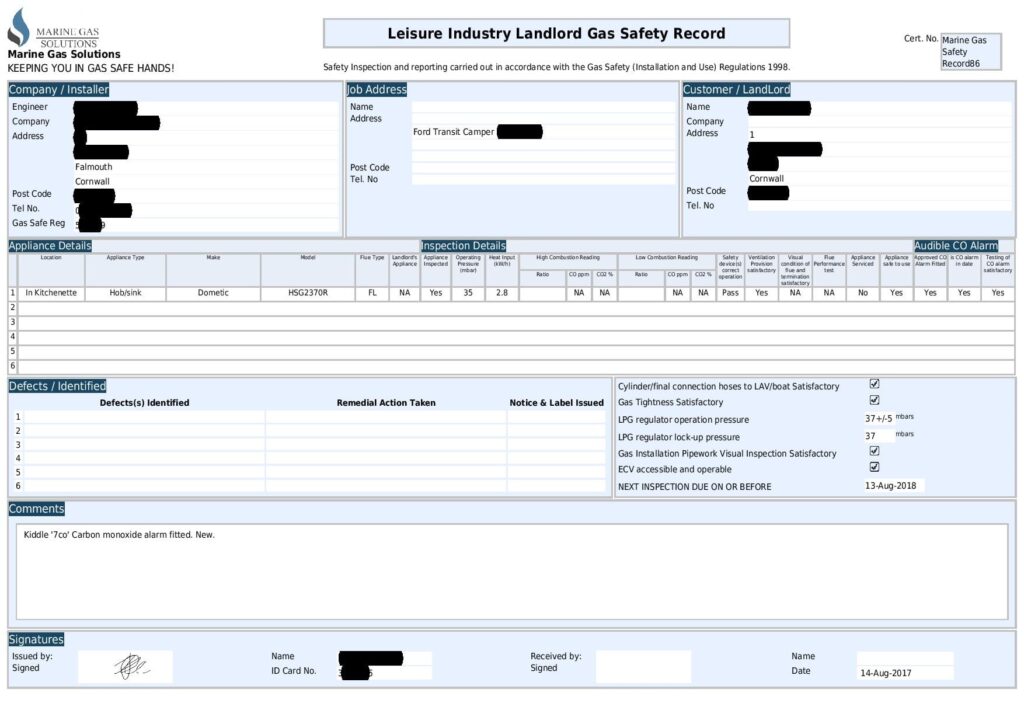 or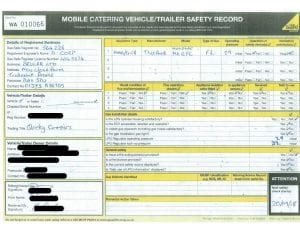 Both a Leisure Industry Gas Safety Record or a Mobile Catering Vehicle/Trailer Safety Record are fine for this purpose.
Some Basic Checks
If you are buying a converted campervan that doesn't have a Gas Safe certificate a few basic checks should give you some idea of how much work might be involved to get it up to standard. Please note: this is not a guide of how install a gas system properly.
The gas bottle must be housed in a sealed unit with a drop vent out the bottom of the vehicle.
An LPG sticker must be displayed on the outside of the vehicle
All pipework should be 8mm annualised copper pipe with compression fittings using only copper olives. The only flexible pipework allowed is inside the sealed gas locker.
There must be sufficient (xx cm2) low and high level ventilation which is permanently open. The required size of these depends on the total kilowattage of the appliance you have in the vehicle.
The flames on any burners should burn blue
It is best if all pipework is visible for inspection to as to allow an engineer to inspect without having to dismantle any furniture.
Note: it is the vehicle owner's responsibility to ensure they have the correct certificate in place. This guide was created in Oct 2017, regulations are subject to change.
2. Vehicle Weight
Every vehicle has a legal permissible maximum weight limit. If a vehicle is driven when over this weight limit, it can be taken off the road and the driver fined. It is a lot easier than you might think to go over the limit with a self conversion and it happens all the time. So you need to be thinking about weight when converting a campervan to hire from the outset.
Terminology
Several different terms are used to mean the same thing.
Maximum Authorised Mass (MAM):
The weight of a vehicle or trailer including the maximum load that can be carried safely when it's being used on the road. This is also known as gross vehicle weight (GVW), permissible maximum weight or revenue weight.
Unladen Weight:
The unladen weight of any vehicle is the weight of the vehicle when it's not carrying any passengers, goods or other items. This includes the body and all parts normally used with the vehicle when it's used on the road.
Payload:
This is the difference between the unladen weight and the MAM. In the case of a campervan it is the maximum allowed total weight of passengers and all their baggage. For more info in this gov.uk/vehicle-weights-explained
Start with the conversion
If you haven't started your conversion yet then now is the perfect time to think about weight. The importance of weight depends on the type vehicle you are going to convert:
Not likely to be an issue:

Super compact eg Berlingo
Compacts eg VW transported/Bongo etc
Short wheel base

Worth being aware of

LWB or fixed high top VW Transporter
Any MWB
Hightop SWB

Critical

Any LWB
Any Luton
Box van or Horsebox
Ex Municipal Minibus
Ex Ambulance, Riot Van etc
Vans with an MAM of 2800kg (rather than the usual 3500kg)
Estimating the final weight
For vehicles falling into the 'critical' category I would recommend you put together a full list of all the materials, appliances and items you intend to include in your conversion and estimate the weight of each. This obviously won't give you a precise final weight but it should give you an indication of whether you will end up with enough payload for your intended use. It may well be that you can't have the hardwood floor AND the shower…but it's much better to find that out before it's too late to make the choice. Note: 1 litre of water weighs 1 kg but diesel is a bit less at 0.85kg/l
Usage vs Payload
The conundrum with any conversions is that if you want the vehicle to be suitable for more people it's going to weigh more (more beds/seats etc). However, you'll also need a larger payload for the additional passengers. It is possible, even likely that if you are doing a conversion for 5 people and don't pay close attention to the weight that you will end up with a vehicle that can only legally carry 3. You should be aiming for a payload which would allow normal reasonable use with the advertised occupancy.
Unladen Weight: How to weigh your campervan
Most recycling centres, scrap metal yards and landfill sites will have a weigh bridge. If you drive onto the scales you can request a weigh bridge reading and for a fee (£6-£50) you should also be able to get a printed readout. Keep a copy of this in the vehicle. The unladen weight needs to be a realistic heaviest example of the vehicle as it would be when handing it over to a customer. This would include:
A completed conversion!
Full water tanks
Full fuel tanks
Full gas tank
All the usual kitchen equipment
Mattresses, bedding, towels
And if offered: bike rack, extra tents, portapotty etc
The difference between the result of this and your MAM is your payload:
MAM – Unladen = Payload
Hiring out your campervan
It is the vehicle owner's responsibility to make sure all drivers are clearly informed of any limitations in using the vehicle. The unladen, MAM and payload weights should be displayed in the vehicle along with the dimensions and any other restriction.
Normal Use:
I use the following as a rough guide to what a hirer might reasonably expect the payload to be for different capacity vehicles
280kg for up to 2 people (1 driver + 1 passenger)
370kg for 3 people
460kg for 4 people
550kg for 5 people
640kg for 6 people
However, this is just a rough guestimate and there are many factors that might imply a larger payload for example roof rack, large storage areas or a tow bar.  NOTE: The recommendations in the blog have not been checked for legal accuracy and are merely the writer's own opinions.
If you are looking to hire your finished campervan conversion through Quirky Campers, we'd love to hear from you!