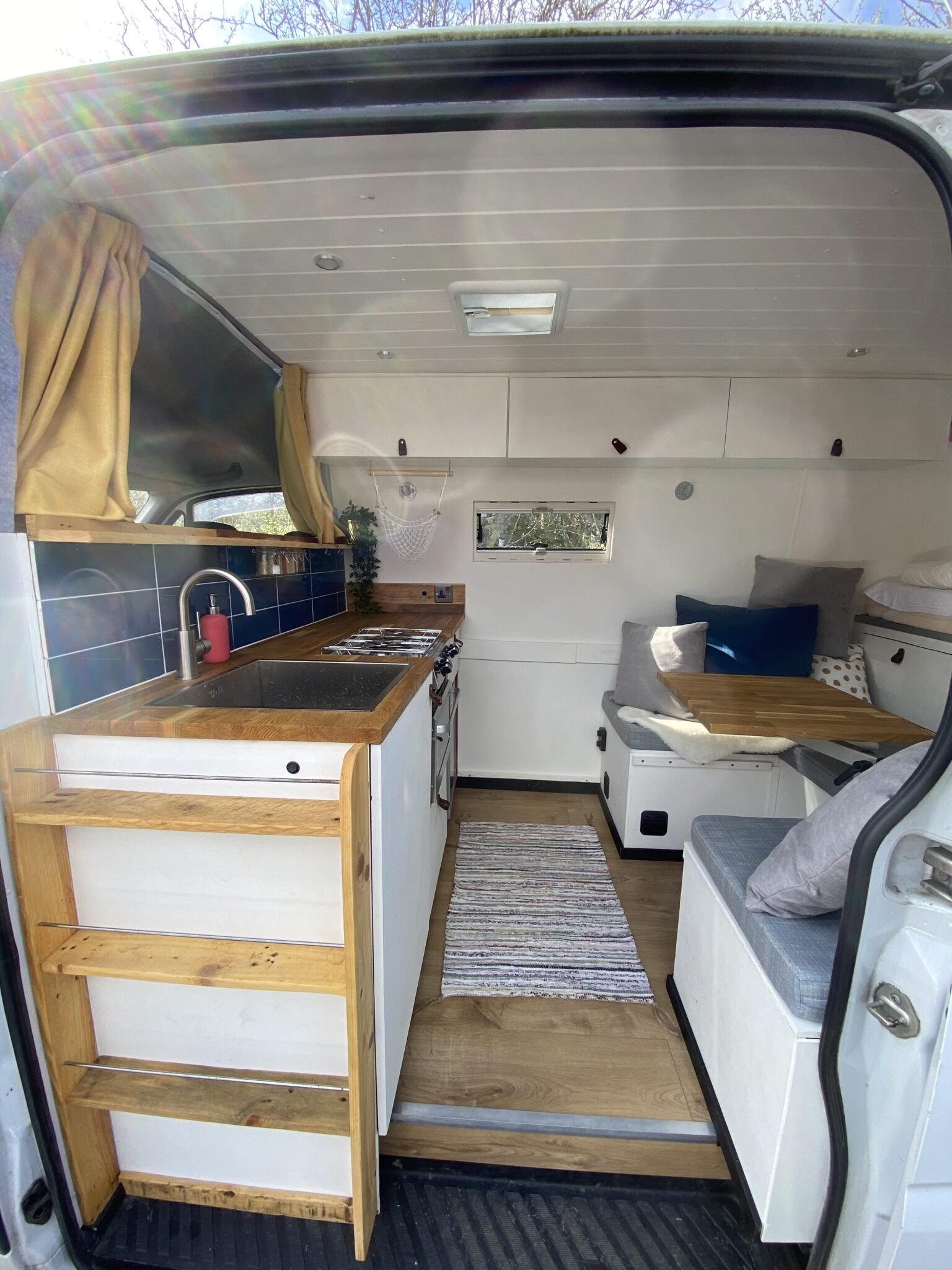 Vehicle Description
2143cc
6 gears
Full service history (needs a service now)
MOT 17 May 2021
–> New: Service and MOT will be done on 12.04.2021
Reversing camera
Cruise control
Condition of bodywork very good
Tyre condition good
Conversion Description
We have bought this van in October 2019 as a brandnew conversion completed in August 2019.
We are a small German expat family and wanted to explore the UK in 2020. And then Covid came.
For that reason we only took it away 3 times and slept in it for maybe 5 nights…
Overall condition therefore great, conversion and appliances almost like brandnew!
You might wonder why we intend to sell it now ahead of a great summer season with the possibilities for international travel probably rather limited?
The answer is simple: We expect a second child soon and the van has only 3 belted seats…
We love the van and the conversion hence why we are very upset that we have to sell it now.
The key facts are:
Handmade bespoke camper conversion by GV Conversions completed August 2019
Fiamma dual motion roof fan
Dometic crx 65 compressor fridge/freezer
Stainless steel deep sink and tap
4500 range lpg cooker/hob/grill
Porta potti 165
Carbon monoxide detector
Smoke detector
6x LED down lights
Propex heatsource hs2000 heater
1000w pure sine wave power commander
Eco -worthy 100watt panel
2x 110ah super batt
Victron energy solar charger controller (monitor levels of batteries on phone app)
Outside hot/cold sports shower
3x 240V plug sockets
4x USB ports
Hook up point
Lots of storage ie shelves/cupboards&draws
Large storage in rear
Double memory foam mattress
Two side windows with bug guards/shutters
Privacy glass window side door
Comes complete with full book/manual from GV Conversions to help with the operation of the camper
Comes with manuals for all equipment ie cooker/roof fan
Perfect off the grid camper waiting for new loving owner
DVLA Motor Caravan Registration paperwork ready to be sent off
The van needs a wash as you can tell from the pictures but is in general in a great condition in my point of view.
After a quick check it seems like the solar panel is not delivering power at the moment, not sure if that might be because its dirty at the moment…
The van asks for a Service B on the info screen. That has to be because of time, we didnt do a lot of miles in it…
'We like the style' means that Quirky Campers would approve it for hiring but you must still check that the gas, electrics and weight were done properly. For some tips on what to look out for read this. If the listing has no Gas Safe certificate, no unladen weight and no electrical sign-off please proceed with caution!
Please note: Quirky Campers do not inspect the listings for accuracy or check campervans in person. We have asked sellers to provide evidence of certificates and paperwork however you MUST check yourself that the information provided is present and correct. You will need to exercise the normal due diligence when buying any vehicle.
Make and Model
Mercedes Sprinter 313 CDI LWB
Current Mileage
82,044miles
Registered Vehicle Type
Other - see description for explanation
Two adults in fixed double bed & one child in dining/table area
Maximum Weight (MAM or MTPLM)
3,500kg
Unladen Weight Verified?
NO - the vehicle has not been weighed since completion
Gas sign-off supplied
None