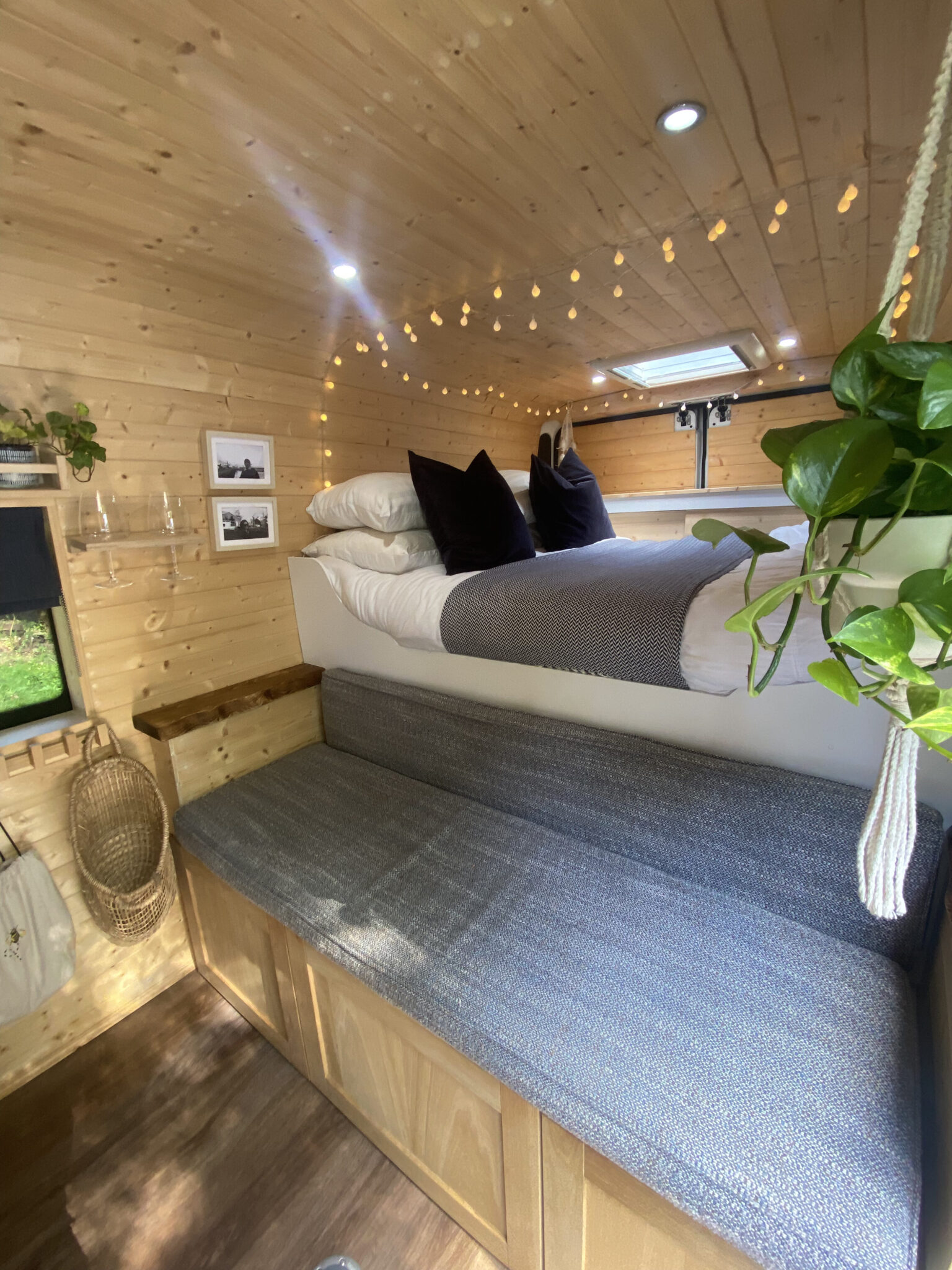 Sold
Vehicle Description
Bespoke Citroen Relay L3H2 Off-Grid Campervan
2015 Citroen Relay 2.2HDI L3H2
6 Speed Manual Gearbox, Air Conditioning, Cruise Control, Rear Parking Sensors, Hill Start Assist, Bluetooth Connectivity
Full Service History
MOT until May 2022 with recent service including all new brake pads, disks etc
128,000 Miles
The body work is in great condition with a few knocks from its previous life as a panel van.
Beds Description
Memory foam double mattress (bed area measures 4ft 6 x 5ft 11)
Conversion Description
This sleek off-grid campervan conversion features a bespoke interior that makes use of all available space to ensure a luxury lifestyle on the road. Three 100w solar panels and a 75l water tank make the van entirely self-sufficient for extended adventures. Using high quality materials with beautiful natural finishes, every detail has been carefully considered ensuring both style and practicality. A fitted bed means you don't need to convert your living space each day and storage space is maximised with an elegant sliding cupboard at the back and a rear access 'garage' space, plus plenty of room in the kitchen cupboards and hidden within the sofa backrest, armrests and under the seat. A full-size sink, extendable mixer tap, two ring gas hob and a pop up table makes cooking simple and spacious. Sold with numerous additional accessories including a pull-down projector screen, diesel heater, heated gas shower, pop-up shower tent, two bike rack and washing machine, this van is ready and waiting for you to drive away in. Please follow the link for a short video of inside the campervan: https://vimeo.com/612904821
Electrics
• 300W Mono-crystalline Renogy solar panels
• 220ah AGM Leisure batteries
• Solar Charge controller with Bluetooth module
• 240V hook-up with cable
• Victron smart charger
• 1000W Pure sine wave power inverter
• 12-point Fuse box
• 6x Dimmable LED touch downlights
• Fairy lights above bed
• LED strip light in the garage
• 1x Double 240v socket
• 4x double 12V USB/ Cigarette sockets
Plumbing
• 75 litre Fresh water tank with filler cap
• 25 litre removable waste water tank
• Shurflo water pump with filter
• Fiamma accumulator
• Gas outdoor shower with tent
Heating
• Diesel heater
• 2x Campingaz bottles (one full) in a sealed gas box with dropout valve
Interior
• Fully insulated with sound deadening and vapour barrier
• 1 x Fiamma skylight roof vent
• Shaker style kitchen with leather handles
• Multi-function tap with pull out hose
• Stainless steel sink
• Custom made wine glass holder
• Storage space under bench seats
• Custom drawer storage behind cushions
• Custom made cushion covers
• Memory foam double mattress (bed area measures 4ft 6 x 5ft 11)
• Projector Screen
• Removeable table
• Fold-out bar
• Overhead bulk storage
• Hidden wine bottle holder
• Hidden laptop storage
• Large wardrobe
• Various clothes storage areas
Appliances
• 35L 12V Fridge Freezer
• 2 Burner gas hob
Accessories
• Thetford Porta Poti toilet
• Sliding door mosquito net
• Carbon monoxide detector
• Smoke detector
• Secure safe
• 2x Rubbish bins
• Fiamma bike rack
• Wheel chocks
• 2x Camping chairs
• Extendable step ladder
• Washing machine
• DIY tent awning
• Hammock
• European driving travel kit
Registered Vehicle Type
Panel Van (meets DfT standards)
Base Vehicle Condition
Used
Converter Type
Self Build - Handcrafted Expert
Conversion Condition
Used - Excellent
Maximum Weight (MAM or MTPLM)
3,500kg
Unladen Weight Verified?
NO - the vehicle has not been weighed since completion
Gas sign-off supplied
None
'We like the style' means that Quirky Campers would approve it for hiring but you must still check that the gas, electrics and weight were done properly. For some tips on what to look out for read this. If the listing has no Gas Safe certificate, no unladen weight and no electrical sign-off please proceed with caution!
Please note: Quirky Campers do not inspect the listings for accuracy or check campervans in person. We have asked sellers to provide evidence of certificates and paperwork however you MUST check yourself that the information provided is present and correct. You will need to exercise the normal due diligence when buying any vehicle.