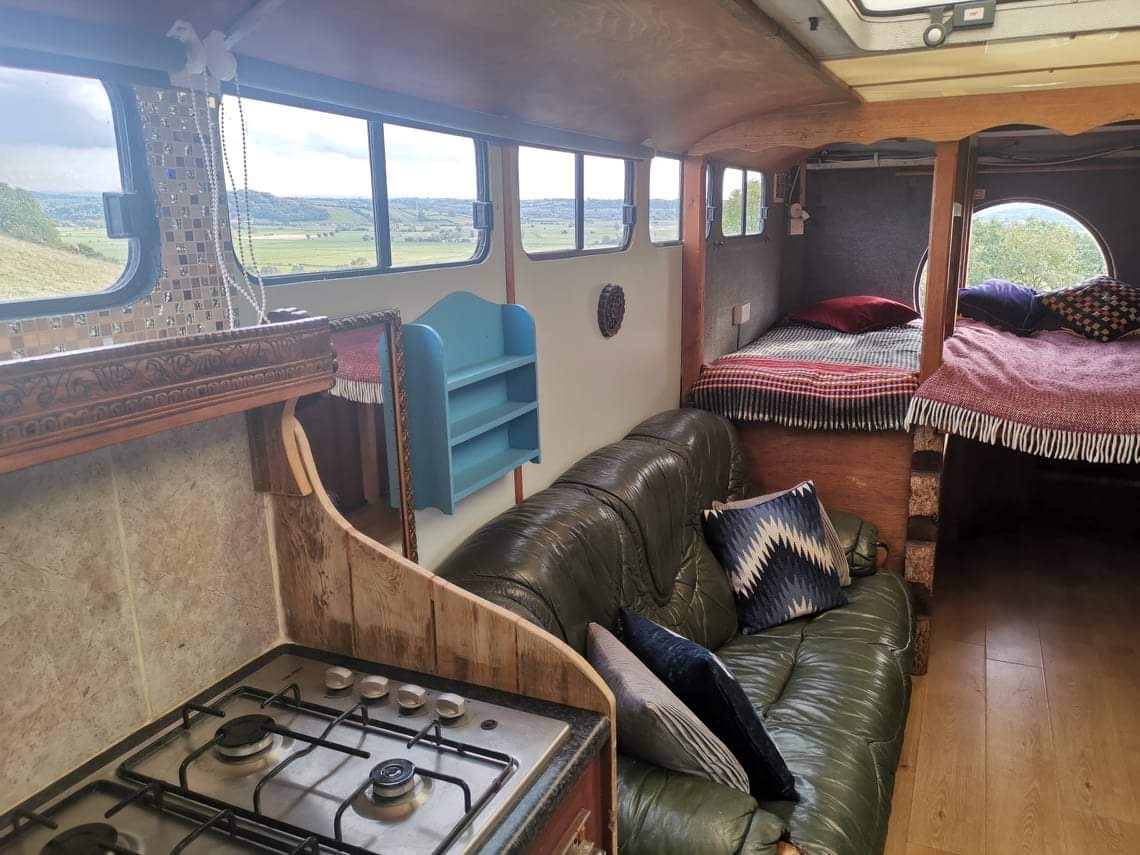 £19,750
Ford Iveco Cargo Tector 3.9L
77,000 miles
Vehicle Description
Iveco Cargo Tector Motorhome converted from library bus in 2016/17
3.9L / Diesel / Manual / 5 gears.
Year of registration: 2002
Long service history.
2 owners since council owned. When council owned it was serviced every 6 months! Serviced annually since.
77000 miles
MOT til end of March 2022.
Registered as HGV / 'Specially Fitted Van'
A dream to drive. Power steering and reversing camera.
All advisories from the last MOT have been actioned so not only aesthetically, but also mechanically the vehicle is in great shape with no surprises that I am aware of, all paperwork provided.
X4 berths (x1 double + x2 wide singles) with additional space for more, have slept 8 quite happily.
Leather sofa.
Sound system with subwoofer and CD / USB / DAB / Bluetooth
There is an onboard petrol generator that started up no problem when I first viewed the vehicle in 2016, though I have never used it since as always plugged in at campsites or only staying away for a couple of nights where battery power lasts long enough.
Invertor that converts leisure batteries to 240v.
Battery charger with split relay.
Isolator switch.
X4 new (July 2021) batteries throughout incl x2 12v starter batteries & x2 12v leisure batteries.
Led kitchen lights with remote control and colour changer.
Plug sockets throughout with USB ports, these run direct from mains, or via the inverter from batteries.
3 way fridge: Gas / Electric / invertor. Also has freezer section and makes ice.
Foot pump tap and full size kitchen sink.
Storage inside and in sizeable belly boxes (one on each side).
Morso Squirrel multi fuel burner.
Insulated and lined with hardwood faced ply.
The box that constitutes the body of the bus is made form 20mm ply with alluminium frame so it does not rust or sweat like metal, I presume to protect the books that used to live in it. This eliminates the problem of condensation that caravans and metal live-in vehicles experience.
X2 passenger seats with folding kitchen table.
Air propelled side door.
Electronic safe.
X 3 skylights.
Very sorry to see her go, has been my passion over the last 5 years, but thanks to covid I can no longer afford to keep her.
Starts first time, every time.
Beds Description
x1 double and x2 wide singles with x2 usb and x2 plug sockets in each berth
Conversion Description
The gas was installed by a professional but no certificate is available as he was not licensed for caravans, I expect a quick inspection is all that's needed. In terms of weight, the vehicle was designed to carry lots of books, so I'm sure it is a lot lighter now than the 7.5 ton it is registered as. It is still classed as HGV so I'm sure it could be changed to leisure vehicle or motorhome. I looked at the stipulation on the DVLA site and it does meet the criteria to change its tax class (registered as a 'specially fitted van' plus relevant conversion etc) but they say there is a long wait because of a backlog, so I haven't started the process because of the sale.
Registered Vehicle Type
Other - see description for explanation
Base Vehicle Condition
Used
Maximum Weight (MAM or MTPLM)
7,500kg
Unladen Weight Verified?
NO - the vehicle has not been weighed since completion
Gas sign-off supplied
None
Please note: Quirky Campers do not inspect the listings for accuracy or check campervans in person. We have asked sellers to provide evidence of certificates and paperwork however you MUST check yourself that the information provided is present and correct. You will need to exercise the normal due diligence when buying any vehicle.