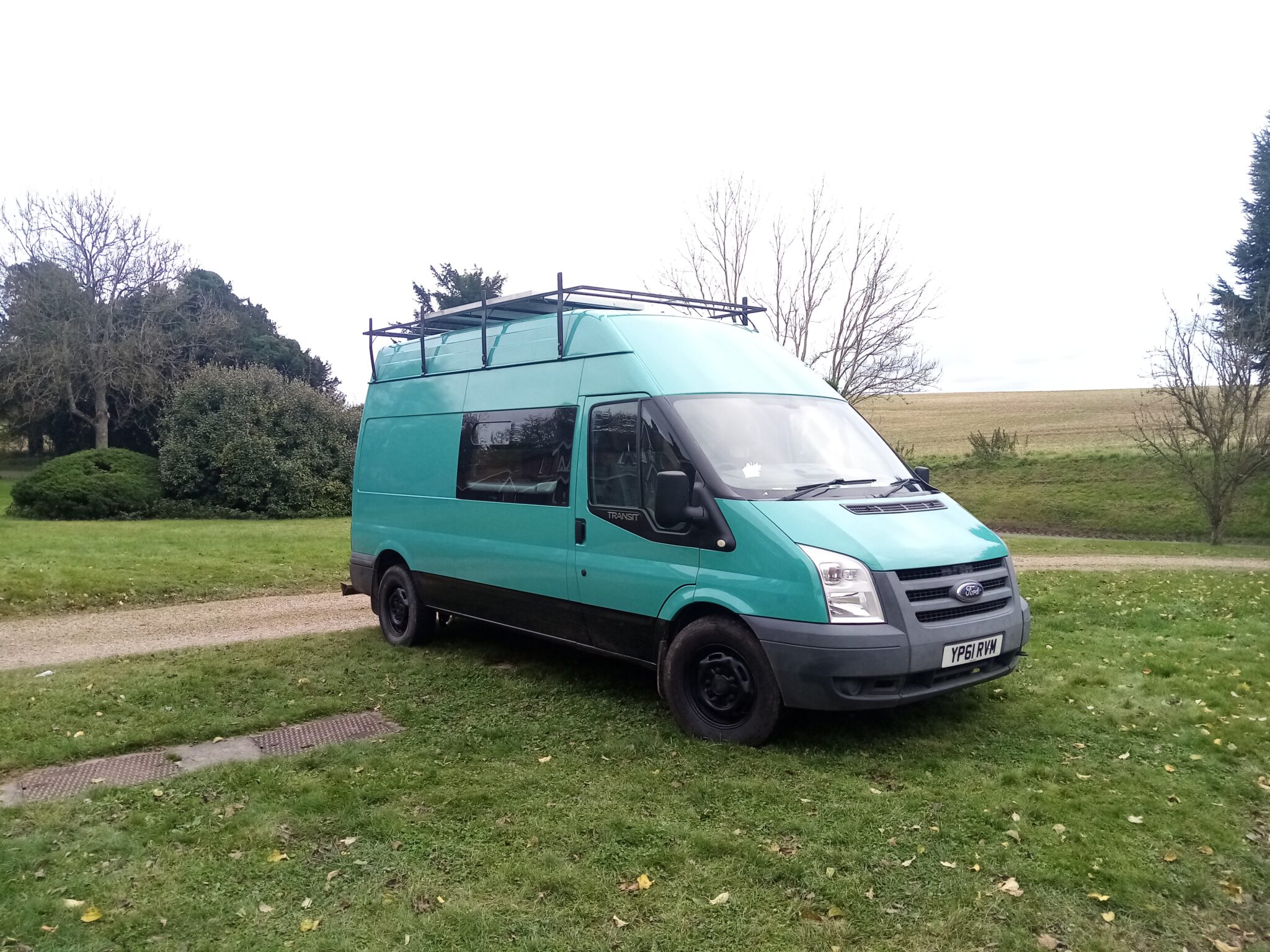 Vehicle Description
2011 Ford transit with a fresh new paint job. painted teal with a black rim around the bottom, this van has been well looked after and has full service history and 12 months mot with no advisories. Mid wheelbase, 2402cc and rear wheel drive. The engine is in good condition and its only done 115000 miles, so plenty of years of fun to be had.
Beds Description
2 seats convert nicely into a King size bed in the rear of the van that runs length ways. And a small seat towards the kitchen area can sleep a tall child or small adult.
Conversion Description
The conversion of this van has been a project over the past year whilst using it myself for escaping and exploring. This van has had alot of love and good times and needs a good home.
I kept it really open plan with as much storage as possible trying to make the most of the space. All the cabinets doors are made from beautiful ash, locally sourced, and veriose other features are made of oak.
Some of the features not previously mentioned include ;
Amp and speakers in the back of the van, with aux input. Collapsible table. A small Belfast sink and water 12v pump. As previously mentioned, a 12v USB soccets and mains plug in point with inverter. 2 leasure batters with split charge relay. Diesel heater. Fridge. 2 hob gas cooker.
For any more info please feel free to call and I can go over them.
Registered Vehicle Type
Panel Van (meets DVLA standards)
Base Vehicle Condition
Used
Converter Type
Professional - Handcrafted
Maximum Weight (MAM or MTPLM)
3,500kg
Unladen Weight Verified?
NO - the vehicle has not been weighed since completion
Gas sign-off supplied
None
'We like the style' means that Quirky Campers would approve it for hiring but you must still check that the gas, electrics and weight were done properly. For some tips on what to look out for read this. If the listing has no Gas Safe certificate, no unladen weight and no electrical sign-off please proceed with caution!
Please note: Quirky Campers do not inspect the listings for accuracy or check campervans in person. We have asked sellers to provide evidence of certificates and paperwork however you MUST check yourself that the information provided is present and correct. You will need to exercise the normal due diligence when buying any vehicle.