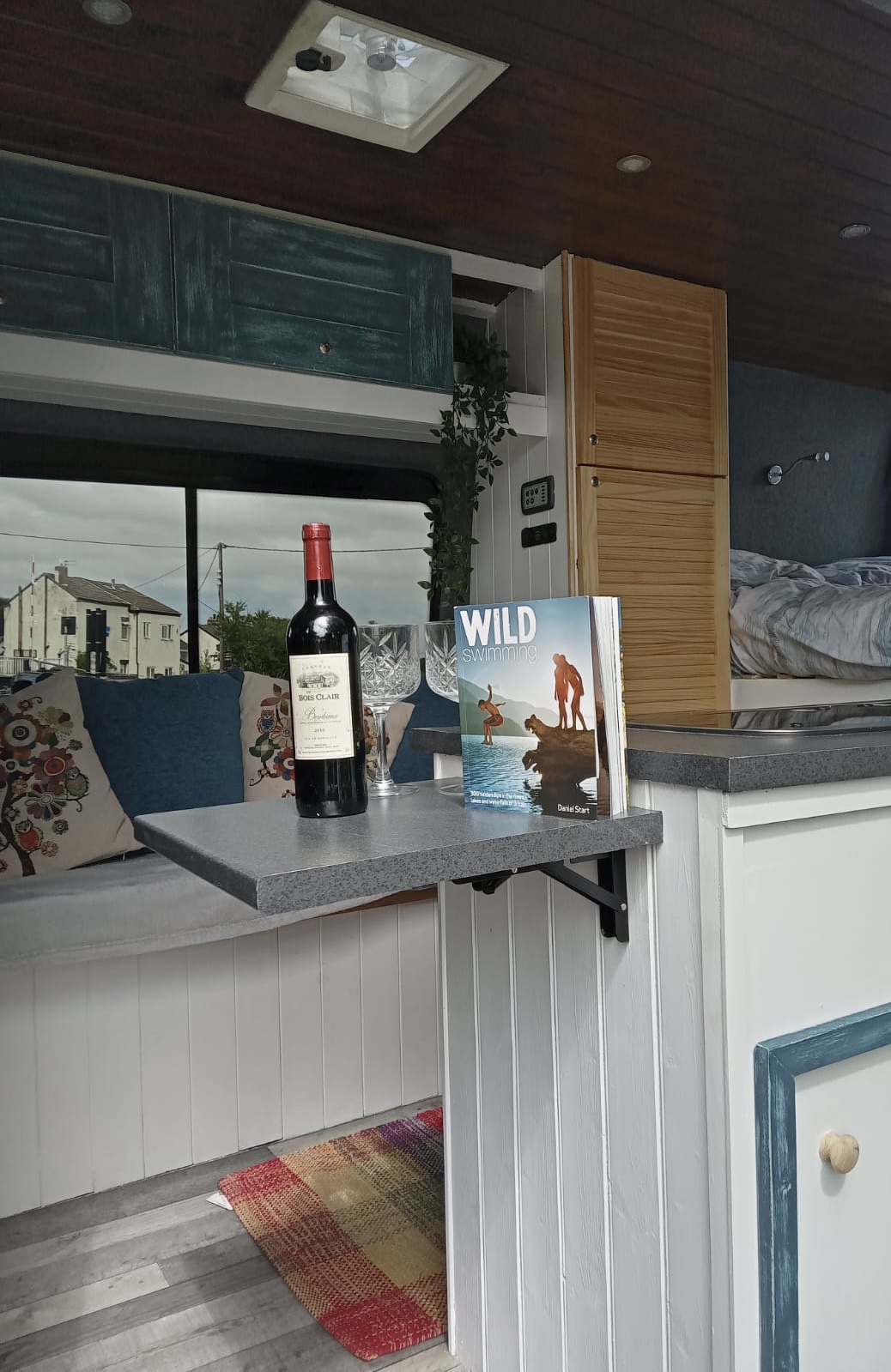 Vehicle Description
2013 Merc sprinter mwb 313
2.1 diesel.
6 speed manual.
Cruise control.
Motorway mileage.
Mercedes Android large screen stereo.
MOT to July 2022.
Just serviced .
New brake pipes ,shoes and discs fitted..
2 keys .
Full floor mat in cab.
Rear parking camera .
Merc Back door step .
Conversion Description
This conversion has been hand crafted from start to finish ..built for practicality and adventure .
INSULATION
Sounddeadened using do do mat.on all panels .
Insulation is a combination of 25mmand 50 mm ceotherm . recycled plastic insulation also used …followed by vapor barrier using bubble insulation taped…
DINING/KITCHEN.
Kitchen units are hand built ..and
Includes double gas ring cooker and sink .
Tiled splash back.
This is fed from a gas cylinder which is stored in a gas cabinet with dropout…located in garage area for easy acces s.and fitted with turn off valves…
Gas Safe/habitation cert suppied.
The water and waste containers are stored in here with separate access when sliding door is opened …
Sink is fed with cold water ,isolator switch and pump.
Fridge is 12volt compressor.silver .50 litre capacity inc.freezer…easy on power .also fitted with isolation switch ..
DINING AREA.
Comprises of a bench seat and demountable table .
Double swivel seat base also fitted .(certified).
There is also a fold down worktop at doorway ..
BEDS.
Bench seat pulls out into bed for a child if needed.
Raised Double bed with memory foam mattress fitted (comfy).
STORAGE and GARAGE.
Loads of practical storage in this build …
wardrobe area with locker above and below.
Storage under bench seat
Several overhead cupboards.fitted with gas struts .
All storage doors in conversion are fitted with pushbutton locks ..keeping all safe and in place when on" the move .,".
Also a large area under the bed ..this is perfect for bikes,sports gear , boards ..or even a pet bed as there is access via a door from living area..
The electrical system and gas cabinet are also located in garage area for ease of access..
ELECTRICAL
A few systems of charging ..
Solar :: 175 watt solar and controler.
240 vHookup::Sargent electric management system.
,Charge from main battery .
-110 ah lesuire battery .
-sargent 12 volt /240 v management unit .
-With controll pad and battery charge level indicators ..
-1000 w inverter.
-Single 240 socket in garage area and 2 sockets located in living area.
-usb points .
-4 Led downlighters in ceiling .
-reading light above bed with mood light .
-12 volt fiamma roof vent located above kitchen ..
WINDOWS.
windows have privacy tint
Window behind driver's seat has opening hatch
Fixed one in sliding door .
Small opening window at base of bed …
2main windows are fitted with black out blinds ..
SAFETY
Carbon monoxide alarm fitted .
Fire extinguisher and fire blanket .
Certified double swivel base.
Van comes with gas /habitation certificate.
Thi s conversion is "Ready for adventure ."
Quirky approved and ready to list
We like the style
'We like the style' means that Quirky Campers would approve it for hiring but you must still check that the gas, electrics and weight were done properly. For some tips on what to look out for read this. If the listing has no Gas Safe certificate, no unladen weight and no electrical sign-off please proceed with caution!
Please note: Quirky Campers do not inspect the listings for accuracy or check campervans in person. We have asked sellers to provide evidence of certificates and paperwork however you MUST check yourself that the information provided is present and correct. You will need to exercise the normal due diligence when buying any vehicle.
Current Mileage
165,000miles
Registered Vehicle Type
Panel Van (meets DOT standards)
Raised double bed at rear of vehicle.
Measuring 1370 x1800.
Fitted with comfy IKEA memory foam mattress ..
Bench seat pulls out into a bed for a child if needed.
Measuring .720 x 1450..
Maximum Weight (MAM or MTPLM)
3,500kg
Unladen Weight Verified?
YES - the vehicle has been weighed since completion
Gas sign-off supplied
Landlords Gas Safe Certificate