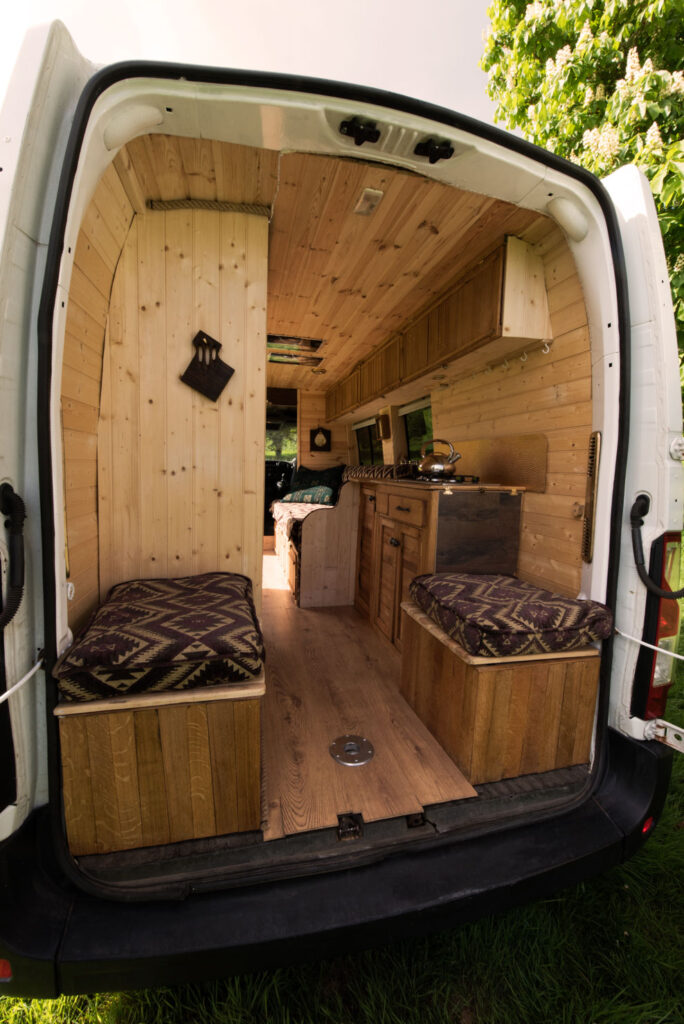 Sold
Vehicle Description
Diesel 2299 litre 32mpg engine. Has done 3 seasons with Quirky campers and has been much enjoyed by all who took him away. Please see my 5 star rating on the google pin reviews.
MacIntyre was built, as his name suggests, in the heart of Scotland, converted from a tyre delivery van. His builders, James and Anita, make their living turning reclaimed whisky barrels into beautiful handmade objects and have used a lot of these skills and barrels in this conversion.
He comes with a landlords gas safe certificate, proof he is the correct weight and is registered as a campervan. He needs no electrical safety certificate as he runs on a 12v system.
I have made adjustments since buying him to make it as easy as possible for customers to use, so it is as easy as possible for the owner to rent. I upgraded to a large sink so they can easily fit the pans in to wash. Added another gas safe cupboard so they never run out. Added a gas heater and swapped the gas hobs so they are safer and can pass the gas safety certificate. Added roof bars with a solar panel that charges a powerful lithium leisure battery so they never run the battery down, and surfboards etc can be held on the roof. This allowed one couple to take him around Europe for 3 months last year.
I put magnets on all the cupboards so they stay open for ease of use and made shelves which can be added to the tall cupboard or taken out depending on preference. Into the tall cupboard I also ran a power cable, so a cool box can be run. I found this less hassle than a 3 way fridge as they can be temperamental and it can be easily removed for cleaning quickly in between handovers.
He has a king-sized bed with storage underneath and two very comfortable leather seats in the front. The rear 2 seats with removable table is ideal for eating on with the back door open or closed if in bad weather. This also means the bed can remain down and you still have space to eat and prepare food.
Only ever had 1 breakdown, which was in the first year where the gearbox broke so I had it replaced with one I hope to last the rest of its life. I am selling this van and Amelia due to starting a new job which will involve me being on tour in the summer. I have had repeated issue trying to pin down why the injection fault warning light comes on sometimes (30% of the times you drive and it goes away if you turn the engine off and on again). It does not appear to effect driving at all and has been like that for over a year so all my customers last summer had no issues (10 in total including one for 3 months). I have been assured it is not the injectors but possibly a sensor fault after 4 investigations. Please feel free to ask me questions and I will try to answer them by email or phone.
Heidi has always been a very popular van on our hire platform and has been converted by one of approved converters – Off Grid Campers. From 1st January – 30th September 2020 she has/had 19 hire bookings and has fantastic earning potential for somebody looking to hire her out again. We can disclose income details upon request. Her listing can be viewed here: https://www.quirkycampers.com/uk/campervan/153986/?
Quirky approved and ready to list
Previously listed on Quirky
Created by an approved Quirky Converter
We like the style
'We like the style' means that Quirky Campers would approve it for hiring but you must still check that the gas, electrics and weight were done properly. For some tips on what to look out for read this. If the listing has no Gas Safe certificate, no unladen weight and no electrical sign-off please proceed with caution!
Please note: Quirky Campers do not inspect the listings for accuracy or check campervans in person. We have asked sellers to provide evidence of certificates and paperwork however you MUST check yourself that the information provided is present and correct. You will need to exercise the normal due diligence when buying any vehicle.
Current Mileage
137,000miles
6'3″ x 4'4″ (190cm x 132cm) which slides into sofa
Maximum Weight (MAM or MTPLM)
3,500kg
Gas sign-off supplied
Landlords Gas Safe Certificate