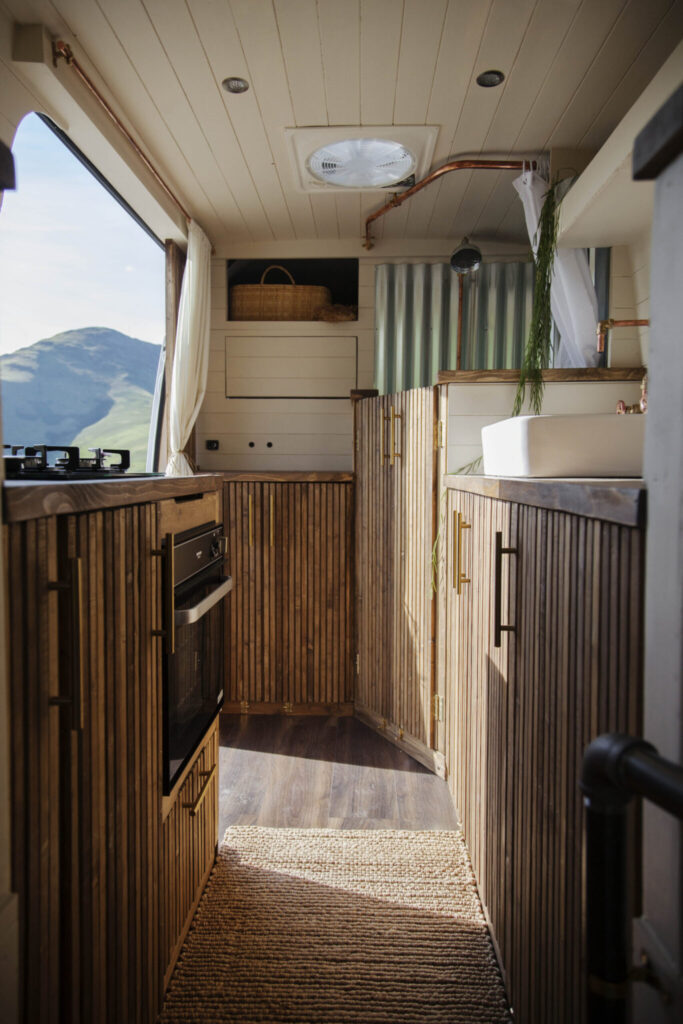 Sold
£49,000
Mercedes Sprinter 314 LWB
55,000 miles
3 Berths
Vehicle Description
Although this campervan has sold we are taking commissions for similar builds- feel free to get in touch for an info pack.
Mercedes Sprinter 314 LWB, 2.2 L, 6 speed manual. Euro 6 with add blue feature. Recent service & full history, MOT until September 2021. Perfect Engine & Immaculate Body work. Four additional tinted windows, reversing camera and three belted seats.
Beds Description
In the camper the large sofa area tuns into one big bed super easily, by pulling out a top draw from one side to join the other bench. If you were to leave it like this you would have a small double with a remaining seating area and swivel table. If you detach the table and put it in the remaining gap, the bed turns into a huge 6ft * 5ft8 bed, big enough for three. There's a lovely lookout window in this area and a nice cosy nook underneath the bed suitable for any dog owners.
Conversion Description
Our latest conversion Olive is inspired by Japanese design & Feng Sui, the perfect blend between aesthetics and functionality. We've found this layout works really well when you're living in a tiny home on wheels, by day you can walk through the entire van and make use of the whole space. The creamy walls and linen curtains make the space light and dreamy, with elements like the jute rug and aluminum shower turning Olive into a really unique space.
You may have seen Olive for sale before, this is actually the third Olive build now- she's been very popular! We also offer some unique new features such as light weight concrete countertops and other additions to the build- please feel free to get in touch to find out more about these and commission a conversion similar to Olive.
As you walk through the side door you enter the kitchen / bathroom area, underneath all of the handmade wooden slatted doors resides a Dometic 3 way Fridge (or , Thetford Oven & a 2 burner gas hob. We've added hidden details like a spice rack, draws, brass handles, upper shelves and bespoke copper taps.
Our beautiful upholstered sofa pillows are made from an eco-fabric and the paint is VOC free, we've tried to be as sustainable as we can. That's why you'll find a 400 watt solar panel on the roof – this van is designed to be totally off-grid.
We have 2 deep cycle AGM 105 AH batteries. We have used Victron equipment to deal with charging the batteries, all of which can be monitored and controlled from your smartphone. They are charged by a 400watt LG solar panel, your vans smart alternator whilst you drive and a 240v hook up for when you park up. There is a 2000 watt pure sine wave inverter to plug in your 240v electronics throughout the van (x2 sockets for inverter and x2 sockets for 240v hook up). Victron Equipment comes with a 5 year warranty and their customer service is brilliant.
The sink and shower have hot water which, with the cooking appliances, runs off of an underslung LPG tank, refillable from the outside.
The large shower is also the perfect spot for discrete use of the thetford porta-loo.
We've created a little peep-hole through the the cab which you can also access through the front of the van, above this there is a big storage area.
Two low rise walls lead you into the large seating / bedroom area, this houses lots of storage space and a 100L fresh water tank refillable from outside.
There is a detachable swivel table and shelving storage too. We've added discrete custom LED lights as well as dimmable spotlights and there are USB ports throughout the van.
The heating is run from a very efficient MVAiro2 Diesel heater controlled by a thermostat.
Most appliances have a 3 year warranty.
If you'd like to come to see the camper or have a chat please feel free to get in touch,
Warmest wishes, Chloe & Talib
Registered Vehicle Type
Panel Van (meets DVLA standards)
Belted Seats
3 Belted Seats
Vehicle Length
6.00 meters
Vehicle Height
2.00 meters
Maximum Weight (MAM or MTPLM)
3,500kg
Unladen Weight Verified?
YES - the vehicle has been weighed since completion
Gas sign-off supplied
Gas Safe Certificate
'We like the style' means that Quirky Campers would approve it for hiring but you must still check that the gas, electrics and weight were done properly. For some tips on what to look out for read this. If the listing has no Gas Safe certificate, no unladen weight and no electrical sign-off please proceed with caution!
Please note: Quirky Campers do not inspect the listings for accuracy or check campervans in person. We have asked sellers to provide evidence of certificates and paperwork however you MUST check yourself that the information provided is present and correct. You will need to exercise the normal due diligence when buying any vehicle.