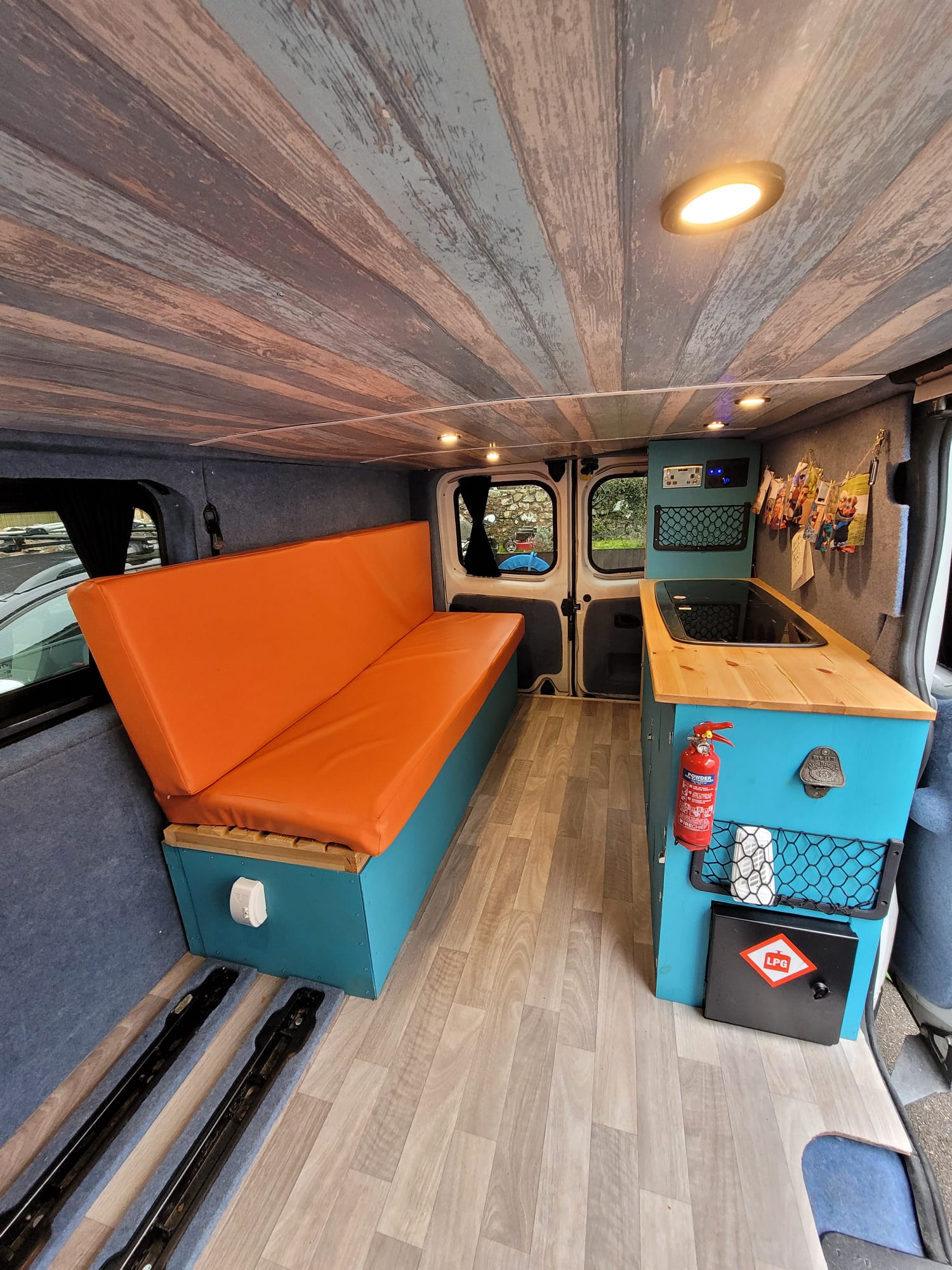 Sold
£13,000
Renault Trafic LL29 Energy dCi 120 Business+, Euro 5
125,000 miles
Vehicle Description
Hi all,
Selling my 2015 Renault Trafic (LL29 Energy dCi 120 Business+, Euro 5) converted camper. 1.6 bi-turbo engine (the good one!) with 125k miles on the clock.
Second owner of the van, bought and converted Spring 2020. Have had some fantastic journeys as a family, including a 2,000 mile journey around the alps and several trips round Scotland and the van has never missed a beat. Generally returns low 40s mpg even with the roof box on, although it can move when required to overtake thanks to the twin turbo.
The van:
125k miles
1.6 bi-turbo diesel, 6 speed manual.
MOT August 2022 (no advisories)
4 great condition tyres
Air conditioning
Roof rails & roof bars
Extra removable seat added in the rear inc seatbelt from a Ford Transit Custom
Tinted windows to both sides & rear (offside slides open)
Anti-drill plate on rear (common vulnerability on these vans)
Service History:
Stamps in book at 25k, 57k, 81k.
Oil/filter changed by myself at 107k, oil/filter & air filter again changed by myself at 115k
Since owning the van it has had the following:
Air conditioning re-gas – September 2021
Front wheel alignment August 2021
Front bottom arms August 2021
Both rear sock absorbers August 2021
EGR valve – June 2021
Clutch master cylinder – July 2021
Auxiliary Belt – July 2021
Camshaft sensor – July 2021
Starter battery – April 2021
Rear coil springs – August 2020
4 x Goodyear Cargo Marathon tyres – June 2020 (all in great condition)
Front disks and pads (summer 2020)
The conversion:
The aim of the conversion was to have a usable camper, yet still retain space down the centre to still use 'as a van' which you lose with a rock & roll bed type conversion.
Sound deadened with silent coat and insulated with 10cm EcoLoft.
Kitchen unit with Dometic Smev M09222L sink/cooker. Water connected to 10l fresh water & pump as well as waste container. Cooker connected to a Campingaz cylinder in a gas locker.
Blackout curtains fitted to all rear windows with a curtain between front cab and rear.
Bench seat turns into a good sized small double, cushions were custom made by Foam4u with firm foam topped with a memory foam layer. I genuinely sleep better in the van than I do at home!
12v electrics –
CTEK D250SE battery charger (required for vans with a smart alternator), this charges the leisure battery whilst driving but also connects directly to the solar panel.
100W semi flexible solar panel mounted on the roof (works brilliantly to keep the leisure battery charged).
105AH Expedition Plus AGM leisure battery.
Main fuse box connecting to 12v panel for lights/water pump/12v usb & socket. Wiring in place for 12v fridge which we previously used for 12v coolbox.
240v electrics –
240v inlet fitted on the underside of van to connect either at home or campsite etc (comes with 14m lead and lead converter so you can connect at home).
Consumer unit with 64A RCD & 2 x MCBs (6A & 32A) powering single socket for a CTEK MXS 5.0 battery charger and twin sockets above the kitchen unit.
Fire extinguisher, natural gas alarm and dual smoke/CO2 alarm.
Diesel (& kerosene) heater fitted via turret plate under passenger bench and pointing out toward the rear. This is controlled via a digital panel by the rear seat, can also be controlled via remote.
The van was a builders van before it came to me as well as being 6 years old it isn't perfect. There is the occasional small ding in the bodywork as you would expect & the drivers seat has been sewn up a little bit (very neat job!). But all in all is in good condition and drives fantastically.
Lot of info there so no doubt stuff I have missed. Feel free to ask any questions.
Beds Description
Bench seat converts into a good sized small double. We have previously used one of the childs bed across the front seats for our 4 year old which worked great (not included).
Registered Vehicle Type
Panel Van (does not meet DfT standards)
Base Vehicle Condition
Used
Converter Type
Self Build - Handcrafted Start-up
Conversion Condition
Used - Excellent
Maximum Weight (MAM or MTPLM)
2,960kg
Unladen Weight Verified?
NO - the vehicle has not been weighed since completion
Gas sign-off supplied
None
'We like the style' means that Quirky Campers would approve it for hiring but you must still check that the gas, electrics and weight were done properly. For some tips on what to look out for read this. If the listing has no Gas Safe certificate, no unladen weight and no electrical sign-off please proceed with caution!
Please note: Quirky Campers do not inspect the listings for accuracy or check campervans in person. We have asked sellers to provide evidence of certificates and paperwork however you MUST check yourself that the information provided is present and correct. You will need to exercise the normal due diligence when buying any vehicle.