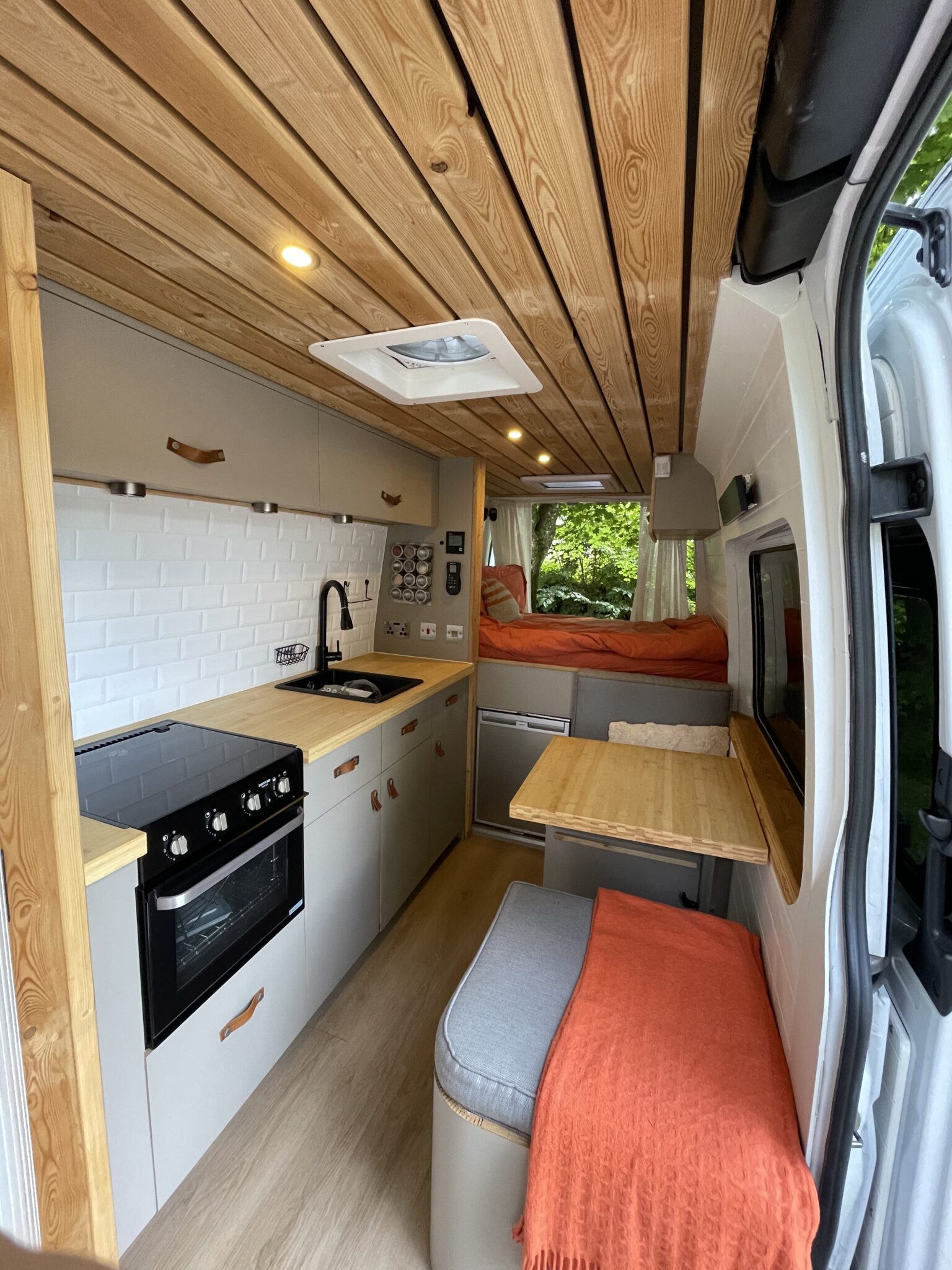 Vehicle Description
2015 LWB Mercedes Sprinter, diesel, manual, six gears, 90000 miles, full service history and MOT due May 2022, two keys, 60mph limiter.
Sadie was purchased from East Midlands Vans in September 2020 by myself and has since traveled around Europe for the summer. She drives like a dream and we have never had any issues with her. She passed her MOT with no faults in May and has a full service history available. She has driven just under 90000 miles however is still being used hence this figure being given. Her body work is still in good condition and the front cab is in excellent condition in comparison to vans this age.
Beds Description
1 Double bed – shorter than normal approximately 170cm in length
1 Dinette sofa, could be used as a small child's bed
Conversion Description
Sadie The Sprinter! Instagram – @a_van_and_no_plan
Sadie is a LWB Mercedes Sprinter which was purchased and converted by both myself and my father (boat builder) during lockdowns in 2020/2021. Sadie was built with a dream to take some time off work and travel Europe as soon as restrictions lifted. This summer she was taken on a European roadtrip mainly travelling the coasts of Croatia and Italy as well as some shorter amounts of time in Germany, Netherlands and Belgium. She is a comfortable, stylish and hard wearing van which has been converted to a high standard.
This van was converted for me to use and travel and the quality of the conversion reflects this. Unlike many conversions, nothing was scrimped or saved when building, all conversion elements were either built or purchased brand new, including all electrics, water systems, windows and awnings. Sadie is an offgrid, luxury campervan which can be traveled in for long periods of time but also for more local weekend trips. She truly is a luxurious van to travel in with a large shower, plenty of storage, oven with three hobs, 4m Fiamma awning, inbuilt fibre optic star lights above the bed and a spacious dinette.
An instagram page called @a_van_and_no_plan details the whole conversion process with photos and videos throughout as well as photos whilst living and travelling in the van.
Base –
Outsmart the thief alarm system including immobiliser, tracker, panic button and alarm (monitoring package needs to be purchased from the supplier)
Fiamma F80S 4m Awning
Dodo sound deadening
Superfoil SFUF insulation
Siberian Larch ceiling
75L underslung fresh water tank, 50L underslung grey water tank
Truma Combi 4E Combination Boiler (4 hot air outlets) with Jabsco water pump
Hammock strong point by sliding door
Large garage area under the raised bed
Electrics –
1 x 295W solar panel on the roof
Epever charge controller
2 x 110amp batteries
240v hook-up option.
2 x 12V USB socket bedside
2 x 24V Double plug with USB fittings (galley + bedside)
Windows –
1x MaxxAir MaxxFan Deluxe with remote control
1 x MaxxAir SkyMaxx roof light/vent
1x sliding door tinted window with opening
1 x tinted side window
2 x tinted rear windows
Furnishing –
Bespoke thermal magnetic black out window covers
Width ways double bed (slightly shorter than normal 170cm approx)
Small childs bed/sofa (dinette seats converted)
3 seatbelt seats in the cab
Galley/Kitchen –
Thetford Triplex Oven, 3 gas hob rings
Dometic CRX80 Fridge/Freezer, 80L
Sink and mixer tap
Bamboo worktops
Reco surfaces 'subway tiles' laminate
Removable and adjustable bamboo table on Lagun leg system
Dowsing and Reynolds door handles and pulls
Orange interior to all lockers/cupboards
Magnetic knife and spice rack
Fitted gas locker in garage
Bathroom –
1000mm x 900mm quadrant shower tray
Thetford 365 Portapotti, removable from shower (brand new in box)
Tambourline sliding door
Vallamosse Shower head and mixer
Lighting –
3 x CAB12 main ceiling lighting
1 x CAB12 Bathroom lighting
3 x CAB8 overhead locker galley lighting
1 x Dinette light fitting
2 x Bedside reading lights
1 x Fibre optic 'twinkle' ceiling lighting over the bed
Sadie is currently available and available to view in Peterborough, Lincolnshire. I have more photos and videos available if you wish to see anything in detail or have any questions. Email me, send me a message or head over to instagram and send me a message on there.
Email – poppyallottdouglas@gmail.com
Thanks for your interest – Poppy
Registered Vehicle Type
Other - see description for explanation
Base Vehicle Condition
Used
Converter Type
Self Build - Handcrafted Start-up
Converter Condition
Used - Good
Maximum Weight (MAM or MTPLM)
3,500kg
Unladen Weight Verified?
YES - the vehicle has been weighed since completion
Gas sign-off supplied
None
'We like the style' means that Quirky Campers would approve it for hiring but you must still check that the gas, electrics and weight were done properly. For some tips on what to look out for read this. If the listing has no Gas Safe certificate, no unladen weight and no electrical sign-off please proceed with caution!
Please note: Quirky Campers do not inspect the listings for accuracy or check campervans in person. We have asked sellers to provide evidence of certificates and paperwork however you MUST check yourself that the information provided is present and correct. You will need to exercise the normal due diligence when buying any vehicle.