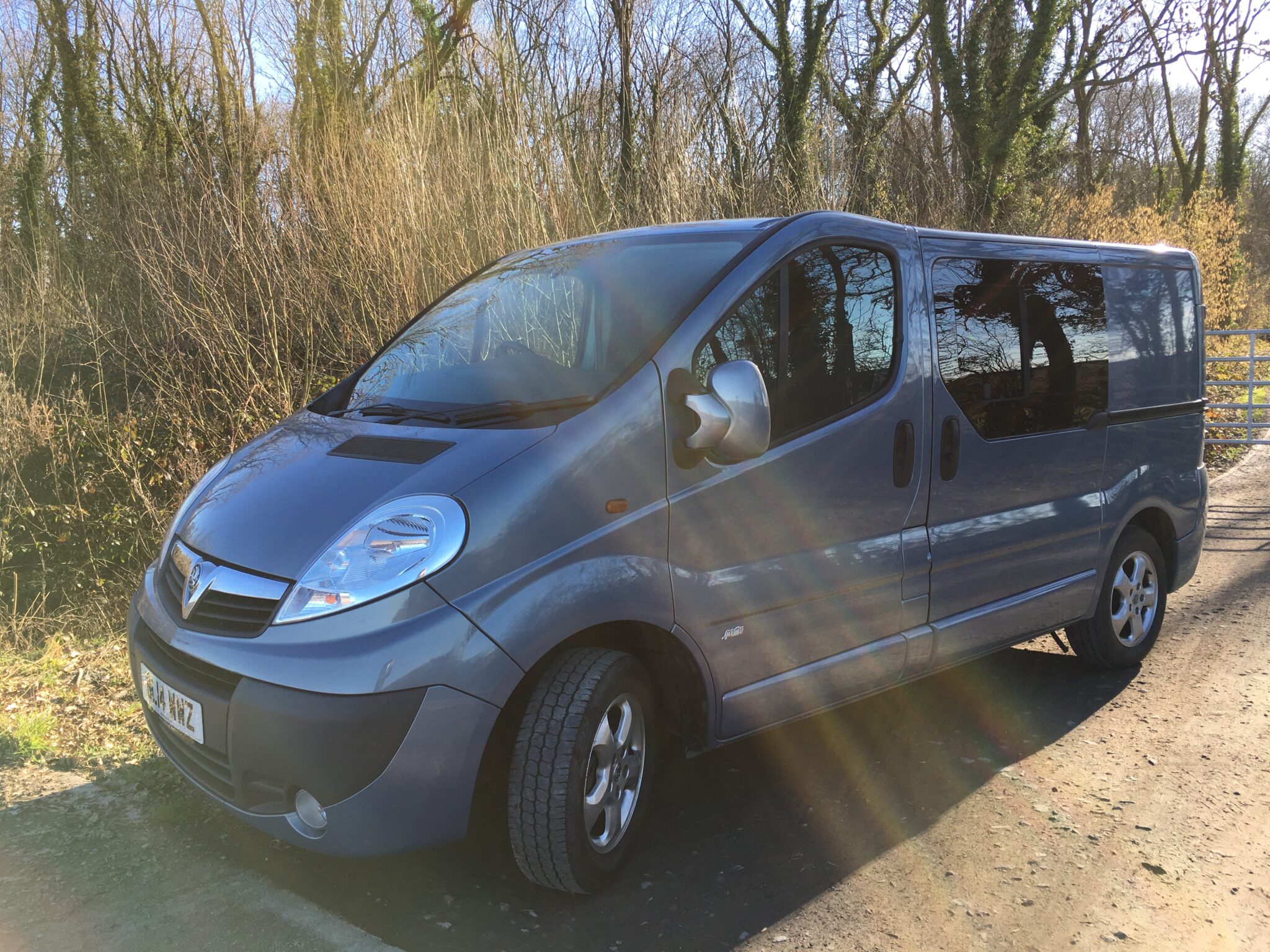 Sold
Vehicle Description
1995cc diesel Vivaro 2700 Sportive CDTI 6 speed.
The on board computer shows a 40 mpg average.
Very well maintained and in great condition. First owned by Dudley motor co, and only 1 other owner.
Loads of receipts and full main dealer service history
.Last service at 85853
Full MOT with no advisories, HPI clear.
Conversion Description
Newly built using a short wheel base Vauxhall Vivaro so a nice economical easy to park and quite stealthy if you want to wild camp.
It's the "sportive" model so comes with all the Sportive refinements – air con, electric windows, colour coded, alloys etc.
Short wheel base so easy to drive around country lanes and park in a normal space yet has all you need in a camper.
Fully insulated.
Hand built rustic cupboards with oak work tops and loads of storage cupboards.
Dometic twin hob and sink.
Dometic CRX50 compressor fridge.
Karndean Oak effect flooring.
12v usb and cigarette type sockets running off the 110ah leisure battery and 240v sockets with usb via hook up.
Leisure battery and smart split charge.
2 opening side windows with hand made blinds.
Side bed that extends to make a double.
10 ltr water storage, and electric powered tap.
Gas cupboard at rear for easy access.
As the DVLA are no longer changing small low top vans to campers on the V5's (and large vans are also very hard to change now) it has been re-registered on the V5 as a van with side windows, insurance companies are aware of this and are insuring as campers though.
'We like the style' means that Quirky Campers would approve it for hiring but you must still check that the gas, electrics and weight were done properly. For some tips on what to look out for read this. If the listing has no Gas Safe certificate, no unladen weight and no electrical sign-off please proceed with caution!
Please note: Quirky Campers do not inspect the listings for accuracy or check campervans in person. We have asked sellers to provide evidence of certificates and paperwork however you MUST check yourself that the information provided is present and correct. You will need to exercise the normal due diligence when buying any vehicle.
Current Mileage
88,850miles
Registered Vehicle Type
Other - see description for explanation
Slide out side bed total of 112cm (44″) wide and 183cm (6ft) long.
Maximum Weight (MAM or MTPLM)
2,700kg
Unladen Weight Verified?
NO - the vehicle has not been weighed since completion
Gas sign-off supplied
None