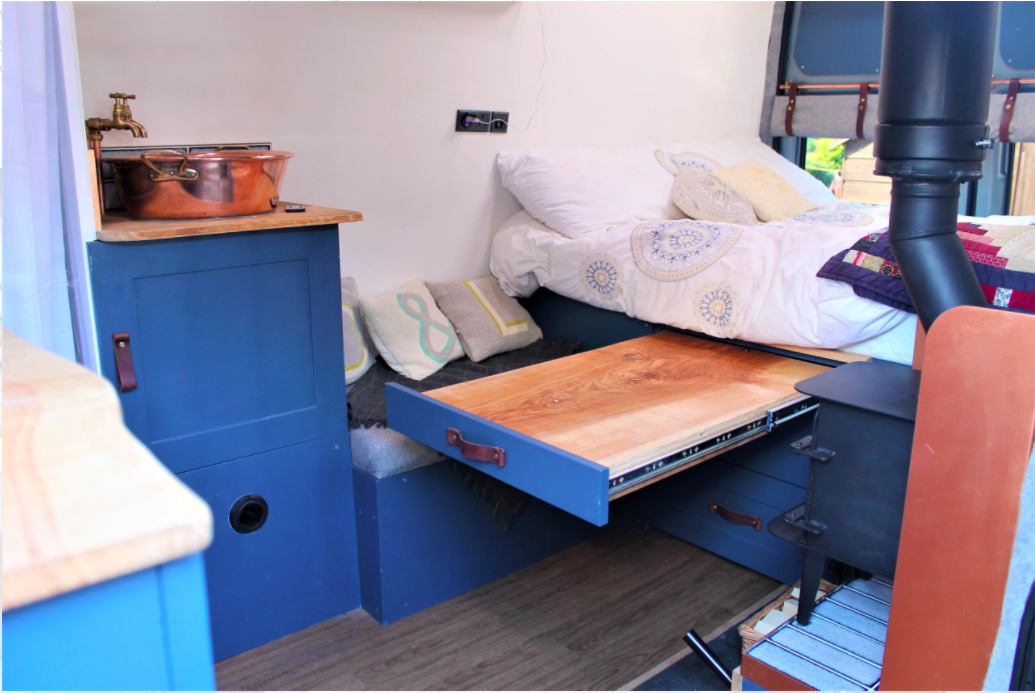 Vehicle Description
Ford Transit 350 LWB High Roof
Gorgeous rare Avalon blue colour
Three owners from new (previously a fleet owned vehicle and very well cared for, until 2019 when the van was converted professionally, and sold to current owner in October 2020)
2013 reg (62 plate) van, professionally converted to campervan in 2019
DVLA authorised change of body type to Van/Side windows and was satisfied with the interior conversion to a campervan
MOT until 27 August 2021
Diesel
Manual, 6 gears
Rear wheel drive
Fuel economy 32mpg motorway driving / 30mpg city driving
Guaranteed weight since conversion 2900kg (max load 3500kg)
Bonded side and rear barn door windows with full tint for privacy. Two skylights let in extra light
Runs beautifully, a pleasure to drive, with great steering and acceleration
Fitted with Michelin Crossclimate rear tyres / Bridgestone Duravis front tyres in 2020
Excellent body and paintwork condition due to previous almost complete body wrap, with very few blemishes unlike most vans of this age (though the odd small imperfection, nothing noteworthy)
Complete underseal to protect chassis from rust carried out May 2019
Rear LED floodlights, back step and tow bar
Steering pump replaced October 2020
Last fully serviced June 2020
Conversion Description
Overall:
A beautiful and smartly-designed conversion, expertly created by Bornwild Vans, a Quirky Campers-verified converter. Bought in October 2020 and lived in for some weeks, but very sadly due to unforeseen changes in family circumstances, it has been on the drive since December 2020 and needs to go to a loving home! Will certainly be sad to part with such a stunning, comfortable and well-equipped van. It has everything you need for fully off-grid adventures year-round. Lots of windows and skylights to keep it bright and airy in summer. The little wood burning stove keeps the van toasty warm in winter and is perfect for warming soup or water if you don't want to use the gas hob. No problems at all to insure with a burner, happy to share all the details but it was really straightforward. The shower cubicle with toilet and solar power mean you can wild camp as long as you like. Fixed double seat and pull-out table give dining and lounge space. Wood effect vinyl tiled flooring is finished throughout. The lovely touches like bespoke blinds and leather blind-holders, matching copper and gorgeous natural ash wood surfaces make this camper an absolute delight to spend time in.
Insulation:
All walls, floor and ceiling are fitted with sound deadening and insulated with a base layer thermafleece (95% recycled plastic bottles) followed by a multifoil insulation and moisture barrier. The custom bulkhead is fully insulated and over-cab storage separates the cab from the rear of van for extra climate control and security.
Heat:
A Erberspacher 2kw Diesel night heater is fitted for those times firewood is in short supply (or you want a cheeky burst of heat first thing in the morning!), and is controlled by a thermostat located above the bed and within reach of the seating area.
The cosy log burner is fitted according to the BS 8511:2010 standard and comes complete with all the necessary heat and fire protection required. It features a neat window for fire-gazing, gorgeous copper-effect aluminium heat guards, an insulated twin wall flue, high temperature flashing, an all weather cowl on the roof, floor ventilation, a beautiful handmade tile surround, natural Welsh slate hearth and a neat log and fireplace tools store underneath. There is an onboard fire extinguisher, blanket and Co2 alarm for peace of mind.
Lighting, venting and windows:
The interior is lit by four led spotlights controlled by a switch above the seating area. Copper-wired fairy lights are also fitted throughout the van for extra ambiance, which run off the 12v USB socket and are remote-controlled with various different settings. Cab-controlled exterior LED floodlights to the rear are useful for loading and unloading at night.
A Flettner ceiling vent and floor vents underneath the fireplace and inside the gas locker provide extra air flow for safety and circulation.
Two adjustable roof lights are fitted for additional ventilation and light, one large with blind located at the rear above the bed and one small in the shower room. Both have bug screens for keeping those creepy crawlies out.
Three large bonded tinted windows provide excellent panoramic views whilst maintaining privacy, and all windows have lovely custom made-to-measure insulated black out curtains with magnetic catches, copper rails and leather fasteners. The side window opens with a slider for ventilation when cooking.
Electrics:
130ah AGM leisure battery
Victron Blue Smart IP65 12V 15A professional charger with built-in Bluetooth for use with mobile app
2 x 80 watt solar panels with Victron Energy SmartSolar Charge Controller MPPT 75/15 also with Bluetooth
240V hook up and consumer unit – all fully signed off
Interior USB ports and 240V plug for gadgets
Water:
The 75L freshwater tank, pump and heating system are all internal (preventing freezing during winter months), and are located under the fixed double seat and in the cupboard under the sink. These provide hot and cold running water in the sink and shower room, and are easily filled and drained. Hot water is supplied by a Propex Malaga water heater which runs off gas when off-grid and is shower ready in around 15 mins, or can be used with 230v setting when hooked up to reduce warm-up time to around 10 mins. Select gas or 230v or both at the control panel. Grey water runs out to a 23L portable waste tank at the underside of the van. (We find we're much more conscientious about not using pollutants and conserving water if we store and dispose of this by way. Having said this there is always the option to fit an underslung grey water tank without any bother). A food-grade hose pipe is included for filling up the freshwater tank at taps or in campsites.
Cooking and Eating:
A interior 8mm propane gas system feeds countertop two-hob burner and IMASS water heater. The gas locker under the kitchen worktop is complete with fixed regulator and double manifold and comes with a full landlord gas system certificate. There is ample storage space for food and utensils in kitchen area with two large drawers and overhead cupboard. There is a 50L fridge with ice box option. A useful ash wood worktop extender pulls out from underneath the countertop for extra food prep space, and a beautiful ash dining table pulls out from under the fixed bed for dining and card games.
Washing:
There is a fully fitted internal shower room with hot shower and removable Thetford portaloo for complete privacy (with eco-liquid suitable for emptying in septic tanks), so that you can stay fresh and clean wherever you are and in all seasons! The shower room doubles up as extra storage when not in use (e.g. for waste bin), and has hooks for towels and a shelf for toiletries.
Storage:
A large insulated above-cab storage locker is provided for food and essentials and shower storage shelf for toiletries etc. Mug and spice racks make keeping the kitchen tidy a breeze. Two large storage drawers below the kitchen countertop are for utensils and supplies, and there are two XL drawers under fixed bed for clothes. There is also a cupboard above the sink for toiletries, toothbrushes or cleaning products. Three useful shelves throughout the van are good for all kinds of trinkets and useful items. There is a garage area under the bed for overflow or less-used items, accessible from inside and outside van.
Seating and sleeping:
There is a comfortable double seat opposite the log burner, with slide-out table and ample leg room, perfect for cosy nights in. Ample space on the fixed double bed helps you spread out when you have guests. The fixed super strong double bed with comfortable medium firm memory foam mattress comfortably sleeps two and suits the present owners who are both medium build and under 6ft tall. Bed total size is W122xL170xD15cm.
Flexibility:
The converter created a built-in a system for utilising the van for transporting larger cargo, which also gives the option for other interior layout options. The rear middle section of the current fixed double bed (base, drawers and extendable table) is a completely removable unit on lockable castors. This can also be pushed to the very rear of the van to make room for a camp bed on the floor. Removing the unit completely along with the mattress leaves two bench style seats and access to the full length of the van for large cargo via the garage area. Cargo can be secured by way of anchor points in the remaining benches. An alternative layout could be achieved here comprising bench-style sofa seating and a pack away bed with very little extra investment.
Unique features:
This build is full of exciting unique features such as…
Beautiful oiled waney edge ash worktops all made from a single piece of timber (½ inch thick to minimise weight)
Handmade ceramic tile back-splashes
Repurposed copper jam pan sink with brass taps, matching the copper kettle and fire surround
Cosy wood burner with tiled fireplace, log store, copper kettle and surround, Welsh slate hearth
Stylish leather pull handles on all drawers and cupboards
Farrow and Ball paintwork
Fitted thermal blackout curtains on quirky copper rails with leather detailing
Beautiful handmade solid ash shelves and detailing throughout
Hand axe mount with leather strap by front door
Entrance step matted for dusting off dirty shoes
Completely removable rear storage to utilise the full length of the van
Recap of the main features:
3 belted seats
2-3 birth sleeping
Separate cab for security
Insulated bulk head
Fixed double bed with storage drawers and pull out wooden dining table. (The middle section of the bed and storage chest underneath is removable so there is an option to make a bigger seating area and pack away bed if preferable).
Rear garage storage area
130ah AGM battery
240v hook-up (lead supplied)
USB sockets and 240v socket
2x80w solar panels and SmartSolar Charge Controller
Bluesmart charger
Erberspacher Diesel Night Heater thermostat-controlled
Wood burning stove with slate hearth and log store and fire tools
Solid waney edge ash worktops
Tiled splashback and fire place
Plenty of storage
75L fresh water tank
23L portable waste tank
2-burner countertop gas hob
Repurposed copper jam pan sink with hot and cold taps
Water pump with isolator and filtration
Propex Malaga 5E water heater
Interior gas locker with fixed regulator and two way manifold
Shower room and hot shower with storage shelf
Fridge (50L with optional freezer compartment)
3 large windows in living area for great panoramic views but also tinted for privacy and each with custom thermal blackout curtains
Solid ash pull-out dining table
Seating area
Interior LED switch-controlled lighting and remote-controlled fairy lights
2 skylights (one central rear and one above shower) for extra light and ventilation
Flettner roof vent
Thetford chemical toilet with eco-liquid included
Fire extinguisher, blanket and Co2 alarm
Food-grade water hose
'We like the style' means that Quirky Campers would approve it for hiring but you must still check that the gas, electrics and weight were done properly. For some tips on what to look out for read this. If the listing has no Gas Safe certificate, no unladen weight and no electrical sign-off please proceed with caution!
Please note: Quirky Campers do not inspect the listings for accuracy or check campervans in person. We have asked sellers to provide evidence of certificates and paperwork however you MUST check yourself that the information provided is present and correct. You will need to exercise the normal due diligence when buying any vehicle.
Make and Model
Ford Transit 350 LWB High Roof
Current Mileage
113,000miles
Registered Vehicle Type
Other - see description for explanation
Fixed, strong double bed with a very comfortable memory foam mattress. Has comfortably slept two people under 6ft tall. Width 1.22m x length 1.7m. The bed construction also features a built-in system to enable you to use the van for transporting larger cargo, which provides options for alternative interior layout. The rear middle section of the current fixed double bed (base, drawers and extendable table) is a completely removable unit on lockable castors. This can be pushed to the very rear of the van to make room for a camp bed on the floor, or taken out entirely for extra space underneath. If the mattress and drawer unit is removed, the bed can be turned into day seats.
Maximum Weight (MAM or MTPLM)
3,500kg
Unladen Weight Verified?
NO - the vehicle has not been weighed since completion
Gas sign-off supplied
Landlords Gas Safe Certificate