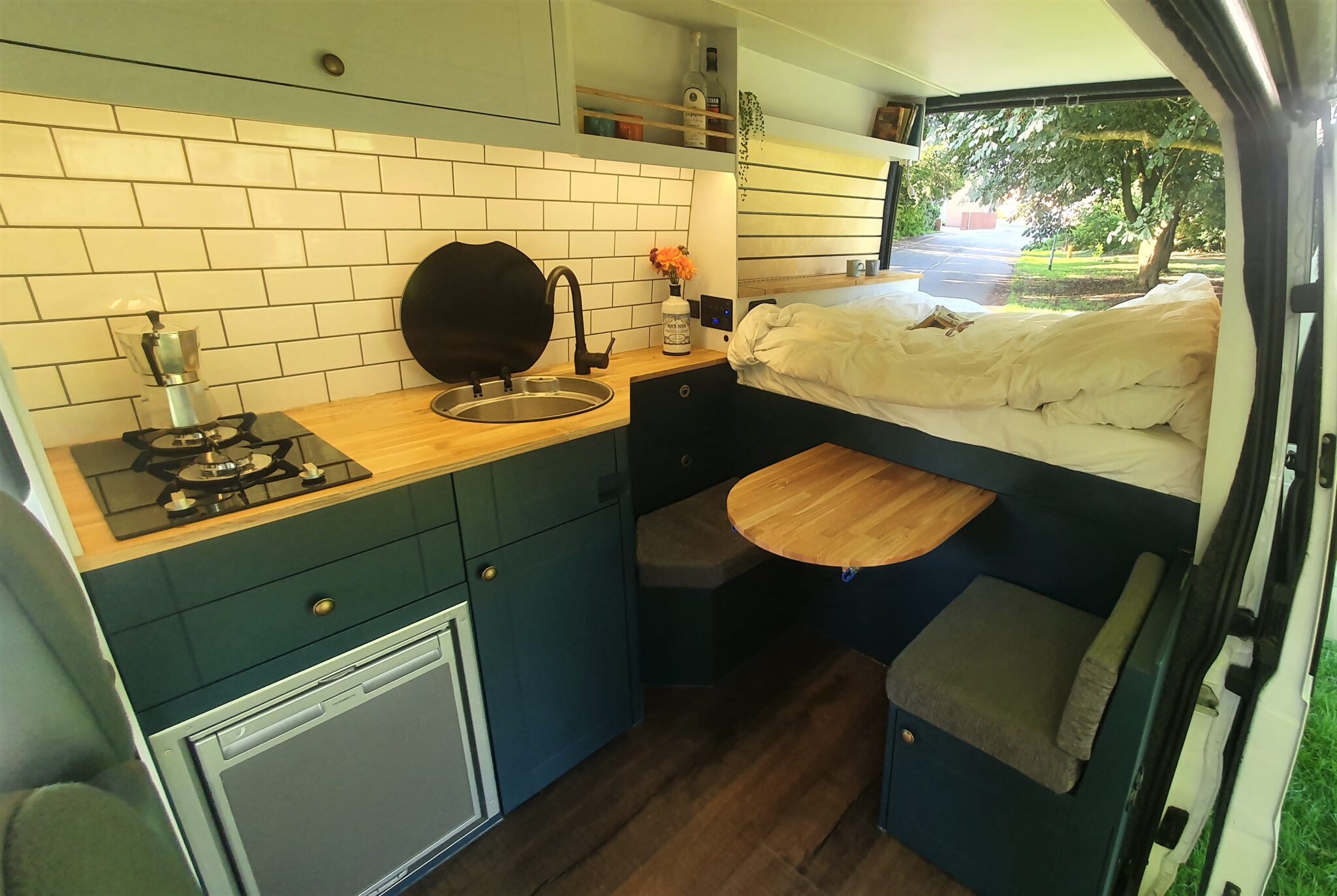 Sold
£22,500
Ford Transit Mk7 MWB High roof. Rear wheel drive.
126,900 miles
Vehicle Description
High Roof Ford Transit Mk7, Rear wheel drive, Medium Wheel Base, 2.4l diesel engine 115bhp
Manual 6 speed transmission. Big but not too big to fit in a normal car park space!
First registered in 2009 with 2 owners, I have owned this van since 2010 from 5000 miles.
Tow Bar (may need condition checking as hasn't been used for a while)
Mileage: slightly under 126,900
MOT valid until: 26/11/21 – All previous MOT certificates present
Bodywork condition: Good relative to its age. Very minor wear and tear marks.
Service history: I have most if not all of either service log book stamps or better still the garage service receipts detailing any work done.
Beds Description
Bespoke extendable main bed that functions as a sofa during the day, with a fixed non removable mattress section of 1270mm (front to back) x 1370mm (side to side) to maximise van living space. Easily transforms into an extra long (2000mm), full width (1370mm) double bed. I'm 6'4″ so a long enough bed was an important design point!
Conversion Description
A versatile campervan with rental potential
Background:
As a couple, this van has served us wonderfully for various adventures and road trips around the country. However, we now find ourselves with 2 small children and it's time to say goodbye to our first baby! Over the last few months it's had a re-design with all new fittings, built to a professional standard through my 14 years experience as a carpenter/joiner.
Design:
Aesthetically, A 'Hague blue' and dark shades lower level makes way for an upper level of lighter tones with timber features. When the rear doors are open, the horizontal birch ply slats with contrasting shadow gap leads your eye out to whatever glorious viewpoint you are parked up at.
The main drive/brief for the design of this van conversion was to try and get away from the rustic style and tongue-and-groove board ceilings that seem to be ubiquitous with many camper conversions and explore a slightly more modern/minimalist yet still appealing style.
*Watch a walkaround video here: https://youtu.be/smuXZRIKk0c
General:
– Insulation:
I carried out extensive research before I commenced this step of the build and eventually arrived at the following combination. Both of the insulation types I used appealed because they were both impervious to any sort of condensation. The entirety of the rear section (and above the cab) is insulated with Actis Hybris 40mm insulation in any available cavity and then an uninterrupted layer (including the floor) of SuperQuilt Multifoil insulation which doubles as a vapour control layer. This is not far off a combination equivalent to that used in houses.
– 70% tinted windows fitted to the side sliding door (with opener) and rear barn doors
– Carpet lining to all exposed metal surfaces in living section (Including doors)
– Roof access ladder fitted to rear door
– Roof bars fitted, very handy for surfboards, kayaks or other larger items
– As you can see, this vehicle has been weighed since completion (and with both water tanks full) at 2640kg. This means there is a whopping 860kg you could add before it reaches its max payload.
Kitchen/Living space:
– Solid oak worktop on 'Hague blue' birch ply kitchen units. Shaker style doors and drawer fronts. Antique bronze style handles/knobs
– Soft close cupboard door hinges and drawer runners
– Double burner (Thetford Topline 922) with integrated piezo ignition
– Thetford round bowl sink with hinged lid
– Matt black kitchen tap
– White brickbond flat mini-metro tiled splashback around kitchen area
– Integrated Dometic CRX50 fridge/freezer with MPS 35 adapter for effortless 12v/240v switchover
– Large under sink storage cupboard with shelf
– 1 large full depth drawer
– 2 other drawers
– 2 built in upholstered seats, one of which houses the leisure battery, with some extra room to spare for storage.
– Thetford Porta-potti Qube 345. Housed underneath the other seat. Designed to be easily accessible when the bed is fully extended
– Retractable solid oak dining table on 'lock-in/lock-out' heavy duty drawer runners
– Antique oak effect 'Karndean' style flooring. Very hard wearing.
– Above cab cupboard storage. Decent size cupboard space that utilizes the whole above cab area. Also has a hidden USB/12v socket. Door opens upwards on gas struts for ease of use.
– Above worktop cupboard. Door also opens upwards on gas struts
– Above worktop shelf. Open shelf with oak dowel restraints
– Blackout curtains fitted to side door and rear doors.
– Flettner roof vent fitted.
Bed space:
– Fixed bed section. Doubles as comfy sofa/chill area. Brand new bespoke 150mm memory foam mattress with fitted cover
– Slide out bed section with extra mattress piece that doubles as sofa back when bed not in use
– Solid oak shelf that runs alongside and just above fixed bed section houses 2x cubby holes, easily accessible via hinged panels. Shelf is ideal size and location to perch a laptop or other device, with the necessary charging powerpoints too
– High level shelf for storage
'Garage' / Rear space
– *Just fitted* water-saving shower head on 3m flexi hose. This can be used as an external shower if off grid for a few days (probably not in the winter as cold water only!), or for rinsing things down.
This (usable) space is approximately 1200mm front to back, approximately the same width ways and around 600mm in height. It's been lined on the base with heavy duty rubber flooring. As you look in from the rear to your left is the freshwater tank and to your right is first the gas locker for easy access and then the electrical cupboard, which is enclosed by 2 sliding doors.
Electrical:
– Main lights: 2x Warm white LED strips that run in diffused channels the full length of the van. Controlled by a discreet but centrally placed touch dimmer.
– Under cabinet lights: Hidden warm white LED strips run the length of the worktop to provide good lighting whilst using the kitchen space. Controlled by on/off switch on main control panel.
– Goose neck bed light. Controlled by on/off switch on light unit itself and by switch on main panel.
– Main control panel has 5 on/off switches (pump, hob, socket, 2x lights) leisure battery voltage read-out, 12v socket and double USB charge point
– 3x 12v socket/double USB positioned: above cab cupboard, bedside shelf and side door seat.
– Double 240v socket (hook up)
– Single 240v socket (Inverter)
– 200AH AGM Xtreme XR3500 Leisure battery. Charged via solar, split charge relay and mains hook up
– CBE dual tank gauge, fresh and waste water. Display positioned next to main switch panel, easily seen from living space.
– Victron Energy Smart Bluetooth Battery Charger – charges leisure battery when on mains hook up
– Victron Energy Phoenix Inverter 12/500
– 150w Solar Panel with MPPT controller and bluetooth module
– 240v hook up comprises of: External 240 point (rear drivers side), RCD unit
– Split charge relay, charges leisure battery when driving
– Dometic CRX50 fridge/freezer
– 12v 6 way fuse board
– Fitted by a professional electrician
Water:
– Water saving shower head at rear of van on 3m flexi hose
– 57 litre fresh water wheel arch tank, fitted in rear garage area. Filled via external lockable Fiamma water point. Has level gauge sensor installed.
– 60 litre grey water tank fitted to underside of vehicle. Easily accessible drainage tap. Also has level sensor fitted.
– Shurflo Trailking Bulkhead pump (7l/min, 20psi), Shurflo inline strainer fitted before pump, Fiamma A20 expansion tank fitted after pump to ensure even water pressure
– Whale Aquasource water filter fitted, location is in cupboard below sink.
Gas:
**Landlords gas safe certicate**
– Steel locker with gas drop out vent, bottle securing strap and bulkhead regulator. Can fit a 4.5kg butane gas bottle or the smaller 907 campingaz bottles. I can include the fitting required to fit the hose onto a 907. Continuous 8mm copper pipe runs from the regulator inside the locker to feed the hob. In the cupboard space below the hob there is another floor vent as required at any joint in a gas pipe.
Other General notes:
– Radio/CD player
– Bluetooth module to connect devices via aux in
– Jack/kit for changing tyre (full size spare tyre is included and stored on the underside of the van)
– 2 keys, main remote key and spare
– All manuals for fitted modules/appliances will be included
Listed elsewhere so may be taken down at any point.
Registered Vehicle Type
Panel Van (meets DOT standards)
Base Vehicle Condition
Used
Maximum Weight (MAM or MTPLM)
3,500kg
Unladen Weight Verified?
YES - the vehicle has been weighed since completion
Gas sign-off supplied
Landlords Gas Safe Certificate
Quirky approved and ready to list
We like the style
'We like the style' means that Quirky Campers would approve it for hiring but you must still check that the gas, electrics and weight were done properly. For some tips on what to look out for read this. If the listing has no Gas Safe certificate, no unladen weight and no electrical sign-off please proceed with caution!
Please note: Quirky Campers do not inspect the listings for accuracy or check campervans in person. We have asked sellers to provide evidence of certificates and paperwork however you MUST check yourself that the information provided is present and correct. You will need to exercise the normal due diligence when buying any vehicle.