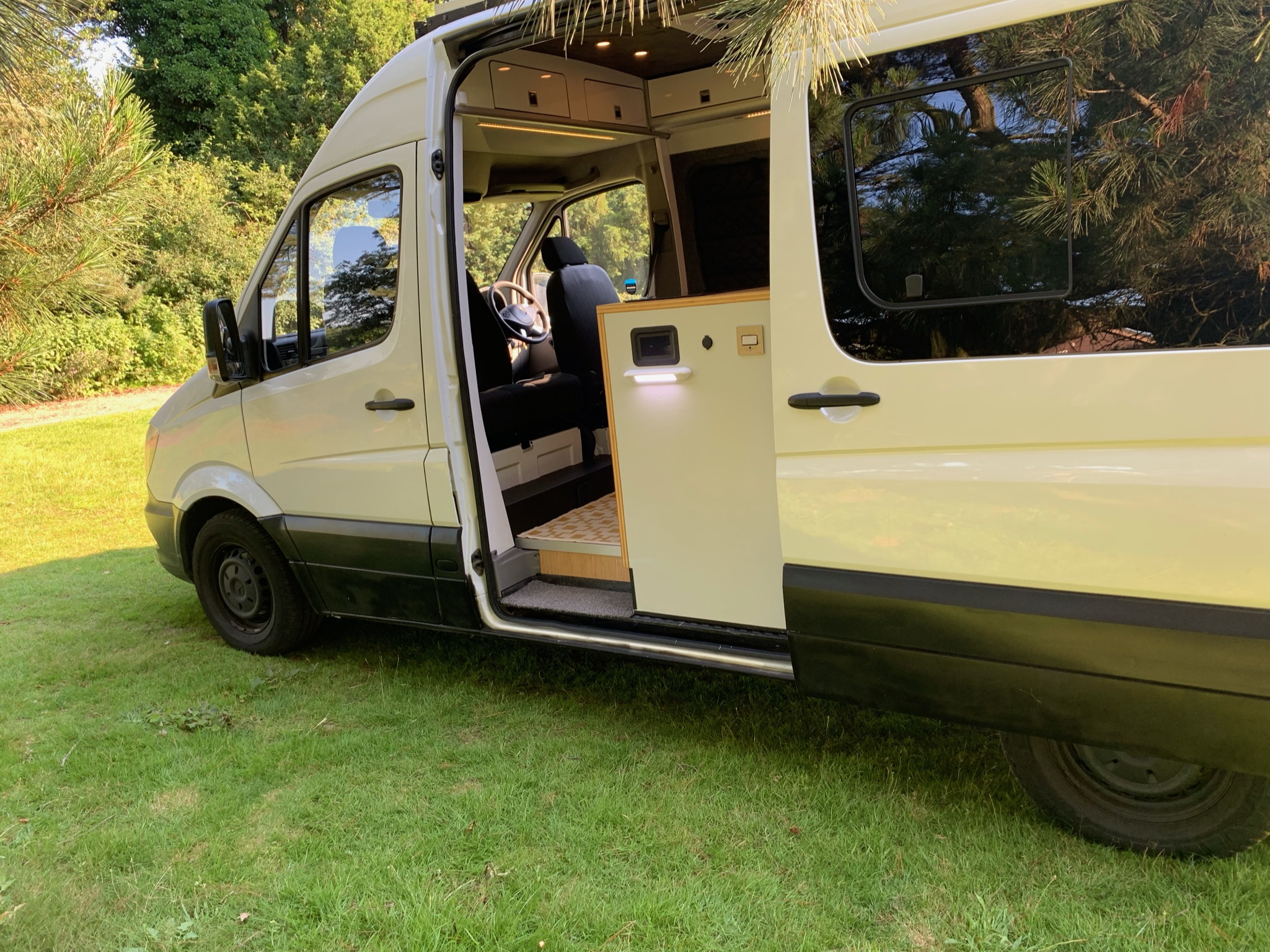 Vehicle Description
Vehicle Description
Mercedes Sprinter MWB

Fuel: Diesel

Mileage: 160,300


Year: 2013

Engine size: 2143CC

MOT: July 2022

Number of Gears: 6

Cruise Control

Radio with Bluetooth Phone Connection
Conversion Description
Cab and Drive
– iPad docking in cab and living area for Sat-Nav and entertainment
– Reverse Camera
– Air suspension makes the ride super comfortable and stable on the motorway
– Mini air compressor for tyres and air suspension
Kitchen/Living and comfort
– 5kw diesel heater with remote control
– Dometic Heki sky light with integrated insect screen and black out blind
– Maxx Fan deluxe with remote control
– Marine ply ceiling wrapped with Alcantara fabric
– Camplux gas shower provides instant hot water
– Bullfinch External Shower Point
– 10 LPM Shurflo water-pump with Shurflo accumulation tank
– Dometic sink and Tap with additional drinking water tap and pump
– Thetford 2 ring Induction cooker
– Dometic Waeco CRX110 CoolMatic Compressor Motorhome & Campervan Fridge Freezer
– 75L Underslung Fresh Water Tank
– 20L Drinking water tank under sink
– 20L Grey Water storage under sink
– Van comes with 13 piece Tefal induction cookware set
– Worktops are 22mm Solid Bamboo, finished with 3 coats of OSMO Oil.
– Swivel Lagun table with solid Bamboo top
– Double swivel seat with EURO NCAP safety rating
– Heavy duty Altro flooring throughout
– Custom made carpet in the living area
– 14 layer custom made window and fan covers attach with poppers
– Porta Potti toilet under bench
– Electric hook-up cable
Electrical Set-up and Lighting
– Victron Electrical system accessible via smartphone and Bluetooth- or remotely with Van WIFI
– Victron Solar charger
– Victron Battery to battery charger
– Victron Battery monitor
– Victron 3000w Multiplus Inverter
– 200 AH Relion Lithium-Ion batteries
– 310W German Solar panels – 1 Rigid Xplorer panel and 1 flexible marine panel to allow full usage of the composite roof deck
– Pop up sockets in living/kitchen area with 3 x 240v sockets and 2 USB sockets
– 240v socket in the garage area
– USB and USB-C charging points in kitchen, in the back of the garage, above the bed
– Independent touch dimmable lights in living/kitchen area and sleeping area
– Touch dimmable lights below all 3 high cabinets in sleeping, kitchen and dining area
– Garage lights under bed
– Lights inside cabinets for easy accessibility to storage, plumbing and electrical system
– Reading light above bed
– Outside flood beam lighting at the back
– Waterproof Dream Lighting outside at kitchen and on the back barn door
– 50inch 288w curved LED light bar
– Plinth colour mood lighting
2 thirds of the van has been covered in Dodo mat + Insulation and moisture barrier to a high standard, combined with the handmade window covers makes for a near sound proof van inside.
'We like the style' means that Quirky Campers would approve it for hiring but you must still check that the gas, electrics and weight were done properly. For some tips on what to look out for read this. If the listing has no Gas Safe certificate, no unladen weight and no electrical sign-off please proceed with caution!
Please note: Quirky Campers do not inspect the listings for accuracy or check campervans in person. We have asked sellers to provide evidence of certificates and paperwork however you MUST check yourself that the information provided is present and correct. You will need to exercise the normal due diligence when buying any vehicle.
Make and Model
Mercedes Sprinter 313 CDI MWB
Current Mileage
160,300miles
Registered Vehicle Type
Panel Van (meets DOT standards)
Vehicle length
5,910.00meters
– Imported FlareSpace flares enable full double bed to perfectly fit sideway to allow for a spacious kitchen/living area
– High cabinets and integrated lighting from EVO-Motion design
– Bed frame is removable with 4 bolts to turn the van into a large day van
– Elastic Storage and reading light at headboard
Maximum Weight (MAM or MTPLM)
3,500kg
Unladen Weight Verified?
YES - the vehicle has been weighed since completion
Gas sign-off supplied
Gas free