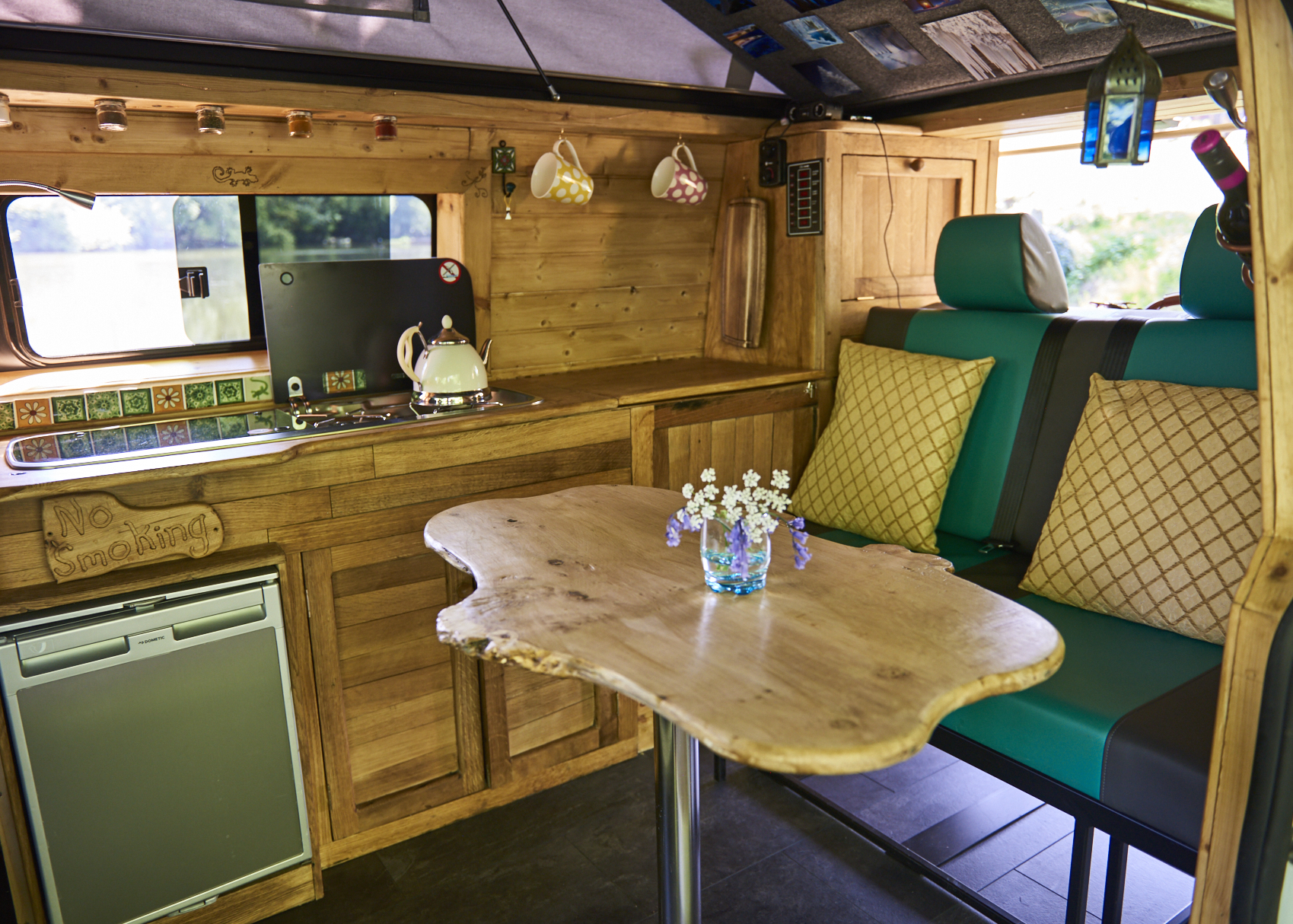 Vehicle Description
* 6 gear transmission.
* Cruises really well, parks very easy due to side and reversing camera.
* MOT until late January 2022 (passed every time so far).
* Regularly serviced, with full history.
* Good condition, well looked after 2.0 liter engine.
* Bran new gearbox.
* Body has some small marks here and there as expected but otherwise in good condition.
* Very fuel efficient for a Campervan, 38 mpg (8.5 miles per litres).
Beds Description
Serenity has 2 double beds – one main bed and one pop top bed – that can sleep 4 adults or any combination of adults and children.
Both beds are a respectable 6'2″ long and 3'8″ wide and a memory foam topper is included that increase comfort.
Conversion Description
Serenity has been hired out with Quirky Campers for 3.5 years; she hires very well, earning £10,000 per year with an average profite of £7,00 per yr.
Serenity was handcrafted with care from reclaimed oak whisky barrels in a husband-and-wife workshop in the mountains of Scotland.
Now living in Bristol, with a compact exterior and a cleverly flexible interior, Serenity is just as suited to a romantic trip for two as to taking a family of four holiday.
* Sleeps four, drives four.
* Two double beds, both are a respectable 6'2″ long and 3'8″ wide. Bedding and pillows provided for both beds.
* Luxurious memory foam mattress topper for the double bed.
* Handy reversing camera.
* Bluetooth speaker.
* Gas heating.
* Sink with tap and electric water pump, 23L water tank.
* Two hob gas cooker.
* Beautiful spice rack.
* Cooking, reading and fairy lights.
* 12v electric fridge.
* Solar panels with large, deep cycle batteries leisure.
* Kettle, pots, pans, coffee plunger, plates, bowls, cups, glasses, cutlery, cooking and bread knifes, spatulas and wooden spoons.
* Privacy curtain for windscreen and front windows.
* Cassette toilet.
* Outdoor electric shower and pop up privacy tent.
* Awning.
* Outdoor table and four chairs (in beautiful metal and wood style).
* BBQ.
* Wine rack and wine glass rack.
* Fire extinguisher, smoke alarm, carbon-monoxide alarm.
Registered Vehicle Type
Motor Caravan - approved
Base Vehicle Condition
Used
Converter Type
Professional - Handcrafted
Converter Condition
Used - Excellent
Maximum Weight (MAM or MTPLM)
2,950kg
Unladen Weight Verified?
YES - the vehicle has been weighed since completion
Gas sign-off supplied
Gas Safe Certificate
Quirky approved and ready to list
Currently listed on Quirky
We like the style
'We like the style' means that Quirky Campers would approve it for hiring but you must still check that the gas, electrics and weight were done properly. For some tips on what to look out for read this. If the listing has no Gas Safe certificate, no unladen weight and no electrical sign-off please proceed with caution!
Please note: Quirky Campers do not inspect the listings for accuracy or check campervans in person. We have asked sellers to provide evidence of certificates and paperwork however you MUST check yourself that the information provided is present and correct. You will need to exercise the normal due diligence when buying any vehicle.