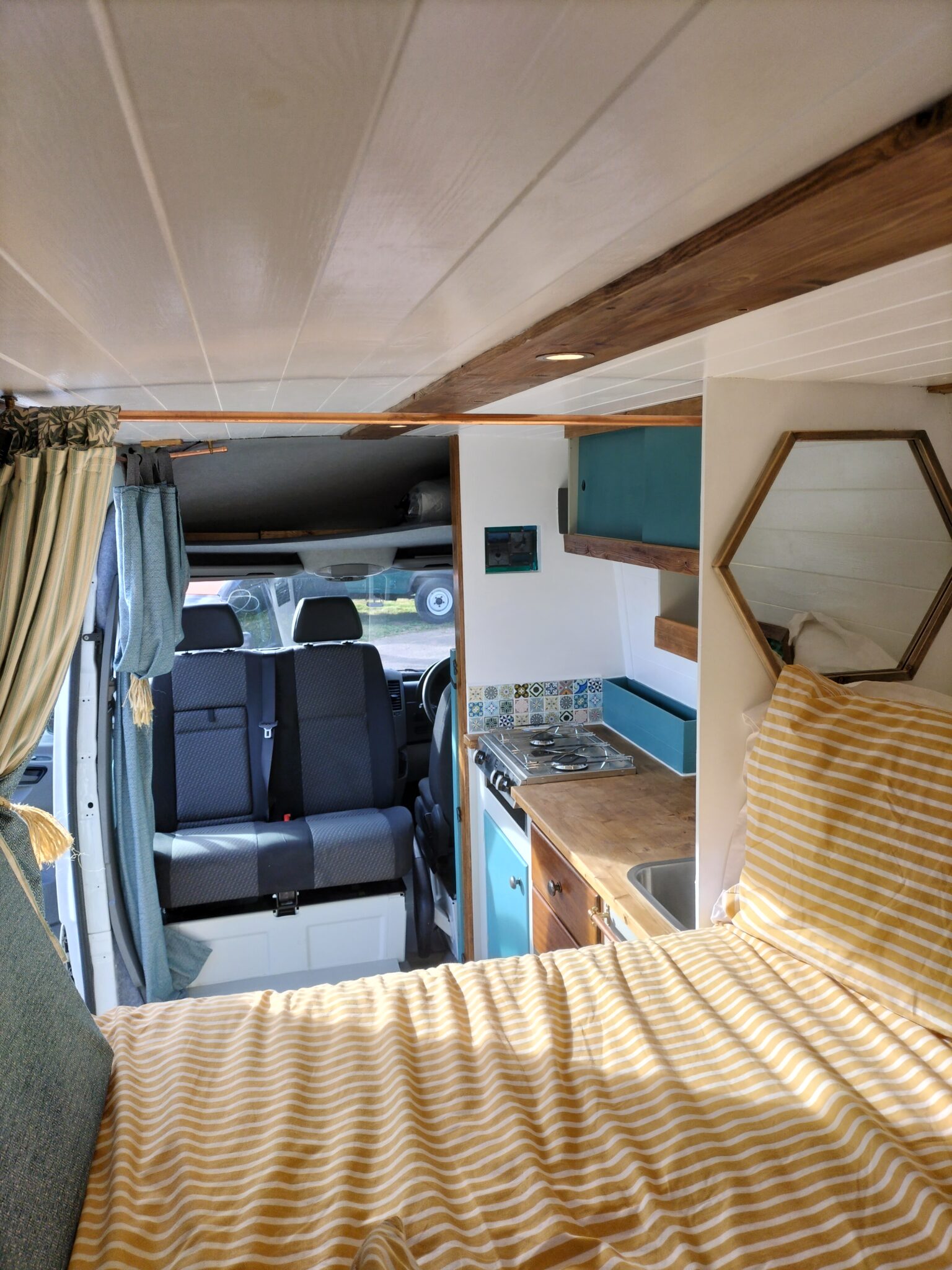 Vehicle Description
The van is a 2L diesel with a 6 speed gearbox. The engine is in good condition with a recent full service and a new cambelt. We get about 40mpg on average with careful driving. The bodywork is also in good condition. Mot is until 6th May 2022.
Beds Description
There is a fixed double bed measuring 1.65 X 1.55 extending to 1.65 X 2.00. There is a new foam mattress.
Conversion Description
This camper has been lovingly built to an exceptional standard. The van was stripped completely with all bare metal treated with anti-rust paint. 'Dodo dead mat' was installed followed by 1 and 2 inch cellotex and therma fleece. A vapour barrier was added before the final tongue and groove.
There is an aluminium 8 bar roof rack with roller, which holds the 2 X 100w solar panels. There is still plenty of space for outdoor persuits equipment. There are 2 X 110ah leisure batteries which are both new. These run all the touch sensitive lights, compressor cool box, remote controlled diesel heater, and the many charge points. The double front seats swivel and come with crash test certificate supplied by R and J camper solutions.
2 X 25L water storage tanks and 15L waste tank all with easy access. The waste tank has an easy accessable tap for waste disposal.
The LP Tasman double ring hob has a grill as well, and a good sized sink. Water is supplied by foot pump.
There is lots of storage throughout the vehicle. All upholstery and curtains hand crafted by myself. This makes the van a very warm and cosy vehicle for winter travel.
Registered Vehicle Type
Panel Van (meets DfT standards)
Base Vehicle Condition
Used
Converter Type
Self Build - Handcrafted Expert
Conversion Condition
Used - Excellent
Maximum Weight (MAM or MTPLM)
3,500kg
Unladen Weight Verified?
YES - the vehicle has been weighed since completion
Gas sign-off supplied
None
'We like the style' means that Quirky Campers would approve it for hiring but you must still check that the gas, electrics and weight were done properly. For some tips on what to look out for read this. If the listing has no Gas Safe certificate, no unladen weight and no electrical sign-off please proceed with caution!
Please note: Quirky Campers do not inspect the listings for accuracy or check campervans in person. We have asked sellers to provide evidence of certificates and paperwork however you MUST check yourself that the information provided is present and correct. You will need to exercise the normal due diligence when buying any vehicle.