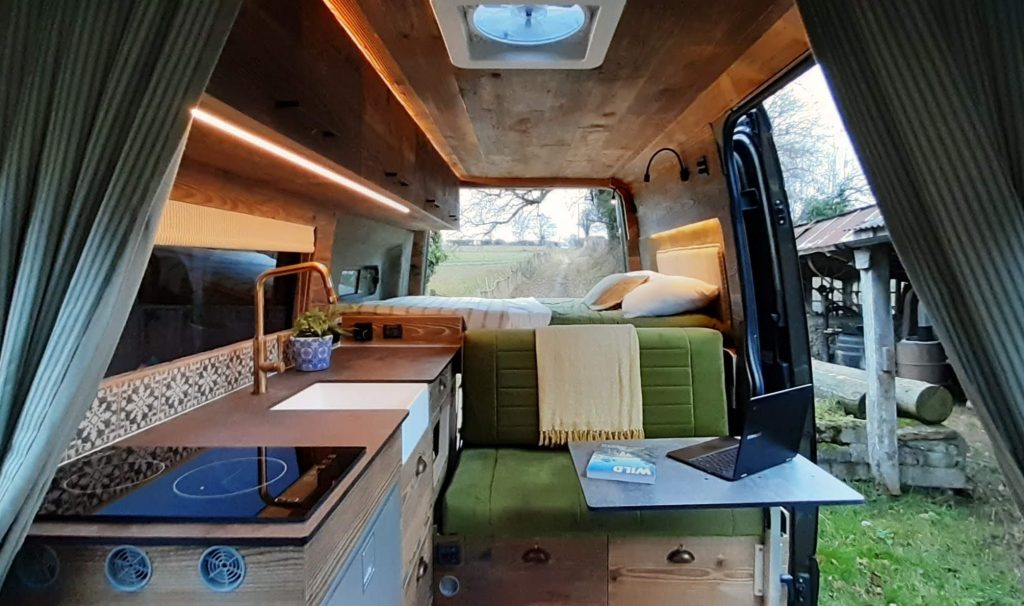 Waiting List
Next availability November 2023
Homesmith Campers provides bespoke conversions designed specifically for your own personal adventure with a focus on electric, gas free, off-grid capabilities.
We are a family business which evolved from many years of travelling, in particular, a year-long adventure travelling across Canada and America in our converted van. We learnt pretty quickly what works (and what doesn't!) when living full time on the road as a family of four. Experienced travellers, we are able to offer practical advice whilst working with you to help tailor your van to your needs.
With years of experience in property development and a passion for small scale off-grid living, Homesmith Campers offers a complete service,  allowing you the opportunity to own a campervan that is as individual as you are.
As a retired RAF Officer,  attention to detail is at the heart of everything I do.   As a qualified carpenter and electrical installer, we pride ourselves on utilising these skills along with our passion for adventure and van travel to offer unique solutions to clients' needs.
∗∗∗∗∗  If you're planning your dream camper then I can recommend Homesmith without reservation. James has been a total pleasure to work with from start to finish which has made the entire experience massively fulfilling, stress free and great fun. His open and easy communication throughout the build has been hugely appreciated as well as his can do attitude – always open to suggestions and happy to work with you to find the best solution. The result – everything delivered with meticulous planning, clear scheduling and transparent costs. What a total joy.  My finished van is utterly wonderful, beautifully lit interiors, thoughtful attention to detail, practical application, lovely craftsmanship and everything in its place.  It's a big important decision if you're serious about building the van of your dreams, but I can tell you wholeheartedly that you're in super safe hands with James. Without doubt his business is going to fly.  Wishing you every best wish for the future. – Rachel and Pete.
∗∗∗∗∗   Having looked around for a converter for our Fiat Ducato for some time and not quite finding anyone we were comfortable with, we had a call with James and were reassured straight away by his easy going, honest and approachable manner.  As this is our first campervan we were hoping for advice along the way on options we should and shouldn't consider and we weren't disappointed. Throughout the build James gave great advice based on his previous wealth of experience.  We agreed a timeframe and he came in as planned in fact slightly ahead. We also agreed his costs upfront and again came in as planned. A detailed cost breakdown was provided and updated throughout the project. Very clear and transparent process.  Plenty of discussion as we needed along the way and always easy to contact. Regular photos as the work progressed and was always positive to act on our feedback.  The end result was just what we had asked for. We are over the moon with the results.  A pleasure dealing with James and Sarah and would highly recommend. Nice people to do business with.  Thanks again. – Kevin &Pauline.
∗∗∗∗∗   We worked with James to convert our Citroen Relay into an off grid adventure camper for mountain bike and hiking trips. From a vague Pinterest Board, a budget and some rough measurements James was able to guide us through loads of options and decisions that without his real experience of living in his van would have been really difficult for us.  Once we had settled on a plan we had regular chats about options and had just the right amount of input without feeling like we had to choose every detail. Communication was great throughout the build and we especially looked forward to Friday night photos!  We are so pleased with the final result. James hit every part of our brief and his suggestions for changes or alterations have all turned out to be correct. Overall we could not recommend the service, communication or final build highly enough. We feel our van is exactly the style and function we wanted but combined with James's experience of living in and working on other vans. We would certainly use him again but we love our van so much we can't imagine needing another!  – Micheala & George
∗∗∗∗∗ When we decided that we wanted a motor home, very early on we realised we didn't want one the same as everyone else. Through Quirky campers we found James and after meeting him and Sarah, seeing the passion he has for his work, took the plunge. And we are so very glad we did. After giving James the van he very quickly worked his magic and produced a wonderful 'home from home' motor home. From start to finish he was a truly fantastic professional. As the 2nd lock down was happening, we couldn't visit. But James kept us updated with photos and calls. We were able to talk about what we wanted, finer details and James made recommendations and suggestions and came up with some super ideas. It was a true 'partnership'  We are so glad we took Sandy to James and Sarah, it's been a truly exciting journey.  Thank you so much James.  – Julie & Chris.
∗∗∗∗∗  We are so delighted by the van James at Homesmith Campers has fitted out for us and really enjoyed the process. James fitted out our 2017 Peugeot Boxer changing the seating configuration, adding 4 windows and extractor fan, installing water heater, internal and external shower, composting loo, gas oven and hob, 12v and 240v electrics powered by solar and alternator, and awesome ply and formica furniture including foldout double and single beds. Despite delivering this during the pandemic, which meant we couldn't visit during the build, we were kept up to date with regular photos, calls and texts to check in on details where useful. James was super accommodating and helped loads with selecting the right fittings etc. Would highly recommend James and homesmith campers.  – Will & Anna.
∗∗∗∗∗

We would highly recommend James and Homesmith Campers. Not just for their high quality of work and attention to detail, but also for their enthusiasm and willingness to get involved with the vision! Thanks! – Graham & Liz.
Landlords Gas Safe Certificate
Landlords Gas Safe Certificate
Guaranteed Appropriate Payload
DVLA Motor Caravan Registration
Electric Conversion Experience
Has experience with converting new electric vehicles.
Has experience with retrofitting classic vehicles.
No experience, but happy to take on an electric conversion.