An Alternative Wedding in Priscilla the Campervan
What was your vision for your alternative wedding?
The idea for our alternative wedding was inspired by an international youth camp that my husband used to take part in every year, where people came together to create a space to enjoy together. I wanted it to have the feel of a celebratory friends and family camp, like a mini festival. One day with all our nearest and dearest just didn't feel enough, we wanted to spend more time with everyone and give them the opportunity to feel a part of what we were creating.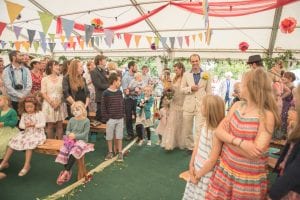 We wanted our wedding to feel more like a festival
Why did you decide to hire a campervan for your wedding? And why choose a Quirky camper?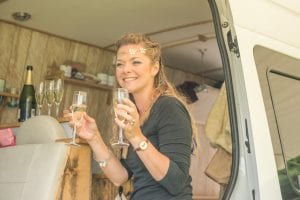 Priscilla felt so luxurious and was the perfect place to get ready on wedding day
Well the co-founder, Lindsay, is my sister, so of course it was something I had always thought about. For us it was the obvious choice! We wanted to have some luxury and comfort and some amount of privacy during a very busy and public time. Quirky Campers have such a a beautiful selection of vans and Priscilla really brought such class and style to the event. We were so happy to have our own space right in the middle of our camp.
Tell us about some of the other supplier choices you made
We chose to have our catering for the wedding day done by Nicholas Allan who owns the Star Anise cafe. He serves delicious vegan food that appeals to everyone. It seemed to make sense to go for one choice, both for simplicity and cost.
We sourced our supplies for the rest of the week locally, and tried to use organic where possible. Our bread was baked fresh daily from Hobbs bakery.
Good old John Lewis provided both my dress and Peter's suit. My dress was just from the evening wear section – I wanted something a bit different and this felt just perfect.
My hair was done by Bobbi mobilehair, she was wonderful and worked with me leading up helping to create just what I wanted, which was a viking style down do with lots of unusual plaits.
Our flowers were grown by a friend at Proper Flowers. We discussed what we would like right back at the seed planting stage and Ysanne and friends made up our wonderful flower decorations and bouquets.
A dear friend Freya created our gorgeous cake which was magnificent and delicious!
We hired our marquee from Elegant Marquees who were so helpful and accommodating. They worked with us to get exactly what we wanted, coming to the site beforehand and marking where to put it. We decided not to go for the drapes and decorated the marquee ourselves. This was a group project with bunting made by a friend, Ivy collected by a friend (who incidentally had his daughter Ivy strapped to his back), hundreds of origami cranes made by my dad, giant pom poms made by all the kids and golden stars made by my ssister (with cut up toilet roll inners sprayed gold!) It was perfect, just to our taste.
Ramona Carrera was our photographer for the day, well worth having someone professional there to capture all the moments. She was wonderful and unobtrusive, capturing our guests without interrupting them.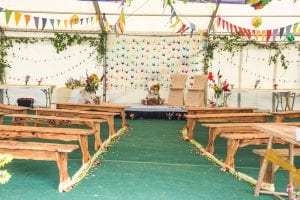 What was the hardest part of planning the wedding?
The food! What to get, how much quantity-wise, how much to budget, catering for all tastes and diets and appealing to the hordes of children we had! I was so glad with what we did in the end; bought in bulk for the week, cooked for everyone (we had all our family and friends helping) shared all meals and costs leading up to the day, and then hiring a caterer on the day itself.
What were the highlights of the wedding week?
The wonderful communal spirit! Each morning we started the day with singing which made everyone smile and feel positive about the day. Everyone pitching in was just a joy to behold! There was a lot to do but enough people who wanted to do it that (I've been told) no one felt they worked too hard and the option to do what suited you (including playing with kids or hanging out) was always there. I think it was nice for guests to feel like they were part of it (we're very lucky to have very handy friends!) The amount of love and joy was quite overwhelming, I still smile every time I think of it.

What difference did it make to have Priscilla there?
All the difference! Somewhere that was a quiet, beautiful and calm space was lifesaver! Somewhere to get ready that wasn't a tent was really special, and we could hang up our wedding clothes! We love camping and really liked the festival camp vibe but the touch of class that Priscilla brought made all the difference to our enjoyment.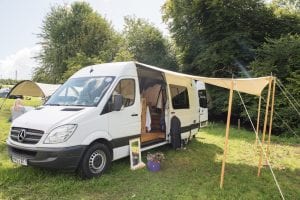 Top tips for other couples planning an alternative wedding?
Think about the kind of 'feeling' you want to create and work from that. Maybe write down some words and cut out pictures that resonate. We weren't swayed by tradition or the 'done thing' so that left us free to create what would work for us. I did spend a fair amount of time thinking about what would make it fun for everyone but ultimately it is your day and hopefully the people around you will accommodate that. We were lucky that we have so many talented friends that wanted to be part of it. Don't bow to tradition! There is so much hype around weddings that are mostly designed to make you spend money. There are so many ways to make a wedding your own, and don't be afraid to ask for help!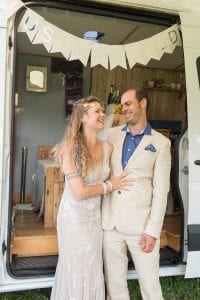 Read 5 reasons you need a campervan at your alternative wedding